Janet's Travel Blog
June 4th-1100 Sunday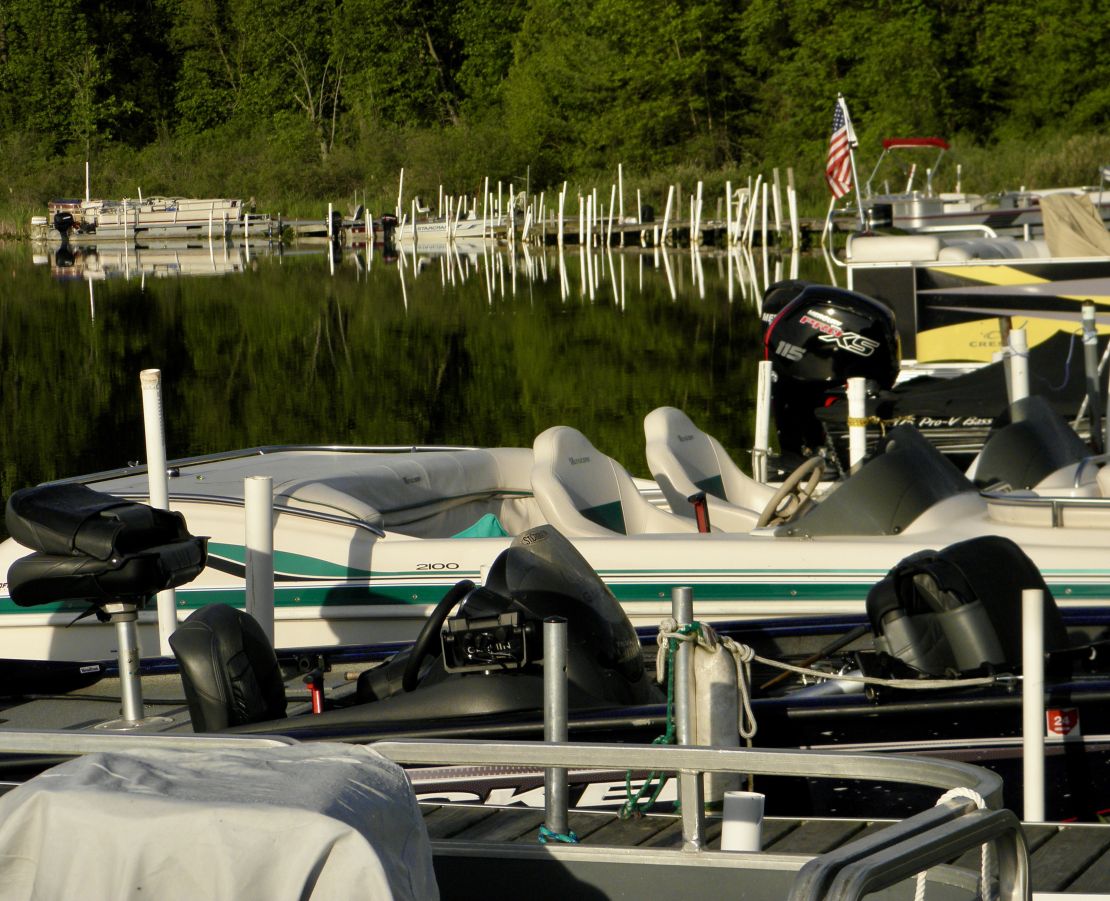 I have made it all the way into the Upper Michigan Peninsula to the Vagabond Resort on the peninsula that separates De Noc (I think it is french for Bay) into Big and Little which dips into Lake Michigan without incident, except for having to change out my remaining tires while in Northern Michigan. I had notice more and more vibrations through my steering wheel and the driver's side duals were not matching in size when I reach Grayling, MI to add fuel. Since I was near my state park destination of Hartwick Pines and I had already let the Upper Lake tire store know I was coming to change out my front choppy tires which I had check before leaving Ohio. I had them check the driver's side duels and sure enough the outside had increase in size and was ready to shred. Total cost for all six tires plus the emergency rescue in New York on I86 to Onoville State Marina came to nearly 2K. I was told by both tire places these tires had gone bad due to the RV sitting too long.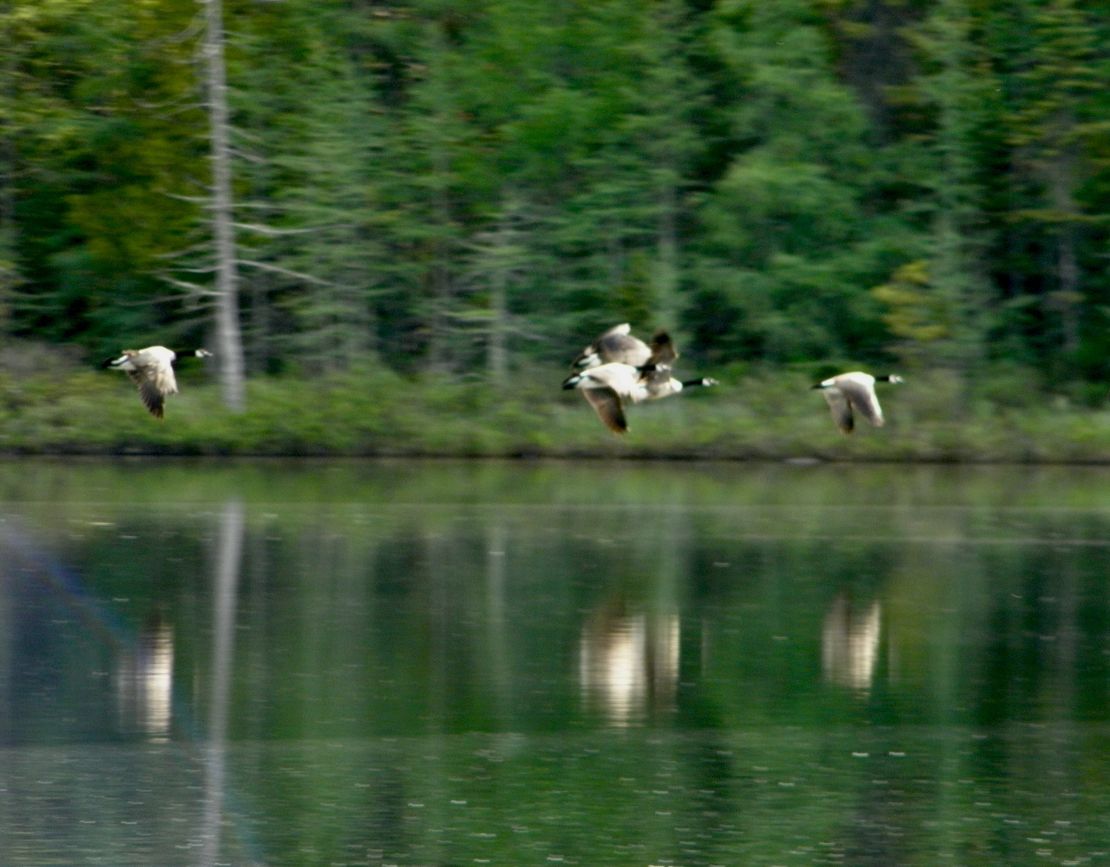 My stop in Southern Michigan was a relaxing breath of green air. Crossing into Michigan the monoculture fields were hidden by thick groves of trees, grasses, wild flowers (white and purple wild phlox were in bloom), and fencing along all the state and local roads. I have reached the land of forest, meadows, gentle rolling hills, and lakes. And mosquitoes, which grew larger and more numerous the further north I camped. The lakes and OFF are a reprieve from the hordes that land on you as you enter the forests. In the Upper Peninsula they are twice as large as the ones I encountered in Southern Michigan. The first campground stop was 5 Lakes Resort outside Hillsdale, MI. Each lake had its own resort, either private or publicly own. People in MI are definitely into fishing and they can come to any of the campgrounds including Little and Big De Noc to fish throughout the year. All fishing, boating, snowmobiling, and hunting are state license required. Plus, all must check the state website for updates before fishing or hunting. To say the least the wildlife is either roadkill or hidden in the forests and constantly moving.
As I travelled further north there seems to be less heat and the humidity is not heavy. Daylight seems to last longer, as well. It is dark by 2215(1015PM). I have a harder time going to sleep and I still wake by 0500 when daylight has arrived. I am beginning to rethink what I am looking for as I travel and experience more of this country. I decided I will not be coming back to the Northeast. I want to keep going. I am going to stop in Iowa this month till December to recoup my expenses, make some upgrades to my RV, and plan my winter travel into New Mexico. That will be my longest stop for this year.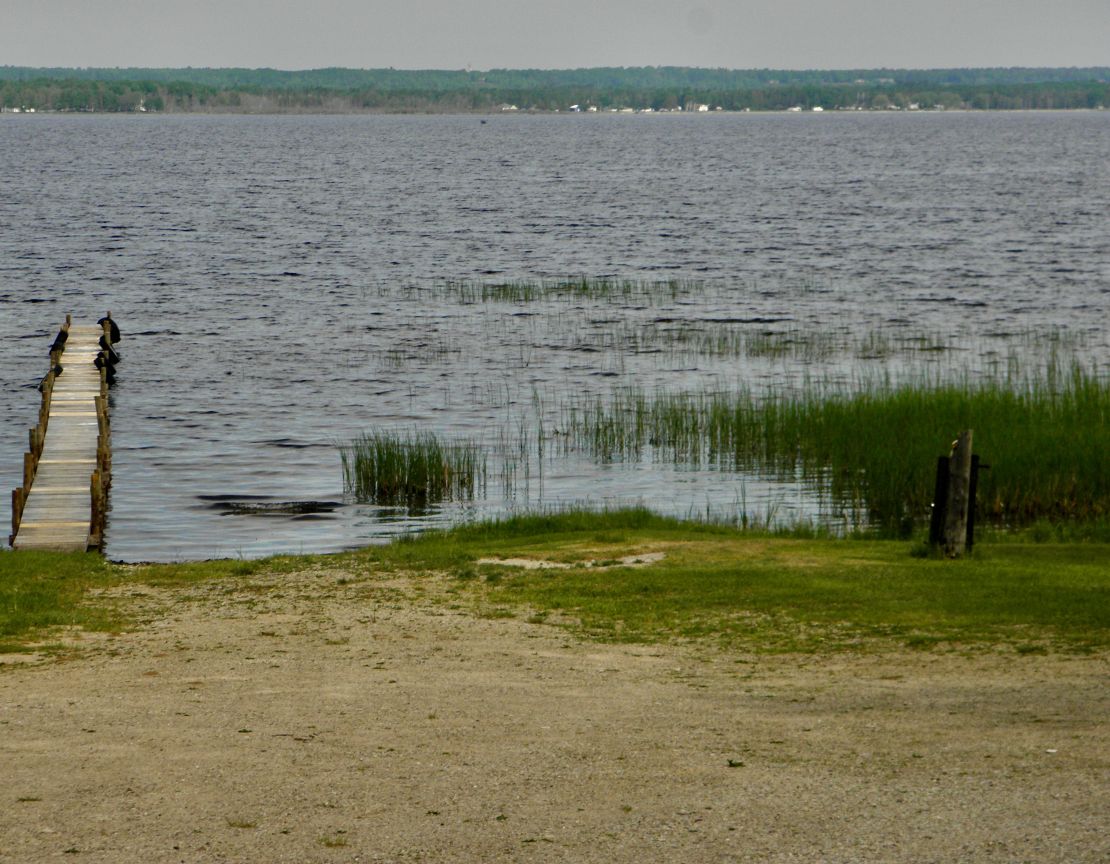 I am really liking the Michigan Upper Peninsula. Lake Superior is on the north and Lake Michigan is on the south. Not much seems to be here, other than tourism, logging/paper mills, gambling, fishing/hunting. This is not a populous section of the state, so forests and meadows tuck any homes out of site. The roadkill is not as heavy here as the rest of the state, since the road speeds are not more than 60/65mph. Since I am traveling along Lake Michigan there are places to pull off to go to the brown sandy beaches. There are no heavy waves or salt spray but there are dunes here and there. The soil is sand, sandy loam, and not easy to retain water and nutrients. Since beginning my trip I have been buying drinking water by the gallons. Not sure if any the PFAs have been filtered out of any the well systems, including the state parks. Since I am camp along the Little De Noc I talked with the owners here at Vagabond Resort to get an idea of the seasons. Spring starts in May runs to July when Summer kicks in for a month or two before Fall arrives fully with September followed quickly with Winter arriving fully by November. So, this part of the country would be perfect for summer camping. I can see myself spending the time and money for summer seasonal camping in the Upper Peninsula.
May 25th- 1315 Thursday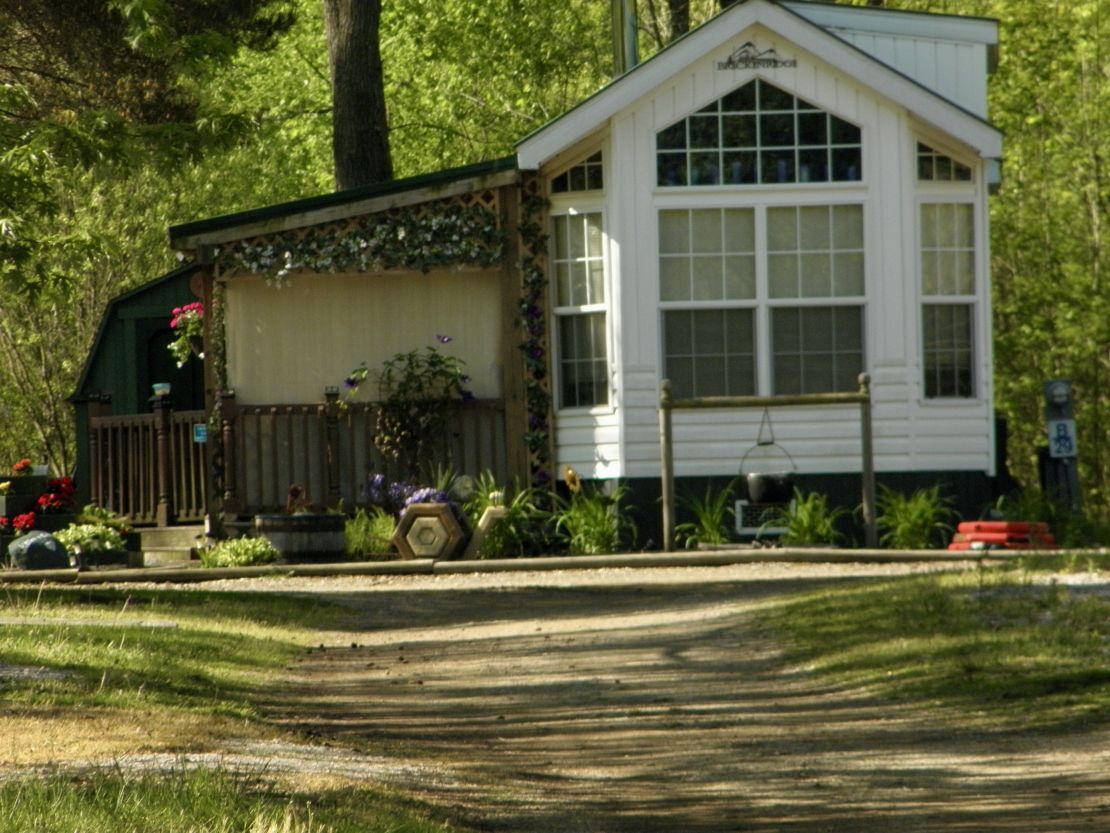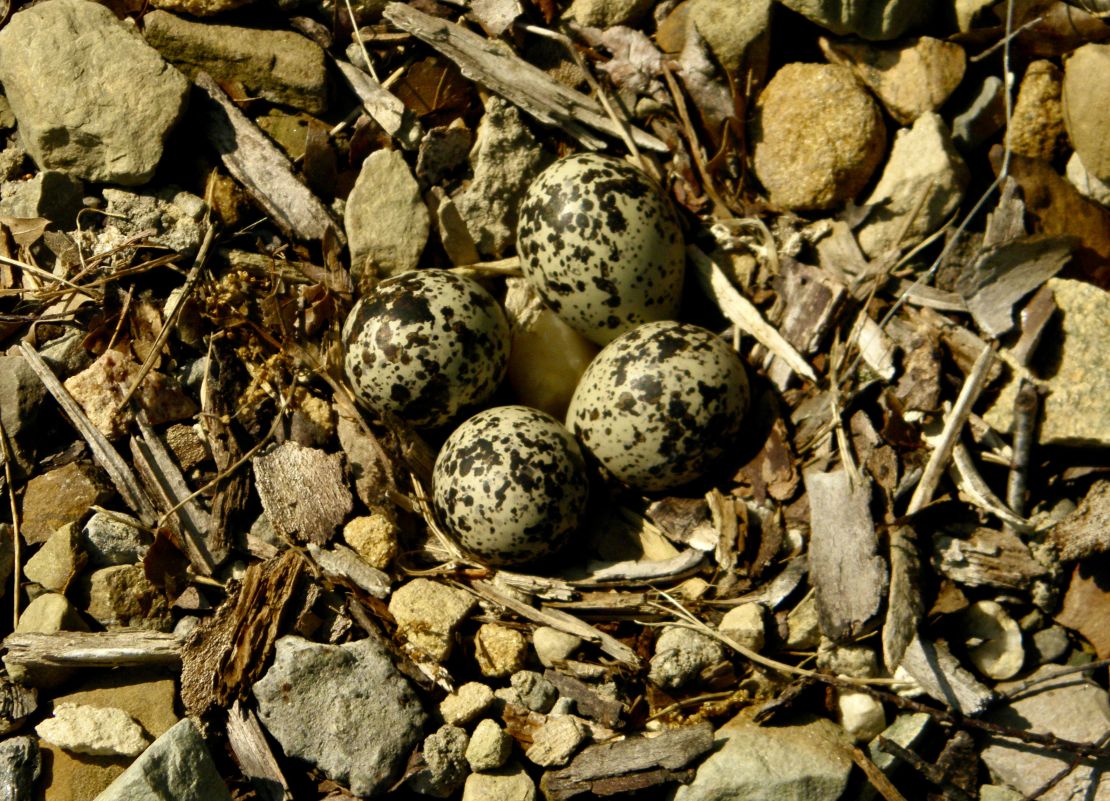 I am so looking forward to leaving Ohio tomorrow. The winds are constant and both the campgrounds are built in the corners of farm monoculture fields that run from one road to the other. The tree lines that form the borders for both campgrounds are too thin to provide protection from wind blown dust, carbon soot, and noise from speeding traffic. The lakes are actual ponds that only have catch and release fishing with beaches for swimming and pools for the squeamish. Both campgrounds have year around seasonal camping and some seasonal campers have rural mailboxes. Do not know if they actually get mail since these campgrounds are gated.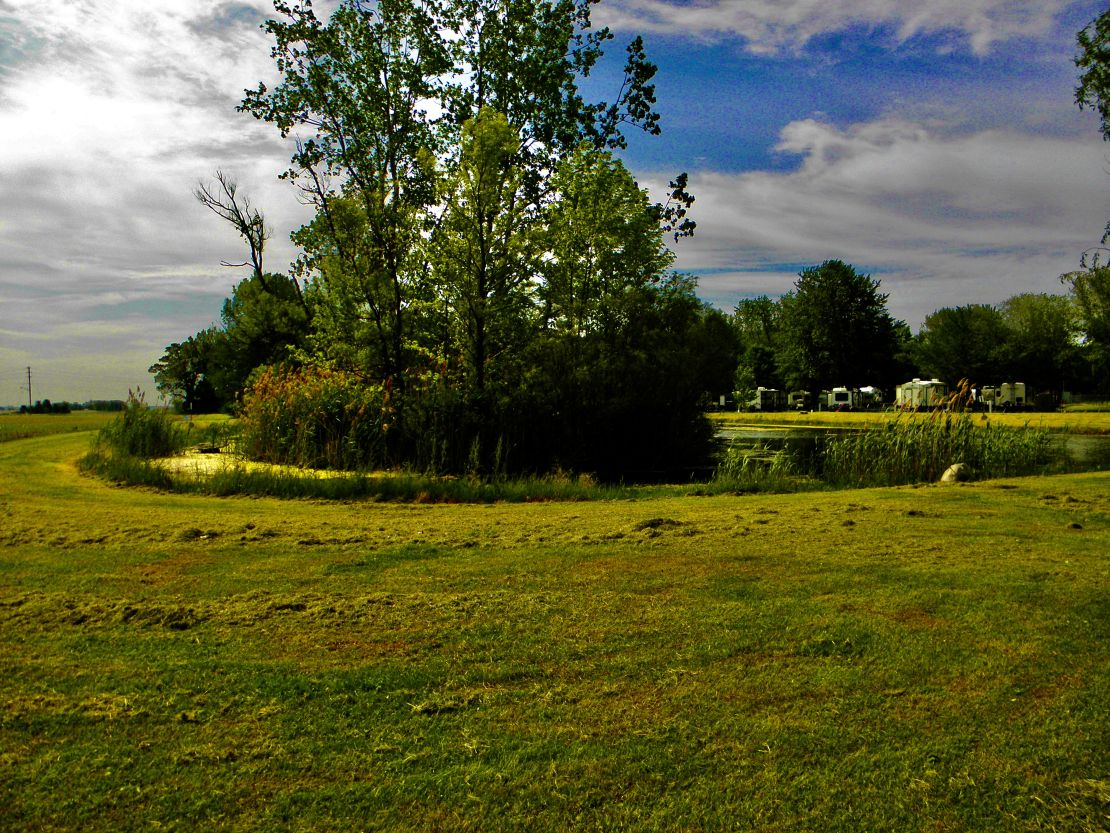 The skies are picturesque compared to the actual campgrounds. Had to edit the sky to get the color and cloud distinctions. This so call lake is one of the smaller ponds. Most of the trees are young around the ponds/lakes. Once you leave the Appalachia mountains and foothills the prairie opens up the glorious skies of the heavens. Without the knee and hip high plants and grasses along with the tree barriers the winds have no controls.
I was lucky to share my Kool Lake site with a pair of plovers that were nesting. My stays would have been more boring if it wasn't for the limited wildlife that came around me. I have a huge brown squirrel eating the apple cores I throw out every morning at this GetAway campground. Have not been able to get a picture of the squirrel, which seem to be larger than any of the gray squirrels in New England.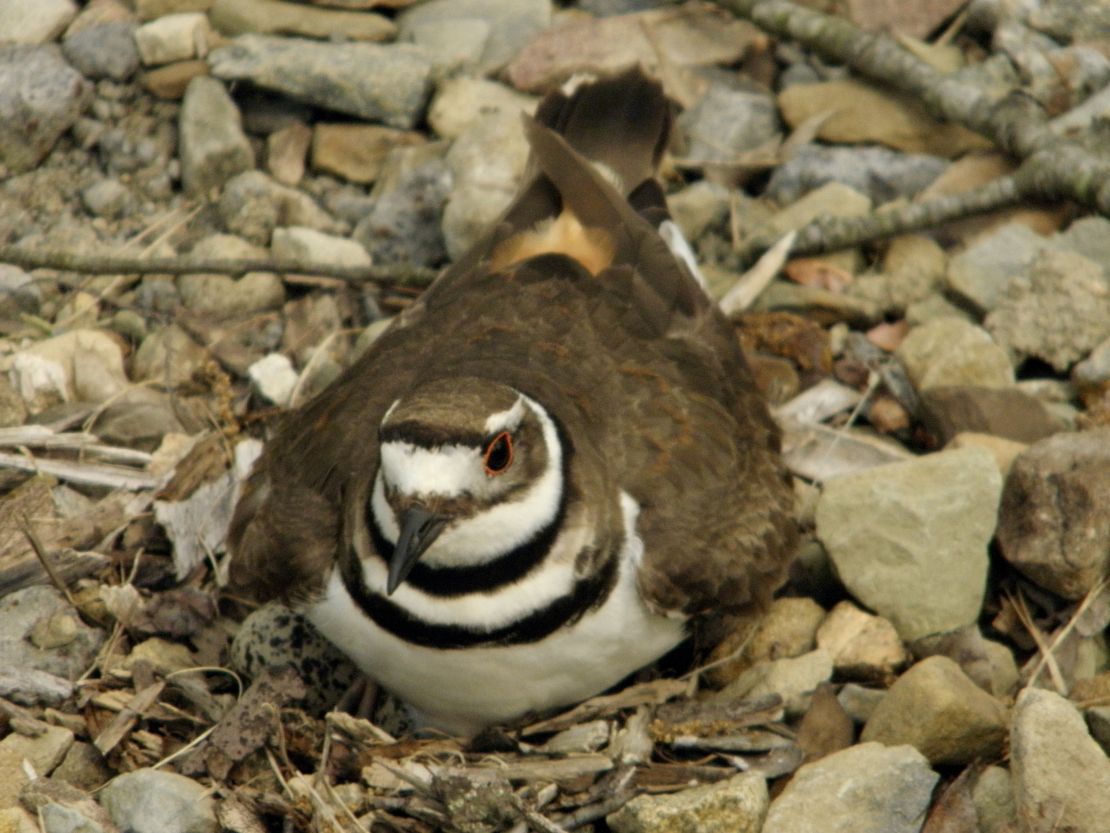 My trip into Ohio was great when I crossed the Mosquito Creek Lake. That was a huge and beautiful fresh water lake with serious noncommercial fishing boats at the end of Great Lakes. There seems to be a different mindset of respectable fishing where using the smaller electric boats is required. I am going to stop there on my way back. Again, what I read about this state park is that it is open year around. Even Michigan state parks seem to be open year around. Can't stay more than 14 days at a time, but you can leave for five days and come back. I assume the serious fishers do that type of camping.
May 21st- 1300 Sunday
On my way to my next campground in the southwest corner the Allegheny State Forest in NY I blew the outside tire of one of my duels and ended up not making it to the Onoville Marina Park till the following afternoon after buying two tires to replace the blown outside and the bald inside of the duel. I had cell service to google for help which cost a couple hundred more than the tires. By the time help arrived I had to limped to the nearest hotel for the night. The next morning I google for assistance and found a family owned tire service who order two tires and installed them that afternoon. Plus, they checked the spare and fixed the value steam that was leaking. My other tires were holding air and ready for the road. Great customer service and not expensive. I made it to my next campground 10mins before Maria was off.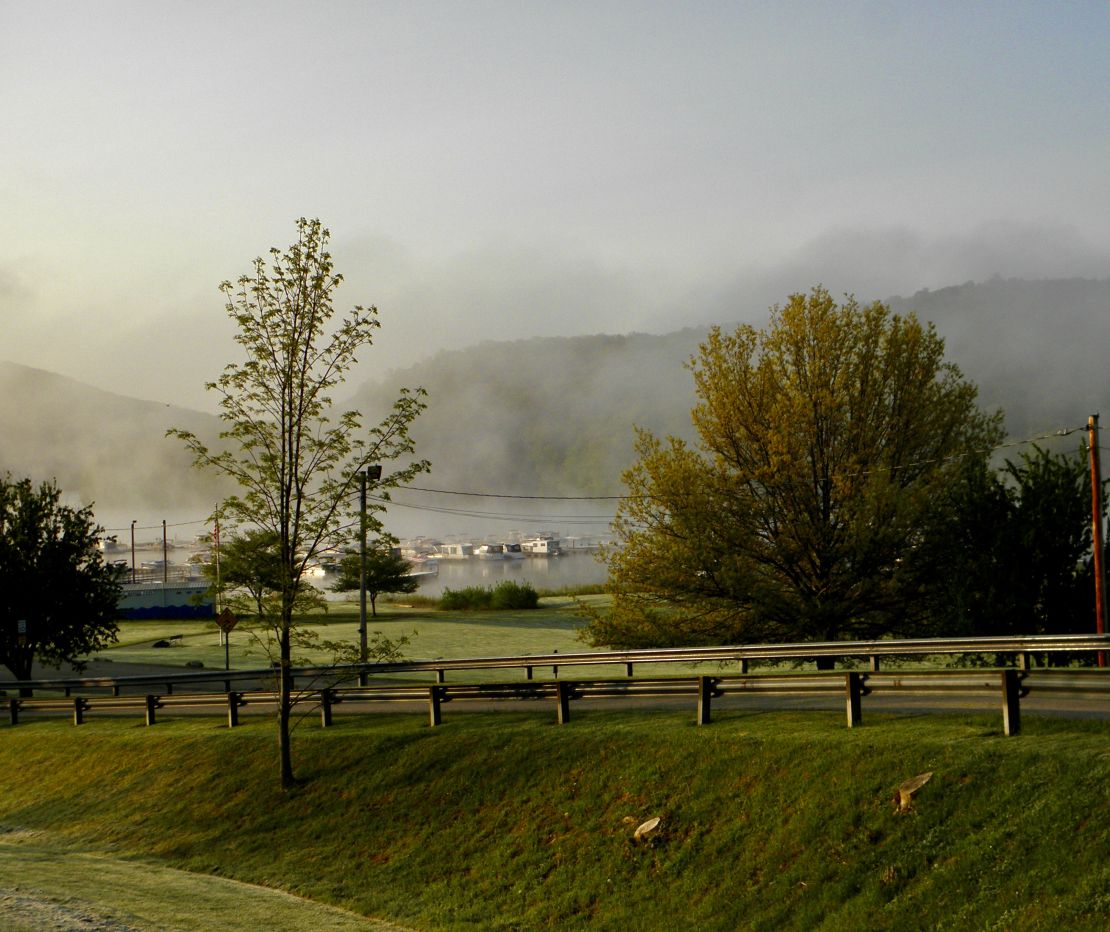 The Allegheny State Forest is broken into three public campground sights. It is recognized as Indigenous territory that the Army Corp of Engineers decided in the 1960's to dam the Allegheny River and create a reservoir for recreation, fishing, hunting under the guise to prevent flooding down river in PA. It was popular in the 1960s to dam rivers. All the reservoirs in any of the states form a bowl and the edges of most of the bowls are pointed like the tips of fire. The next morning I awoke at my camp was an amazing depiction of fire and water fog coming off the water during sunrise.
So the marina has season campers but there are no patios, fancy fencing, or stairs. Their money goes into their boats. The bigger the boat the more likely they are retired military officers and like a typical officer club the higher the rank the fancier the boat. Since I was camping during the week I did not see too many boaters.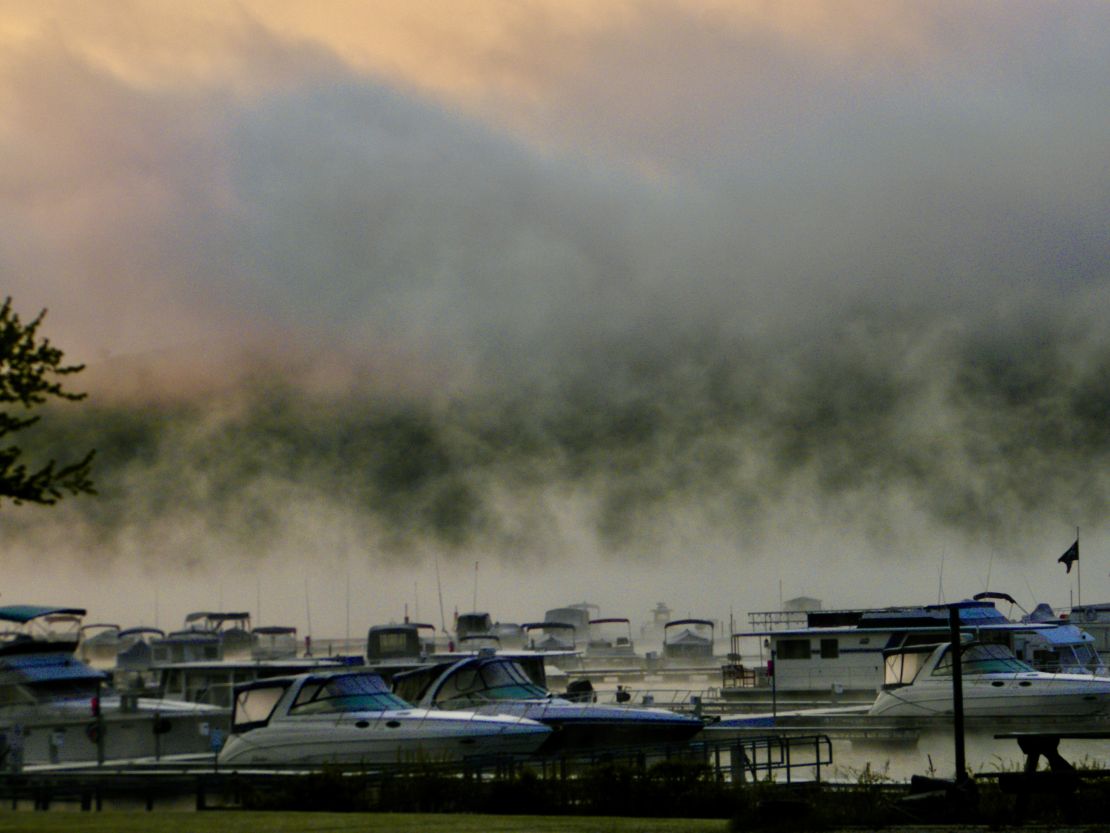 I would still recommend camping here if you want to be around boats. Being a state run campground all these facilities were in good working order and reasonably price. Playground, basketball, and small soccer field are kept in good condition. Being a reservoir up at the road, otherwise of the road, there is a small market, restaurant, ice cream shop and Inn which were not open when I was there. AND if you come by I86 there are five cannabis dispenseries on the way to the marina, typical. Could not miss them if you tried.
I had two trailers named after wild cats, Couger and Puma, park between me and the lake. I shared the mornings with the canadian geese and a pair of plovers. I saw a yellow butterfly. It did not land for me to get a close look. They definitely do not need to mow the hillsides and other areas where there is no camping. More native wildlife would make this site a 10 rating and encourage more butterflies to be around. All the mowing reminded me of the typical military base. Again, this military concept towards Nature is typical of the silent generation and early baby boomers. It was great to see the mythology of fire and water. Nature will prevail😍.
May 20th- 1230 Saturday
I am still recovering from my PTSD trip to my first Ohio campground. I was okay till I reached the roads of Ohio. I am usually up by 0600, getting ready for the day, going for a walk after having a cup of mocha, taking pictures, then editing my photos, and working on my blog. Since wifi or cell service is a hit and miss depending on the campground in the hills of New York I am feeling a lot of gratitude for the less hilly state of Ohio. But it took me to binge watch a series till 0100 to finally fall asleep only to be awaken by the sound of rain before sun rise. But it was the soothing sound of rain and I did not wake till I heard my next door neighbor's truck start and leave for breakfast, I assume. Capitalism is different in Ohio.
So, before all of this I had my first corporate campground experience at FlintCreek Campground outside of Middlesex, NY. As I got closer my phone GPS took me in circles till I stop listening to it and found my way, hop and a skip from where I was confused/lost. This was the second time in a row it did this to me. Now I plan out my route, but... more later.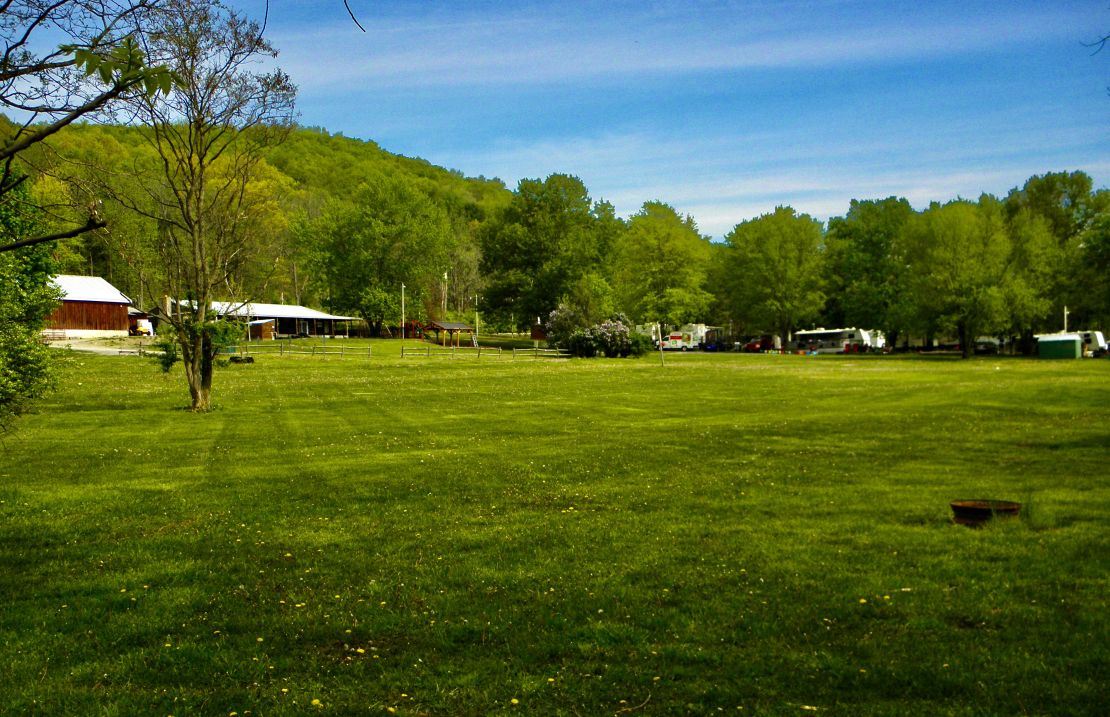 As you can see FlintCreek, which it really isn't near, just continues to roll down the hill. When it comes to camping corporate campgrounds they are heavily manage through management tries to make it a fun time for the kids by having kid fun-time events, but everything about the campground can be micromanaged. And sugar is the acceptable addictive high. Rosemont Hospitality bought this campground last year from a retiring couple and most of the Seasonal campers left. Those remaining will properly leave once Rosemont upgrades and expands the campground which is slated for this season and raises the Seasonal rate or stay, pay, and tolerate the micromanagement.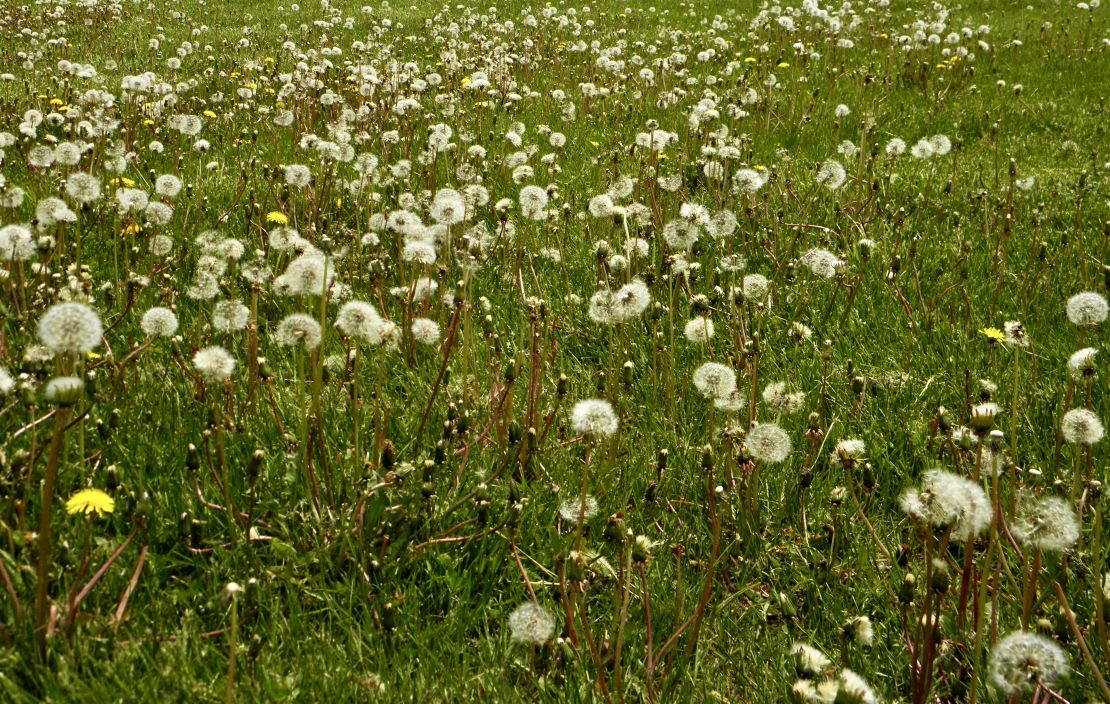 My stay was mixed, but being told that their laundry facilities were ready everyday and not ,,gave me the standard corp feeling that they can extract, but giving is not part of the corp bylaws. Too much sugar and not any substance increases the likelihood of the false dichotomy of its your problem, not theirs, when something goes wrong.
The plus side was all the orange/black and yellow/black orealos I saw, followed by the American golden finches that fed on the dandelions that are seeding, and a black hummingbird flying . I could not get any good pictures, fore they were too fast and elusive. Also, the very fragrant lilacs were in bloom. There were other blooming trees, such as honeysuckles and these could be the reason the orealos were visiting. Again, despite the human dramas and corporate greed Nature was there and will prevail. "(That's All Folks!)"
May 17-1100
Hi Folks, It is Wednesday and I am stuck in a hotel/motel waiting for a couple of tires to arrive at the local truck tire shop to replace a set of duals, one that blew and the inside one that is bald. Thankful I had a brand new spare to hobble over to the hotel. Having a tire blow on I86 was a drag as passing trucks and cars would shake my rig with their wind. I was Thankful I was near the exit for Hindsdale hyw16. Not thankful for having to wait 3 hours for roadside assistance as my rig was being rocked by passing wind. Thankful to be able to sit inside the rig being comfortable as I Googled for help and status. More later.
My next stop was at Belvedere Lake Golf resort. After traveling up and down the mountains into mid New York I was camping in an upscale campground where it was too wet to mow the greens to play, where the washing machines were not up and running choosing to spend time helping the Seasonals update their decayed decks and steps at their trailers. The walking was great and I had to admire the terrace layout of the resort including the golf course. Fields of dandilons, phlox, and purple violets were everywhere where forests weren't. All pluses on the Nature side, more minses on the management side.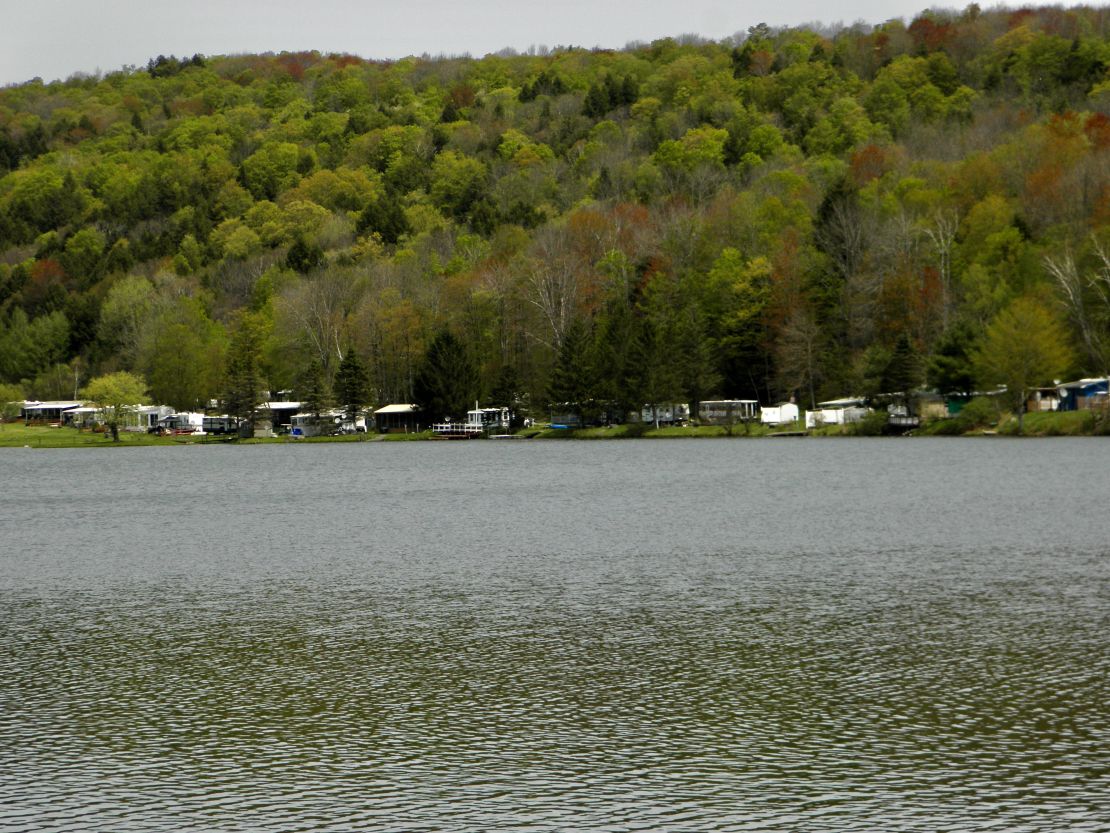 This area had an I Ching lake feel. The climate was lake affect no matter how up the hill you are camped. These seasonals put their all into their site taking up the whole site. Very stylish railings, fire pits, patio furniture, and kid play area all along and around their trailers. All seem like a lot of tensional marking of territories. Outside my kitchen window there was another Forest River brand among the Jay brands.
Speaking of birds the turquoise hooded gaggles and their cousins the boat-tails arrived, soon followed by a day or two the red-wing blackbirds. But never saw any bluejays. But quanitiful number of robins were everywhere.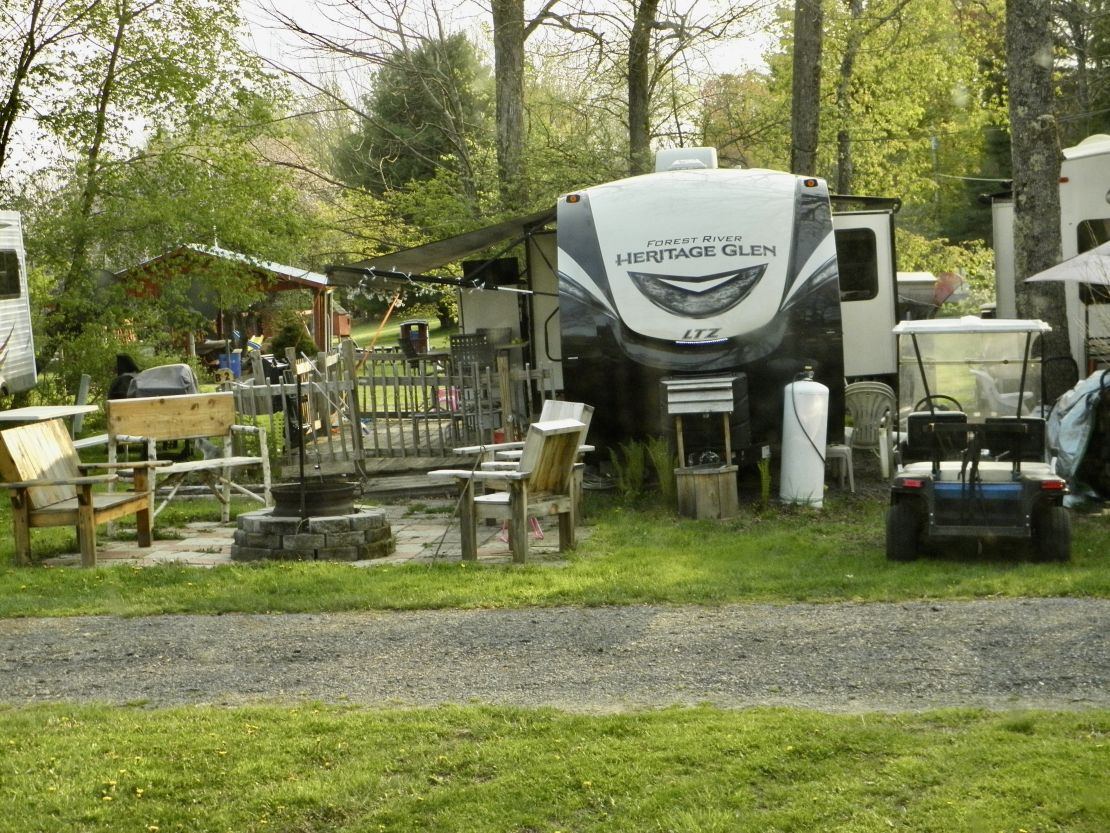 Getting back to the seasonal folk, I spoke to one of the retired friendlies and I was surprise to learn how these six figure a year folks are getting pushed out of the middle class via rising prices in food, rents, health costs, taxes, and etc. But they still all have to have their two golf carts, and outdoor sitting area that goes up 50 to 100 dollars a year. Mention growing their own food and getting chickens brings fright and horror to their faces. These types are not going to make it. Maybe they are too old to change. This particular friendly decided to take their trailer home and sell it after the season ends. Giving up, which may be this person's saving grace, is always the choice. It tells me they do not see a future, which could be when the spouse has long covid. Was ready to leave a day after that conversation.
May 8-730
Hi Folks, It is Monday, the day after a busy weekend of seasonal campers coming out and cleaning their sites and trailer campers, setting up their getaway social centers, and reacquainting with their favorite seasonal neighbors. Not a quiet time of the week. I was camped in the middle of all of this. A great place to clean my camper which was dirty with soot, especially in the back, to observe the comings and goings of the seasonal bunch with my eyes and ears.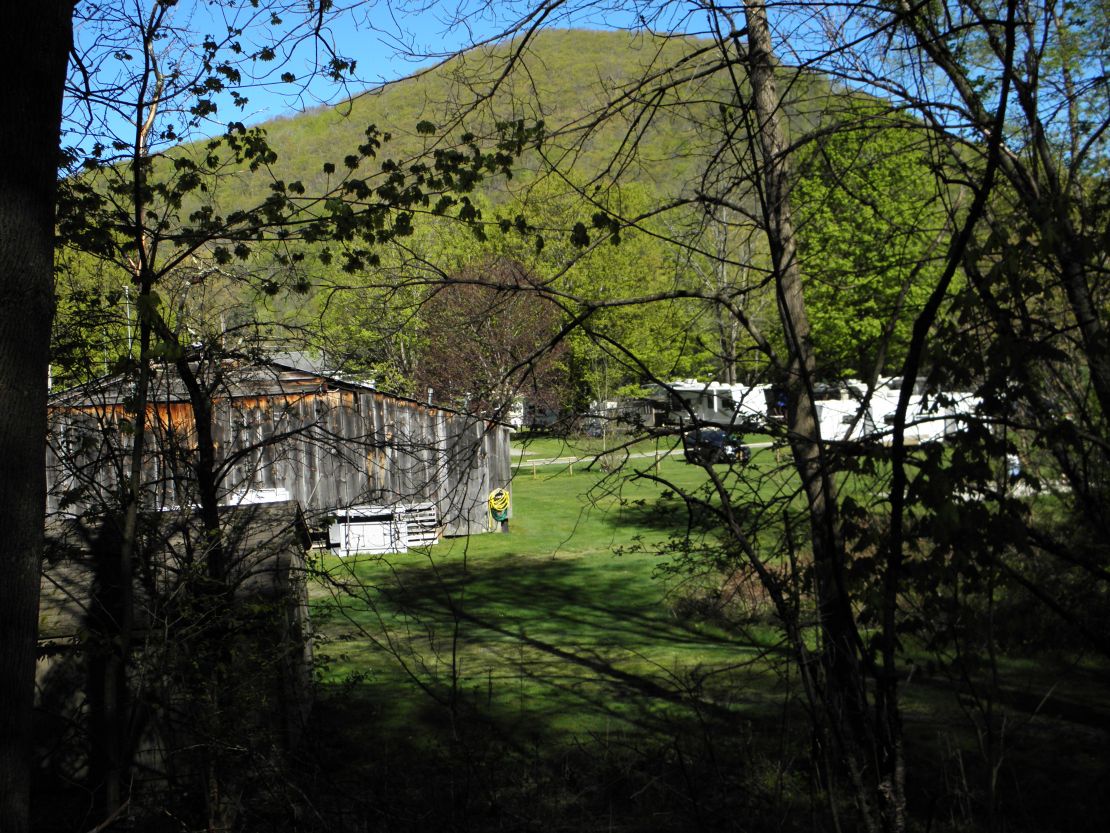 This photo tells you I am located at a campground that is earth dominated due to the flat top of this mountain. This morning it is hidden by thick fog due to the rainy night. The barn looking rec center looks like the outside inside. The woman that owns the campground is stretch thin at this time due to her career in teaching and as a caregiver for her mother. The seasonal trailer campers are expected to care for their sites. Many of them looked like they have been here for years since there is a little landscaping around some of the campers.
The demographic is white working class composed of angry men and tolerant wives and various open minded (woke) kids. The majority of happy people seem to be the silent generation and retired older baby boomers who have dogs. All the other dog owners watch in interest of the retirees. The tolerant wives have degrees of passive-aggressive behavior toward each other displayed through jealousy of each other's lot in life, ie looking forward to husbands dying or fully retiring, depending on the silent contract they made with themselves. I am not sure these folks understand they bring their daily life image (who they want to be) with them.
This reminds of the time when I was married to my children's father and the big deal it was to go up to Maine to open up the family cabin owned by their grandparents on the lake for the summer season. That all change when the grandfather died and the eldest brother with family inherited the cabin and would not shared. My ex's biological family, which included him had all kinds of dysfunctional issues. Divorcing him was the beginning of another hard look at my life's choices. Staying unmarried to raise my daughters was the best one I made.
The air smells forest fresh each day. There are small springs that run through the forest, but I have not seen any rivers, streams, or brooks. All the maples have leaf. The cottonwoods have flowered because now and then I see thin cotton puffs with seeds float about looking for good landing spots. The other hardwood trees are flowering. I found no mushrooms, but many signs of a wild pig rooting and a few hoof prints around the springs. So, it may have found the mushrooms.? Or I have to wait till the ferns are fully up. I am fairly new at foraging. Well, it is time for me to make breakfast. Oh, I leave tomorrow morning to my next campground at Cherry Valley. You may not hear from me since there will not be any wifi. But, this might be a reason to dig out my Earthlink and start that service which seems to get expensive every time one of Elon's rockets blows up. So, four days of no wifi or cell service may be a break I may choose to take.🦋
May 5th- 740
Hi Folks, Well, this morning as I was getting ready to travel to my next campground, checking and wiping the outside of Serenity, my RVc, I noticed a lot of fine soot either in running streaks or dotting the vinyl wrap. At first I could not figure where they came from since the Mohawk Trail is not a congested travelled road. And I did not see any of this when I arrived at the campground. Then my nose picked up the smell of burning coal and realized this spot is in direct line of a smoke stack or smoke stacks of a coal plant from some where. I did not notice the smell during the rainy weather. I am sure it was being washed out of the air. Plus, I was trying to figure out why I had started coughing these last two days as the rain turned into misting. It is still cloudy, but the clouds are little lighter. Plus, I may have gotten my answer to why the brook had a gray milky appearance; because it is due to the soot dropping out of the air by the rain along with whatever is upstream.
To say the least I am disappointed with this country's progress to clean up the air and keep it clean. A sure sign that capitalism is not for the people, as we people have hoped.
Happy Trails
May 4, 2023
Hi Folks, Today I am getting ready to leave tomorrow from Country Aire Campground in East Charlemont. The only highlight on my drive from Harvard, MA on route 2 was through Erving, MA which is located along the rushing Millers River. Erving is border by the Warick State Forest on the north and Wendell State Forest on the south. I liked the location so much I found there was 39 acres for sale, but zone as residential. So, I decided to keep looking.
It has been a chilly rainy stay at Country Aire Campground.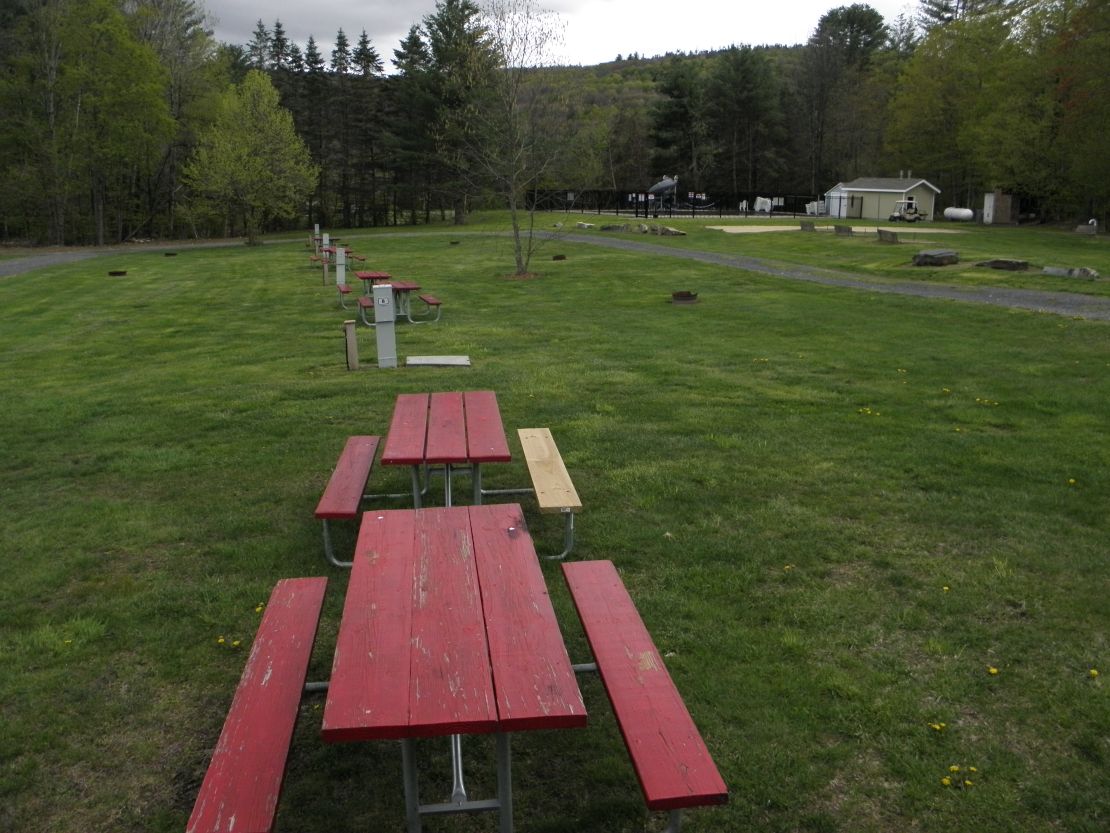 This is the view outside my door, very plain. There is Wilder Brook that runs along the left side of the campground, where I found 5 species of ferns, including the fiddleheads, into the Deerfield River that is located on the other side of Rt 2/ Mohawk Trail. As you can see the mountainous hills that rises up from the river has undulating flow of various trees.
I heard a peacock this morning.
The seasonal campers whose spaces are way behind me are slowly moving in for the season. They packed them in too. If it wasn't for the kid amenities I would find this setup to close for comfort. Having said this I will be stopping at campgrounds during my travel to Iowa. It will be interesting to see how different each one is.
Anyway, my laundry is done, trash and garbage have been thrown in the dumpster, and I am going to have lunch/dinner.
See you in my next blog.