Janet's Travel Blog
11/22/23 1700- Wednesday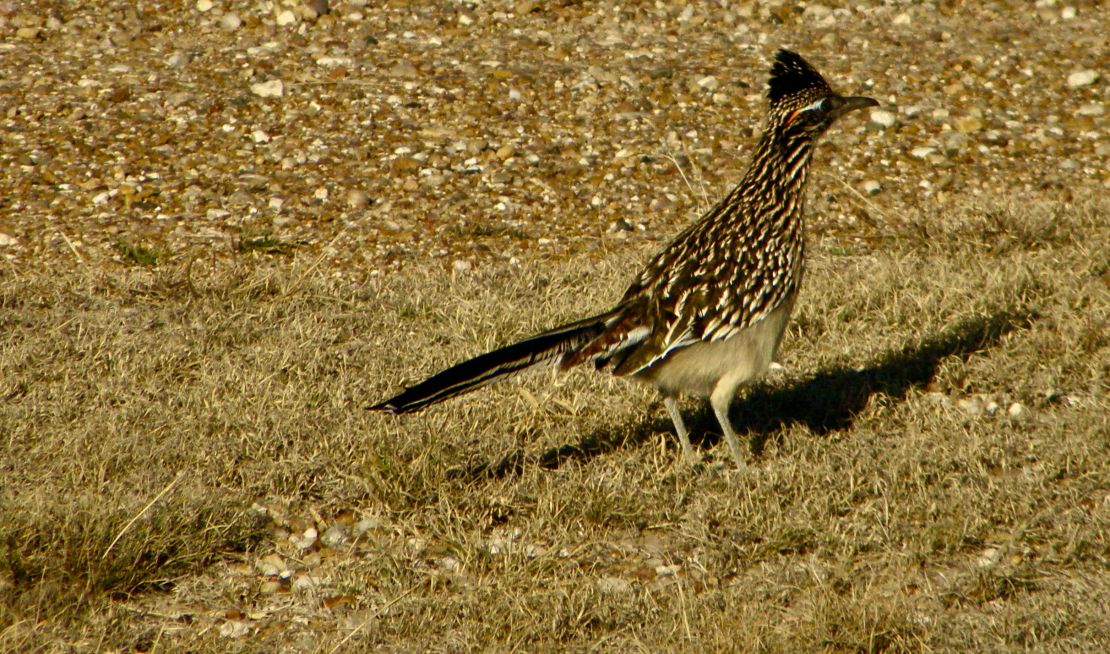 I am in mountain time, I think. So glad to have left TX. Everyday was a trash pickup day. I have never seen so much disrespect by humans towards this piece of the planet. I was doing a lot of climbing along the layers of rock collecting plastic, aluminum, glass, and paper, as well as hoping that none of the rock would give away, since limestone and gypsum are easily eroded with wind and water. I thought OK was bad, but this was worse. There were times when I found where people shit, leaving toilet paper as a clue. I think the pair of road runners and large eared deer appreciated my efforts. Any humans who saw me filling two or three shopping bags a day avoided me out of guilt. The Silverton,TX water department who manages this campground, that was built by Roosevelt's initiative and taxpayer money, have the "good enough for government work" attitude, thus do not try to enforce the ATVers to following the rules and their civic duty to not throw their trash along the trails and take it out with you, nor get out of their pickups and collect any trash. I had to cut my trash pick-up short on the last day when the gusty winds came in and lasted till I got to NM. As much as the scenery was beautiful, the amount of trash made this campground the worst experience for hiking and taking in any beauty, since every step revealed a piece of trash.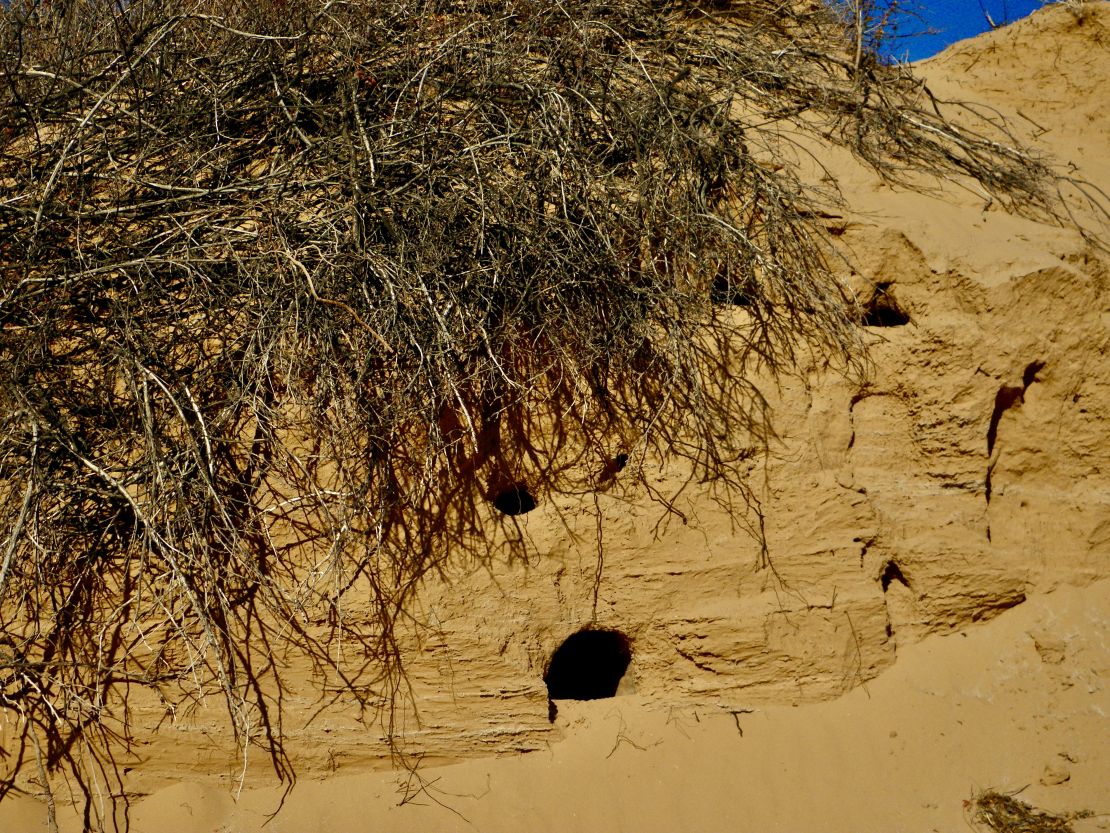 As I was leaving TX the mid grass prairie landscape went from cotton interspersed with sorghum fields to short grass prairie interspersed with beef and dairy factory farms. The prairie had shallow ponds giving the appearance of what may be wetlands without the trees, bushes, and plants. Again the accordion ranch-style houses tract all the way into New Mexico. These houses were brick ranch-style architecture with accordion protrusions front, sides, and back. Those with dormers I assume were lofts since there was no second story. The bigger the factory farm the more spread the protrusions. The rolled bales of cotton were process and used as bedding for the cattle while the sorghum plus whatever additives was fed to the cattle in open lots that spread for acres. Around these lots were mountainous hills of manure held down with rolls of plastic sheeting and tires. I am sure eventually these hills are eventually process and sold in bulk and bags to landscapers, DIYers, and Lowe's and HDs as composted cow manure. I wonder how many workers and truckers suffer from process cotton manure lung issues. At Oasis State campground in NM were I am camping till next Tuesday, I was warned that the water is not safe to drink due to nitrate contamination. It was supposed to have been resolved last month and the young woman did not know how it happen or how it was resolve. Thank goodness I distill my water.
November 14 1920-Tuesday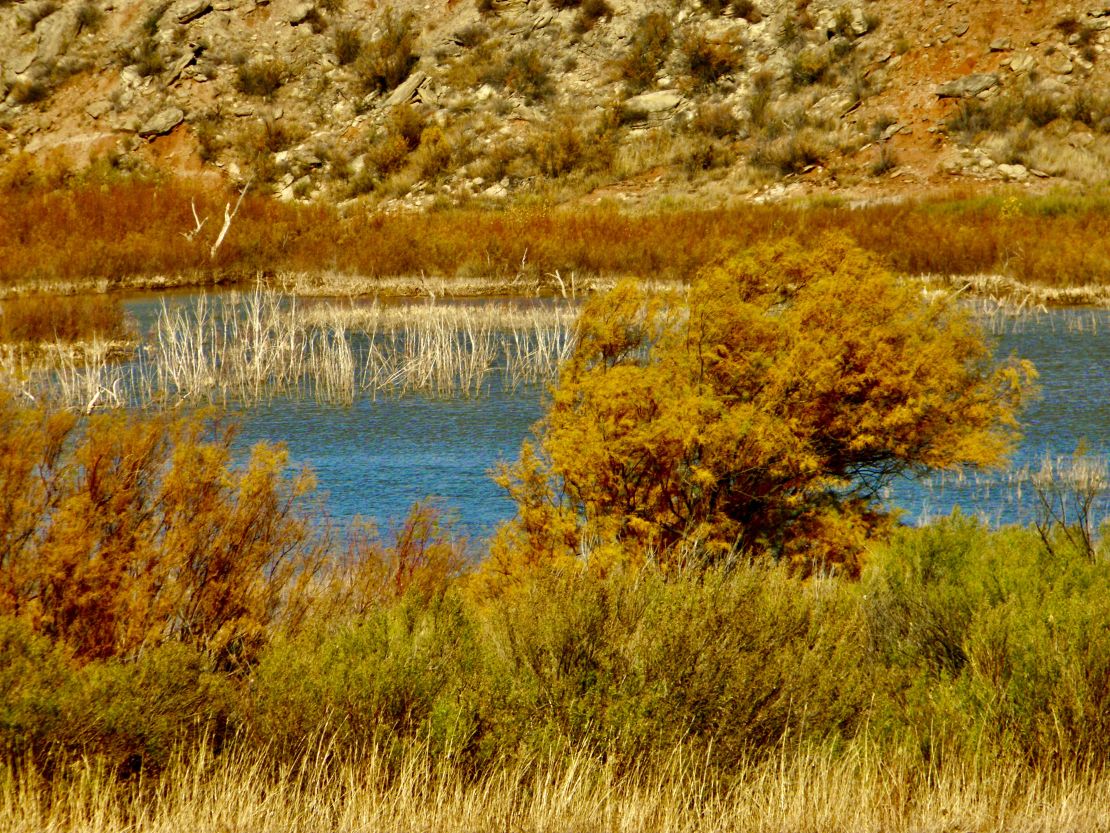 I was supposed to arrive at Mackenzie Lake Park yesterday. Since it is owned by the Silverton, TX water department their hours are the standard public worker hours. I was okay with it since I had my tires checked out good yesterday morning and was able to get my laundry done last night. Did have to stay at a motel, but it was cheap and own by a sweet Indian couple. The smell of Jasmine and sandalwood was heavenly. So, I got to my camping spot early this morning.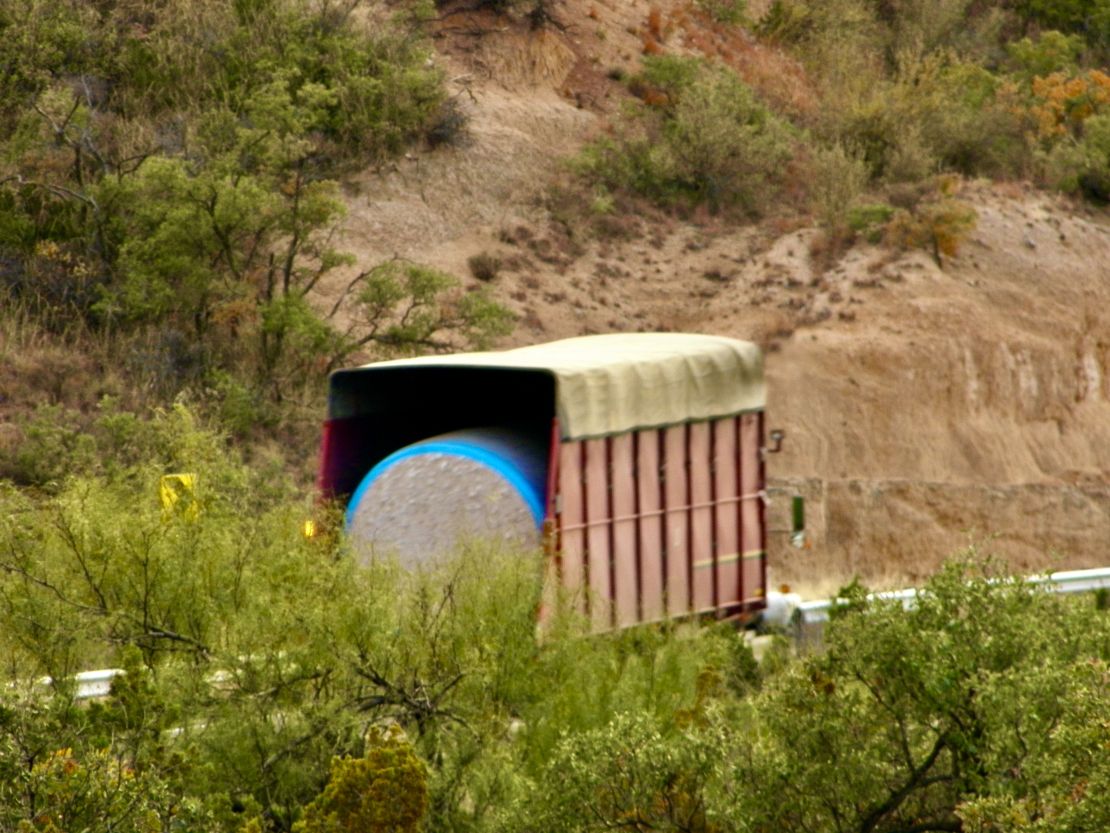 My drive from western Oklahoma went from tall grass prairie dotted with bean fields to an occasional cotton field to full blown mid grass prairie containing small willows and black locust that were dead or dying (except for those with plenty of water access) with cotton fields dotted with amaranth or sorghum fields as I crossed into Texas. Even the black top roads went from smooth to a grit roughness that appeared slick, but wasn't, in the well travelled area of the lanes. It was another four hour or so drive from my last campsite, Roman Nose, to here. My only breaks were having the tires check, refuel, and stopping at an RV place to buy a power 30amp to 50amp conversion device, adding a good hour to the 4+ hour trip. These 4+ hour trips are long…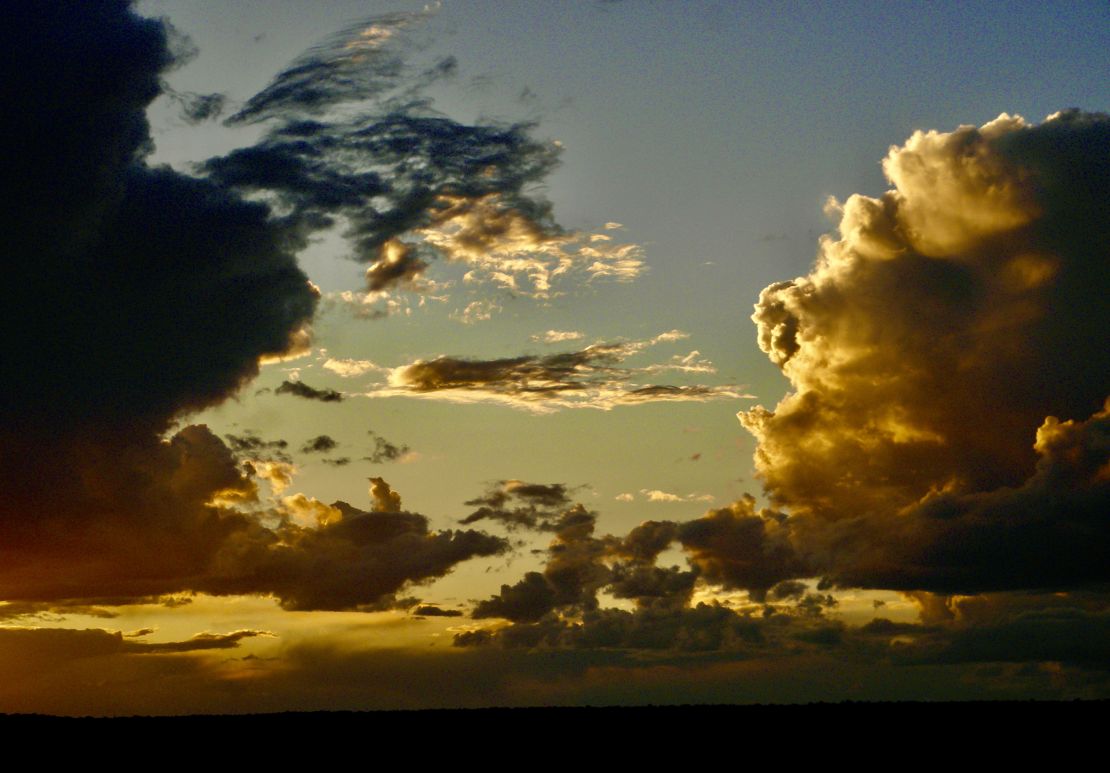 But the change of views were fantastic and I was surprised by the view of the limestone and gypsum buttes at the top of gentle hills as I drove closer to my destination. I read Texas fault lines have create undulated waves either heading to or coming from the southeast tearing buttes, form from the seas of million or so years ago, in the Panhandle down into flat lands and eroding the rest. Of course, it has been a dry year and all I have overheard is that they hope the winter will be a wet one, which will loosen more rock to roll down the buttes into ruble for the plants to root into. The sudden rush from the view pulls you down into the hollers of the buttes with their flora and fauna and the clouds in the sky fly along side and overhead. Very awe inspiring.
Next day: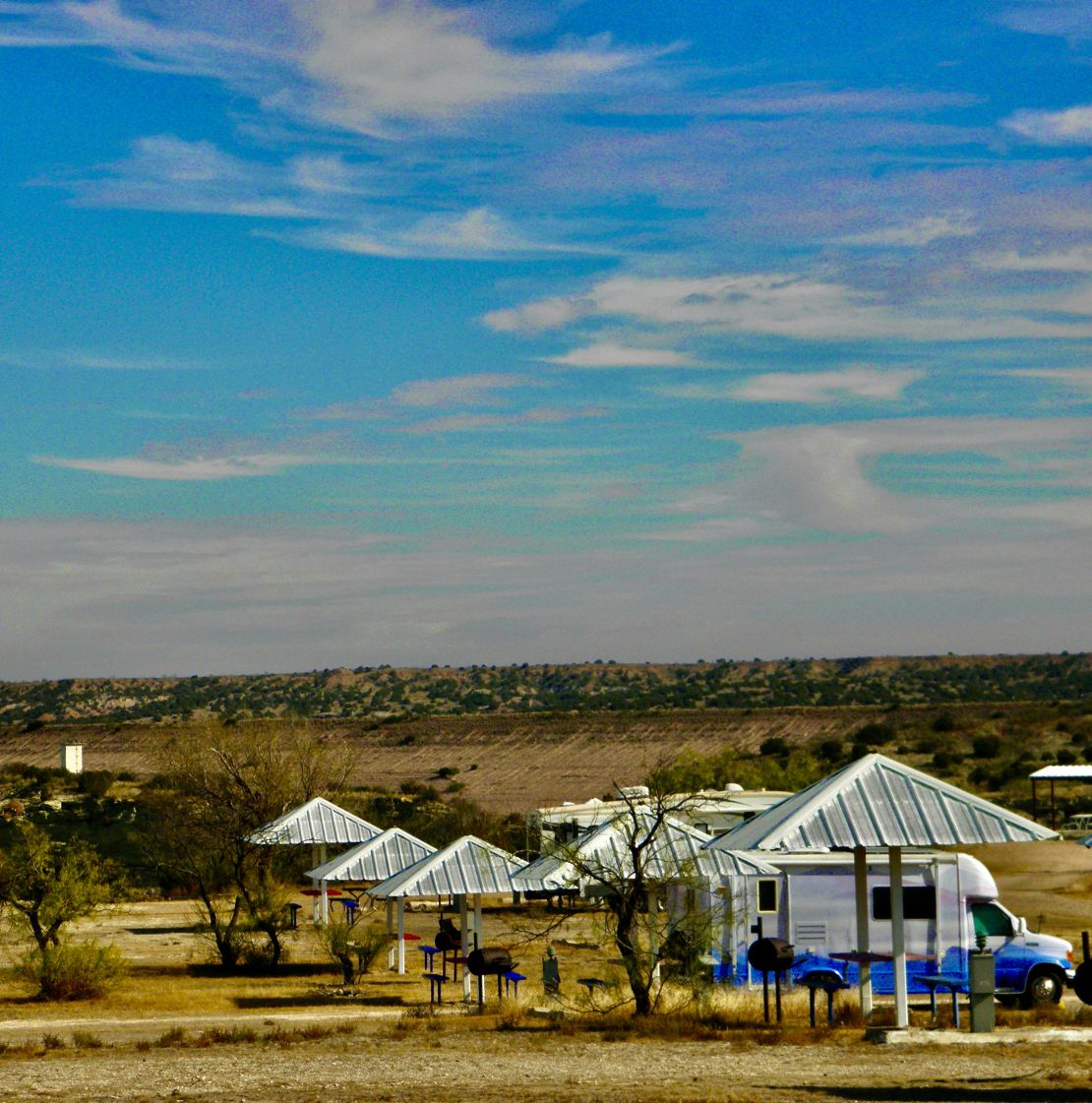 I awoke in the middle of the night with a mouse trying to nestle in my hair. And this morning I found I have a new neighbor composed of three young men with a fairly large fishing Lund boat. They have a camper that looks like it can sleep three on top of their large king-cab pickup. Though Mackenzie Lake was created by damming three streams with earth at the point they merge, years of droughts have lowered the height of the water by a good 20 feet exposing the red limestone. You can see just how large this brown earth dam is, as it stretches along in the background of my campsite.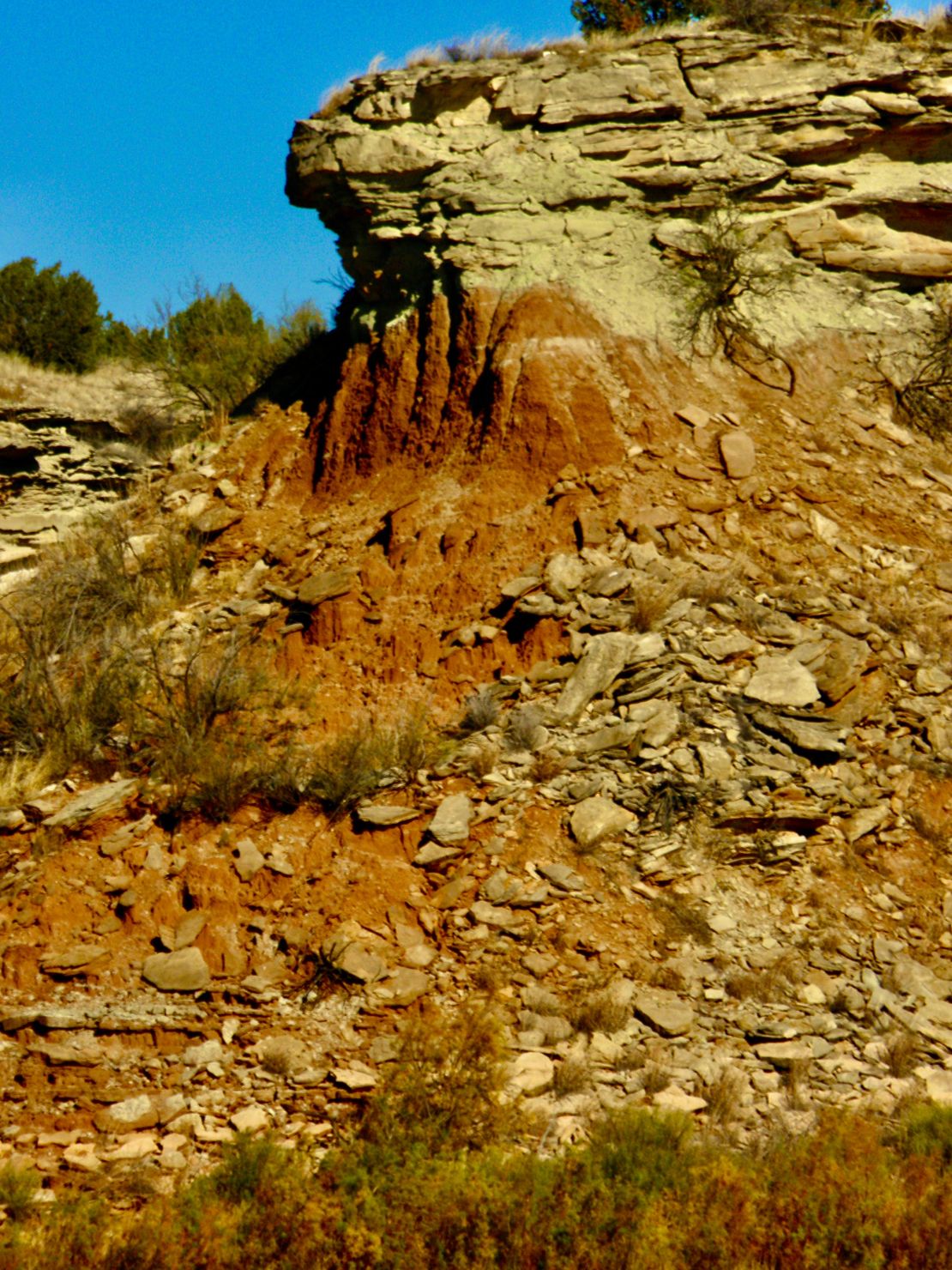 Weather wise it is cloudy and cool, while yesterday morning the fog was thick as pea soup till the sun burned it off. I do not see a sign of any sun. Today I cleaned, stuffed rags along the gaps in the slide outside, and setup my bucket mouse trap, which did not work. Oh, and pick up human made trash on my photographic walk or hike. Also, have to distill a gallon of water and see what residue the water gives me. In Oklahoma the residue was white powder like. Is this gypsum or limestone or calcium? Later in the day, I find the residue here is powder like too, but the same color as the light brown sedimentary layer. So, it isn't quite the same mineral.
November 11th - 1135 Saturday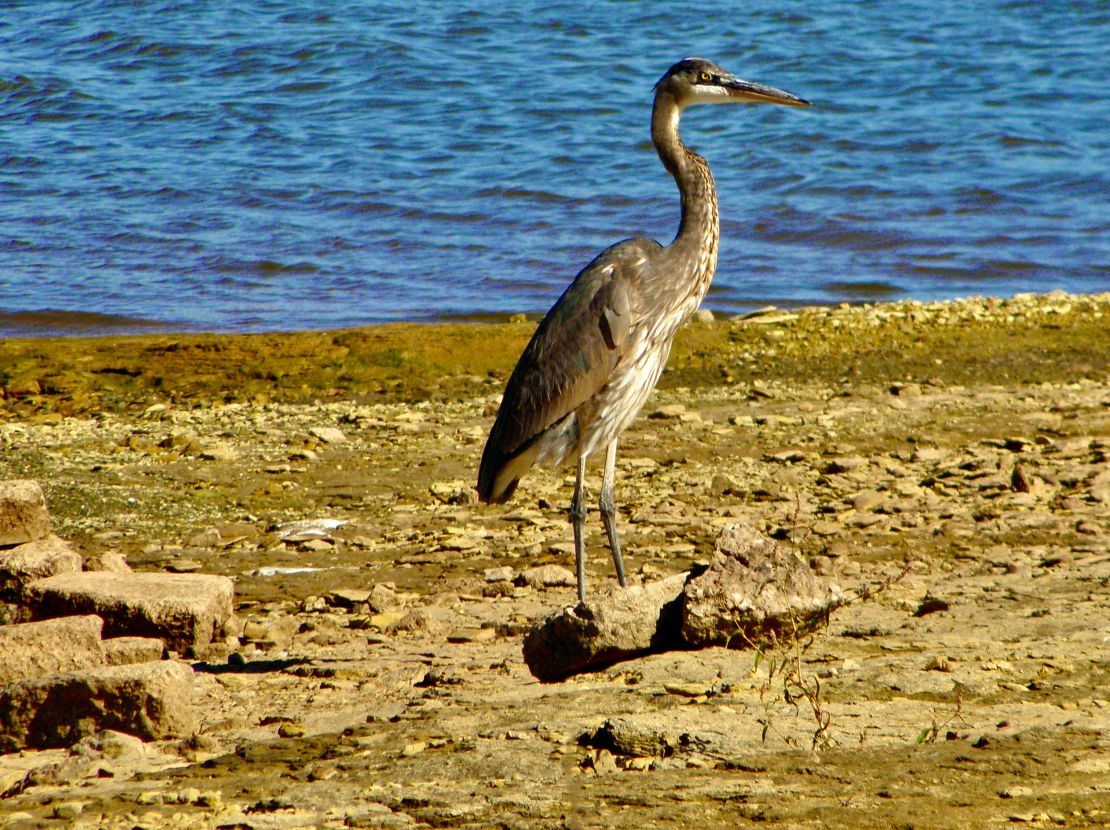 It's a beautiful sunny day today. Two days ago the winds brought in a cold front dropping the temperature by 20 degrees on a cloudy day yesterday. Today will be warmer thanks to the sun. I am still in OK and have new neighbor, a young couple and their black dog.
I travelled to OK by dropping down from Independence, KS into Osage county on my way to Carl Blackwell Lake campground in Stillwater, OK. As I travelled through Osage the oil wells continued to dot the prairie along with fracked gas wells. I felt angry about the murderous injustice that white man oil barons became barons by stealing the oil under Osage reservation by courting, marrying and killing their Osage Native American wives. (They have yet to pay reparations.) Here and there in the prairie landscape I saw old abandon small buildings or tiny houses made from cut stone.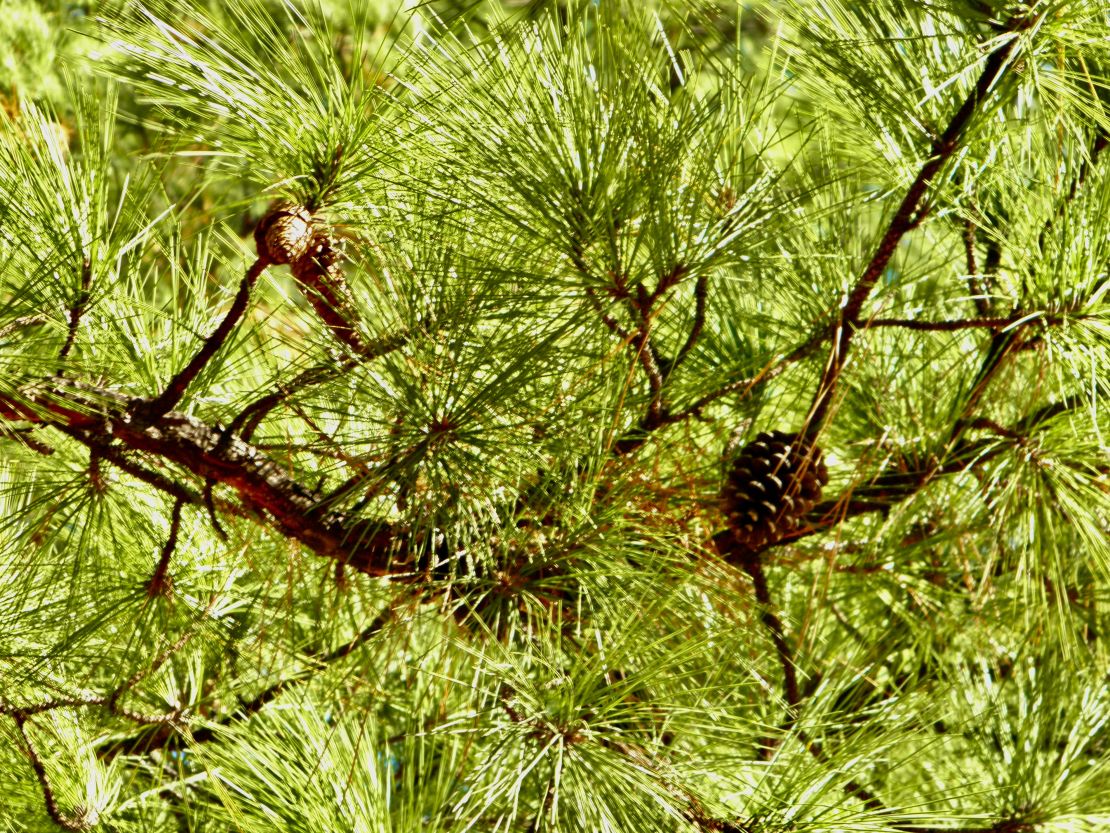 The Carl Blackwell Lake campground is operated and owned by OSU. Carl Petty Blackwell Sr was dean of agriculture and director of the Oklahoma Agricultural and Mechanical College at Stillwater before it became OSU. Thus, there are sister agriculture campuses all over Stillwater and he is remembered via having a lake named after him. I arrived after their homecoming weekend. Everywhere I walked or hiked I was picking up beer bottle caps and cans, wrappers, and bits of plastic.. Fuck Nature, fuck The Creator, (though the niceties would have said some of us humans are so lucky to have this land to do with what we want) seems to be the attitude among most of the whites. Since there does not seem to be any hunting I was able to get closer by 10 feet to the wildlife on the lake for pictures. Again, there is not a lot of wildlife here too. The campground was very well groomed with the grass having a typical military cut that exposed the roots and red soil to the sun and any rain. Again, it is very dry and the lake is low. Maybe too low for crew boat practice, since I only saw them one day. The hiking was interesting since the various mid and tall prairie grasses had all gone to seed making for interesting textures among the browns, beiges, and reddish oranges.. Here I found whispering pines along with spruce junipers and one odd tree, that reminded me of the trees I saw on the island of Kauai in Hawaii.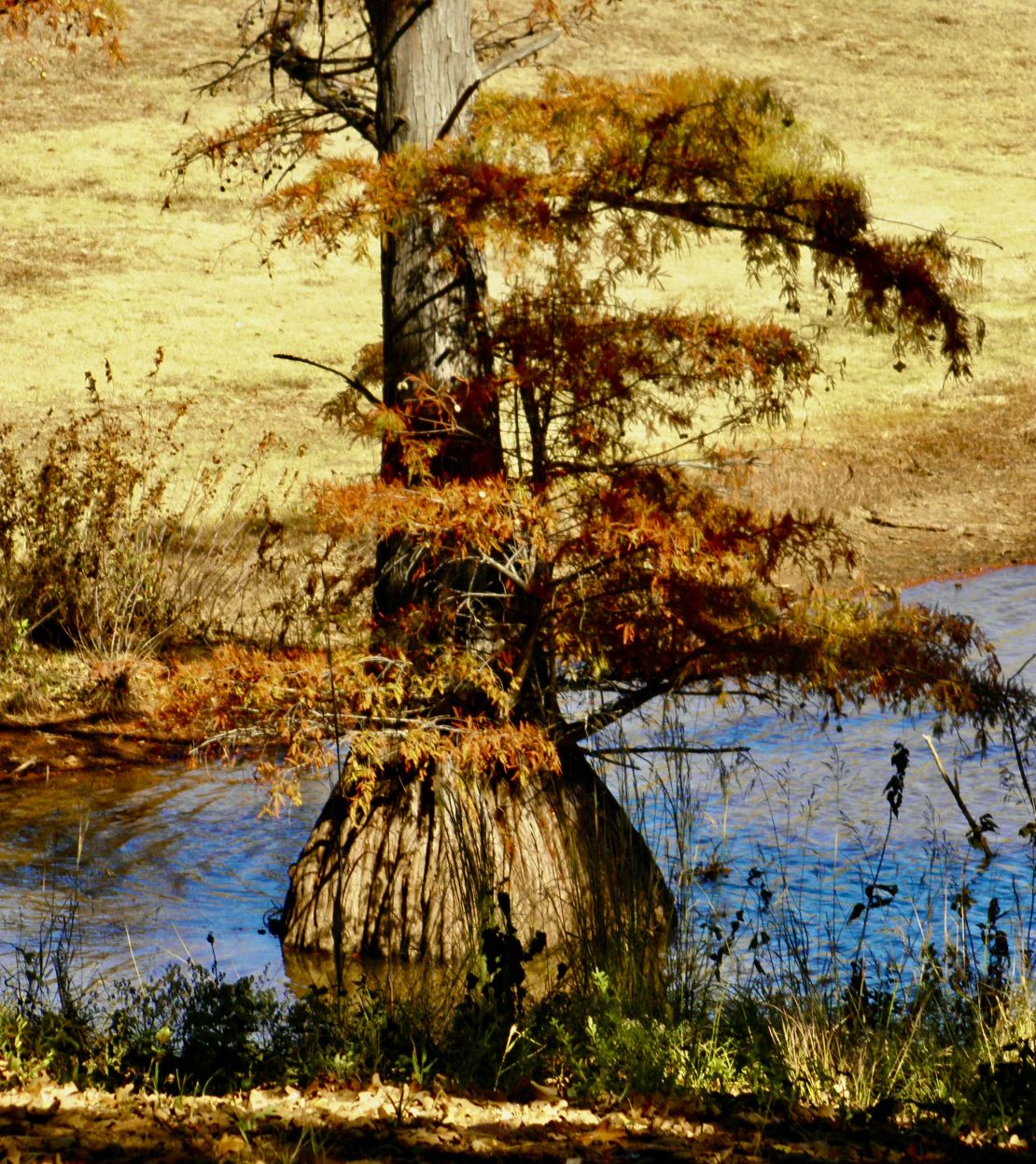 I loved Hawaii with its beautiful weather, refreshing trade winds, and all its flora and fauna. It is so sad that it has been taken over by US rich white people and their military raising the standard of living beyond what the locals can afford, causing most of them to be houseless in their own country. Fyi, the international court has ruled with the Locals that Hawaii was never annexed as promised by the US and thus is an occupied country. At this time last year I had read that the military bases on Oahu are being closed down as their leases expired and the land after it has been cleaned of the toxins is being given back or sold very cheaply to the locals to be restore into communities and farms. Part one of step three to the Hawaiians recovery is being achieved. Maybe in my next life I will be born to a Local family and live contently on the Islands practicing Traditional Osteopathic Health. I can only hope…
After leaving Carl Blackwell Lake I found myself traveling through Payne, Pawnee, and Blaine counties to get to Watonga's Roman Nose State Park which is own and operated by the Oklahoma Recreational and Tourism department. Again, the mid and tall grass prairie was dotted with oil and gas wells in between desolated towns with houses and buildings made from 12" cut stone gone black from soot or whatever was or is in the air. At one time these buildings were alive, not just lived in as with the red brick made homes and buildings of MO. Eventually I saw windmills running along the gentle hills of the OK prairie.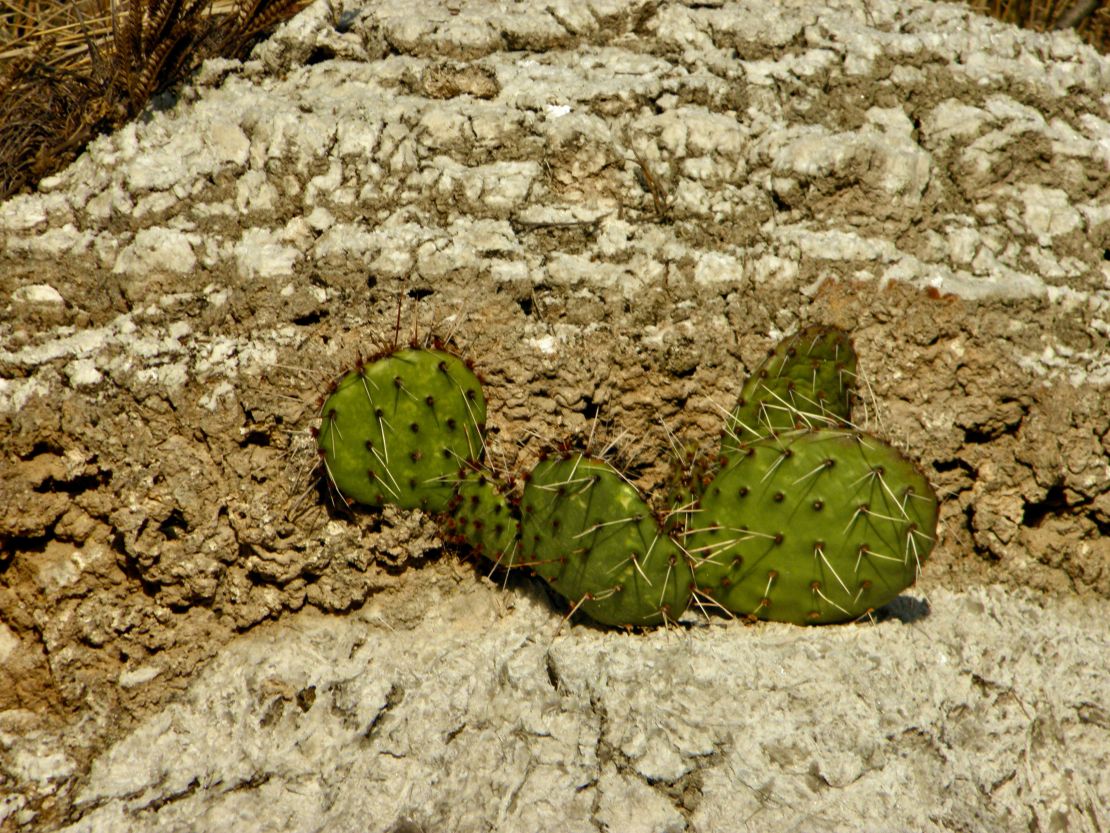 There is no annual camping as it is in the private campgrounds. The state park is located in a small canyon and the evidence that the seas existed millions of years ago is in the minerals that make of the white and azure color crystalline structure of the sedimentary rock. This park was created in 1937 by the CCC, one of Franklin Roosevelt's new deal programs, and named after Cheyenne chief Henry Roman Nose who had died in the canyon in 1917. The town Watonga is Arapaho for Black Coyote, a reminder when the land was part of the Cheyenne-Arapaho reservation till the US government opened it up to pioneers in the 1890s. It is not unusual to see automobiles with license plates signifying Cherokee Nation driving about, especially in Stillwater. Watonga has a yearly cheese festival in early October. Apparently Watonga had the only cheese factory in OK from 1941 till 2007 when it closed due to the winds of tropical storm Erin, that destroyed the factory and 7000 pounds of cheese. Though the Chamber of Commerce decided in 1976 to turned it into a very successful tourist attraction by holding a yearly festival in early October. The town couldn't afford to help them rebuild causing them to relocate 150 miles away to TX, where a small town wanted them to support their local dairy industry. Not sure what Watonga's industry is, or if there are enough soybean fields to keep their huge elevator running in the foreseeable future, it will survived as long as it remains the county seat.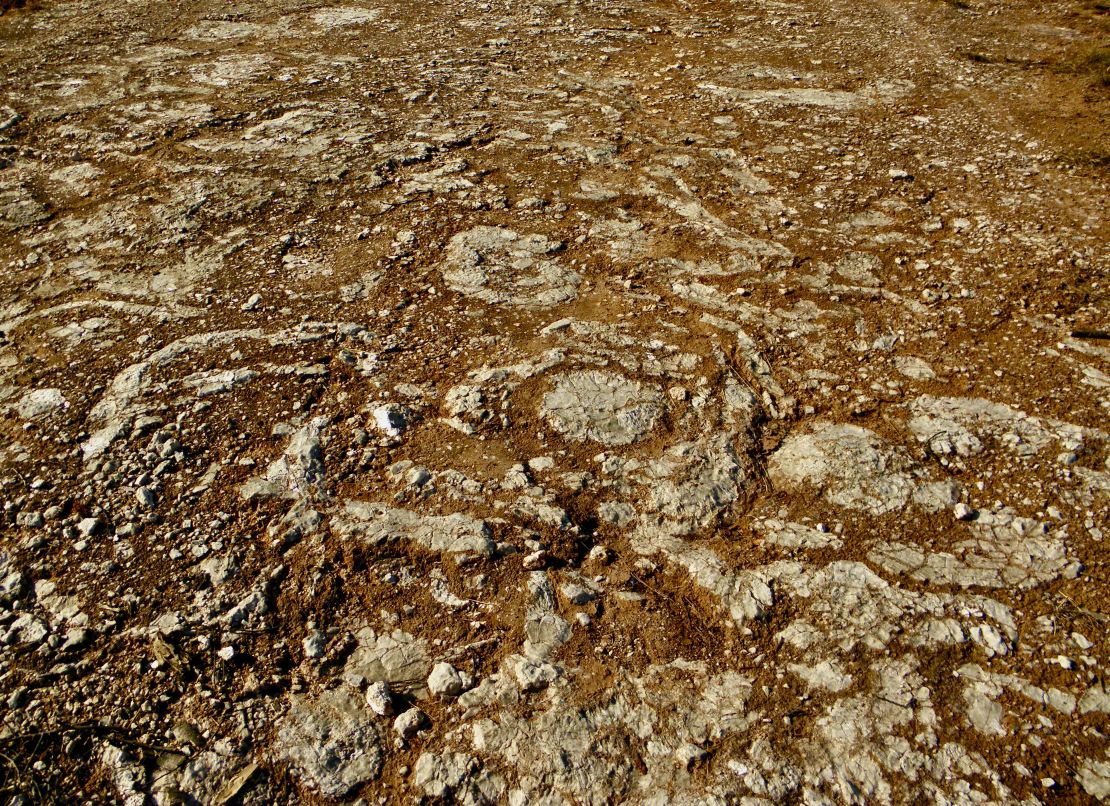 The land in America is beautiful and precious and needs to be study and understood as a home for all sentient beings. As humans we need to balance with all five aspects (physical, mental, emotional/psychological, spiritual, and psychic) to understand how to care for this planet. The States need to protect more of the land from the excesses of human nature. This climate change is a human creation and we are smack dab in the middle of a Sixth Extinction. Public lands need to be freed from ranchers, farmers, miners, hunters, energy extractors, railroads, and recreational vehicles. Plus, public access needs to be reduced, as well as more lands need to be protected to meet the needs of public access. Plus, the public must be encourage as a civic duty to care for their federal, state, and city parks, campgrounds, and trails. Having to carrying a trash bag around and pick up human trash, that seems to be everywhere in every campground, is a civic duty. This can be taught in public and private schools, summer camps, and on vacations. The planet and all its flora, fauna, and geology is our home and offers everything we need, if we are to recognize our abilities to achieve a moral self sufficient life with other sentient beings and to actualize our full potential in all the aspects of life, before it is too late.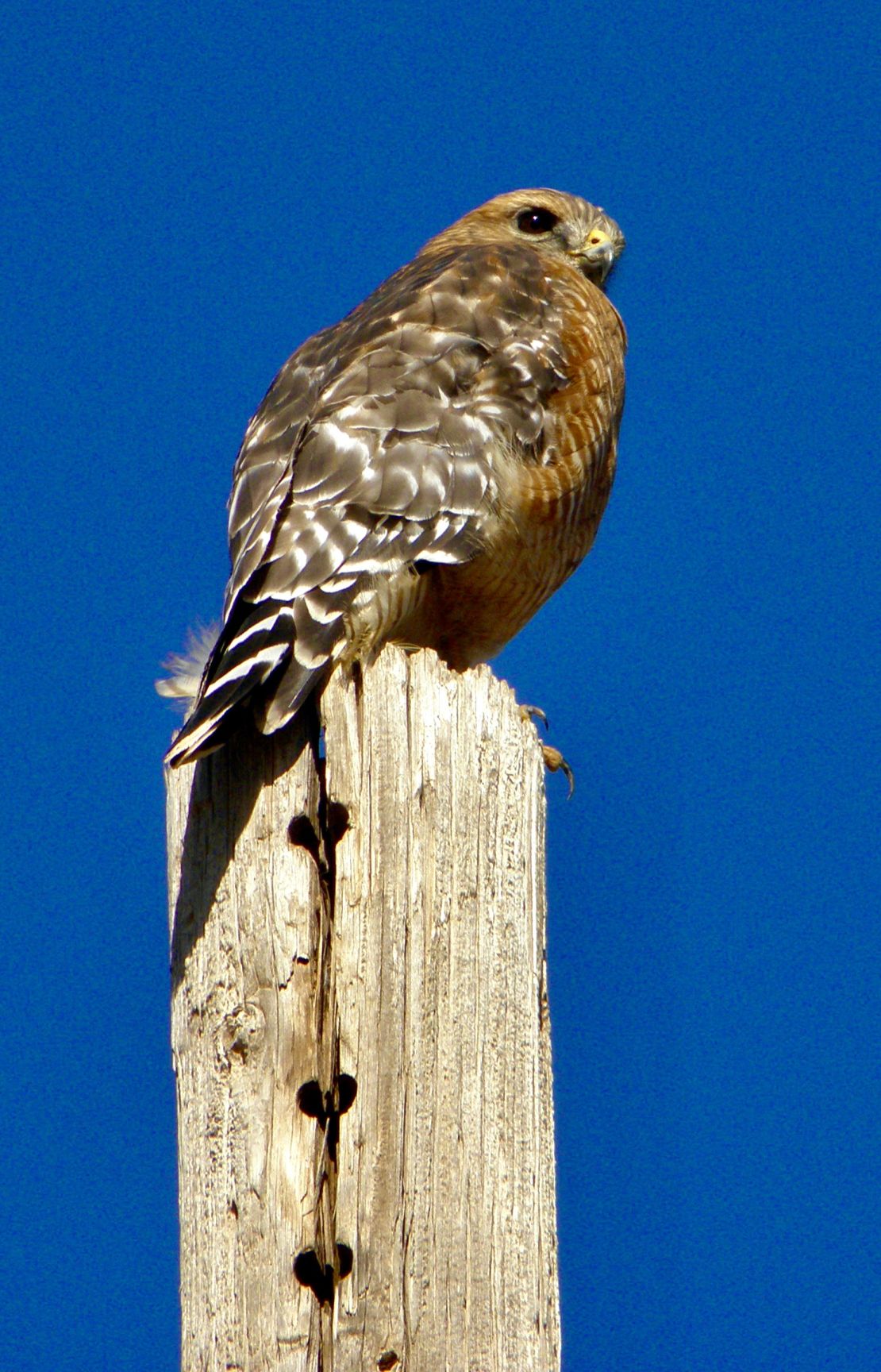 November 6th- 1330 Monday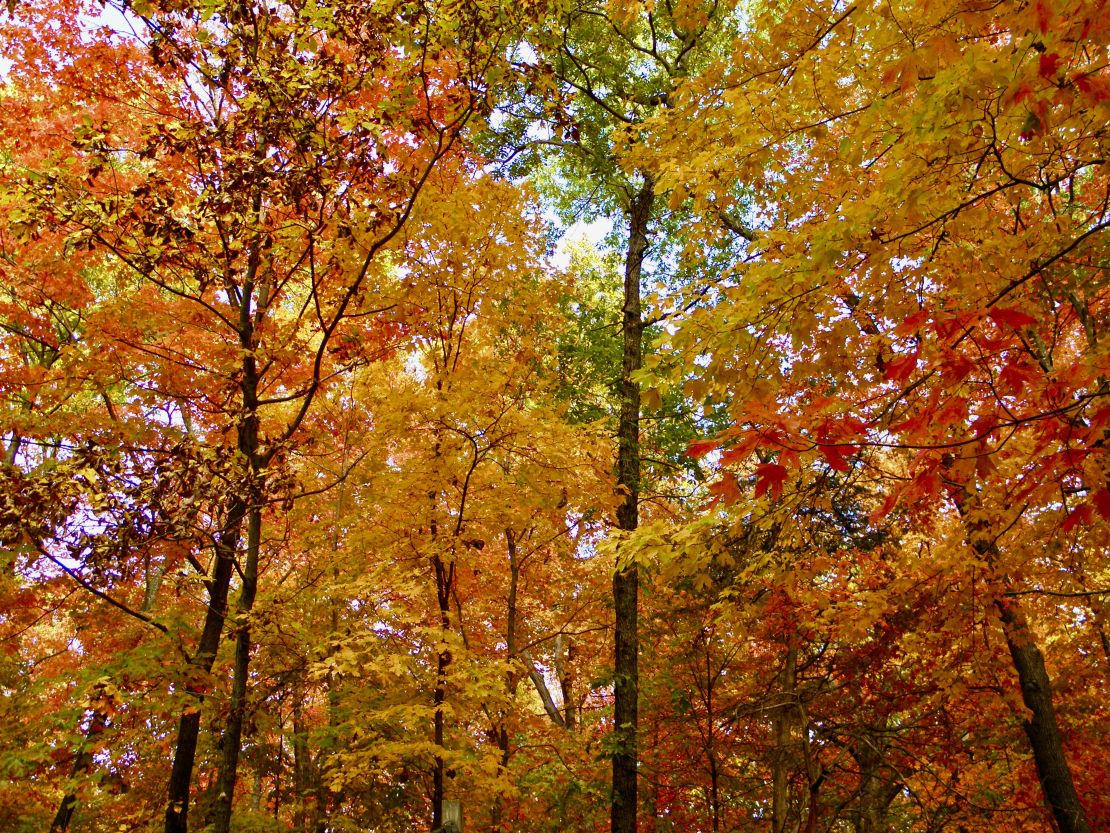 I have to remember to save when I am doing this blog. I keep losing what I type along with the photos I insert. As you can see Mark Twain SP was loaded with beautiful color. The geology is that of stratified layers of rock holding fossilized impressions of sea cretins from a million or more years ago when the oceans exited instead of the prairies. Missouri soil is called menfro because of it is a clay-rich forest soil. Lake Ozarks SP really had a variety of trees with all those layers of rock. The weather has been mild, not too hot but more dry then it should be. Both lakes were down to the drought levels. The animals were very frighten and rightly so. There were gunshots heard throughout the parks where it was designated. Sad.. I would like to have the photo equipment for the blind I found on one of my hikes. Mark Twain has five trails totaling 6 to 10 miles. Lake Ozarks has at lease 25 to 50 miles of trails that I only made a dent in before it got cold to the bone for me and I decided to leave a day early to get a motel room where I could stand under hot water to warm up.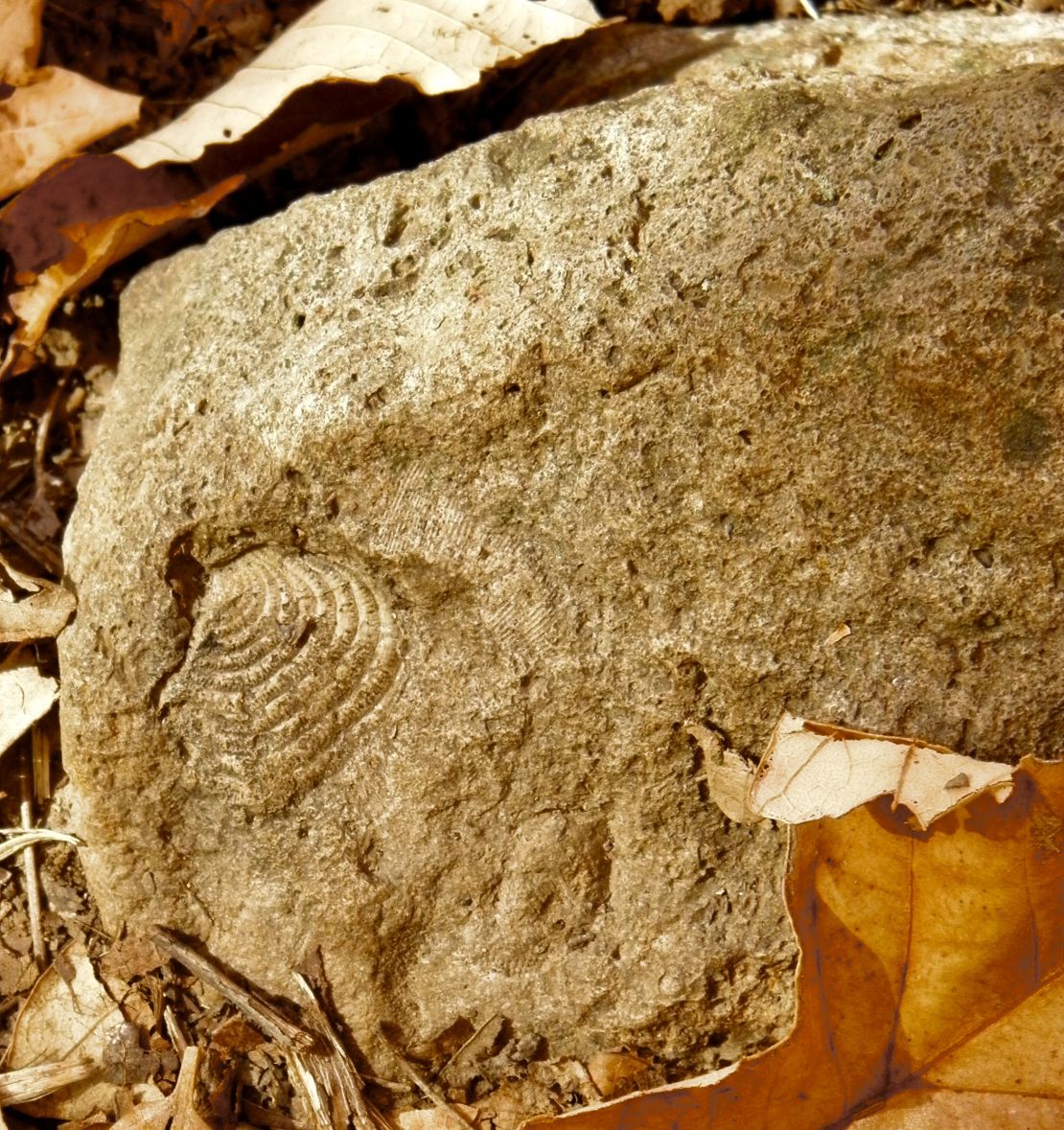 November 7th- noon Tuesday
I decided to try writing this outside the website and then cut and paste it in whenever I get to any WiFi, hoping this would be more efficient. Since I am in Oklahoma I will start with describing the people of Oklahoma, who's friendliness cannot be trusted, fore it is all about niceties, if that is a word. It seems for white people friendliness comes from the mind not from the heart. I kept seeing this more and more as I traveled further south and west after leaving Mark Twain State Park. The intonations of voice slowed down as their tone of voice grows louder. They draw their words out giving the impression of their mind slowing down, which I would not be surprise if that is so. The men are worse with this than the women. Though, there seem to be two types of women, those who are unbearably silent and those who chatter not giving the man or woman a chance to say anything for fear of their conversation being dominated in any form to expose their hypocrisy. My course of action has been to stay polite and not engage, finding that this seems to take the wind out of their sails of both, men or women, thus allowing them to find another target for their egos of insecurity. Enough said for now. The following Monday I will be camping in the Texas Panhandle.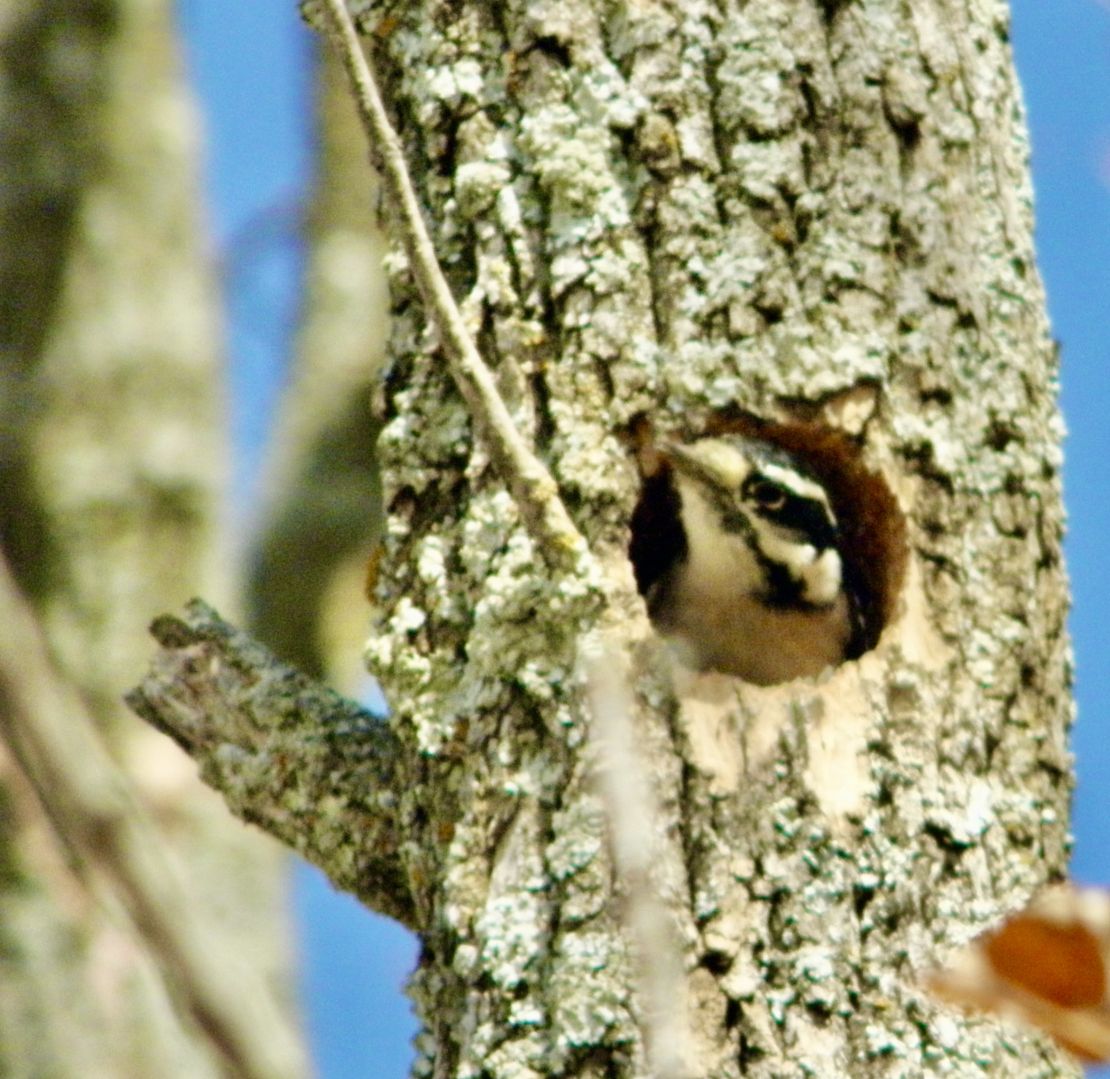 Anyway, I found a couple of chances during one of my hikes to get some closeups of a woodpecker digging out a hole in a dead tree to nest in. It was really cute. But, I need to start looking for a better camera. Not all my shots turned out like I wanted them to.
Sam Clemens is a lucky humorist writer who's pen name Mark Twain got over 2000 acres with a lake name after him. The politicians and oligarchs he targeted in his writings when critiquing a continuing corrupt political system probably rolled over in their grave. But then having part of the park designated for hunting probably did not sit well for Sam Clemons, if he is still watching from the other side. The fear is palpable from the wildlife, fore you can't get within 20 feet of them, whether it is pelicans or cranes, terns, sand pipers, or the large pileated woodpeckers, fore all of them immediately fly off or move quickly away. I feel very sad about this alienation that the human animal continues to cause. The Army Corp of Engineers did a wonderful job building the dam and regulating its flow, despite that fact the lake was way below its normal height due to drought. The fall color was beautiful and all around as I hike the 6 or so miles of trails.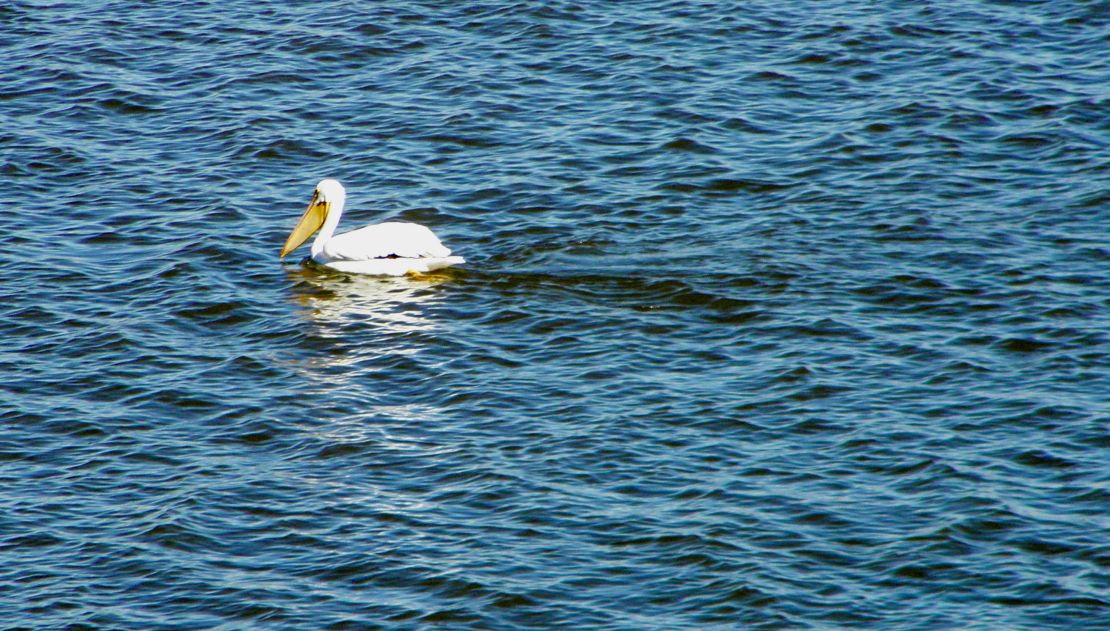 The small towns I travelled through were almost desolated. The houses and business were two or three story red brick reflecting the stately European architecture of the late 1800s when the prairie lands were opened up for settlers and pioneers. The rolling hills of Missouri varied from gentle to long gradients and I can see myself settling among the these hills, but business agriculture is a problem to the prairies. It may not be as intense in the hills as in Iowa, where the black loam soil has turned gray or brown and clayish. But they are not that far behind in the northern part of the state. The southern part of the state has more of the rocky brown to light brown less nutrient dense soils and farming is small scaled. It is not unusual to see goat farms, horse farms, and a few sheep farms with lots of prairie pasture with woods. I am sure there are more gardens and chickens contained in these farms then anywhere else.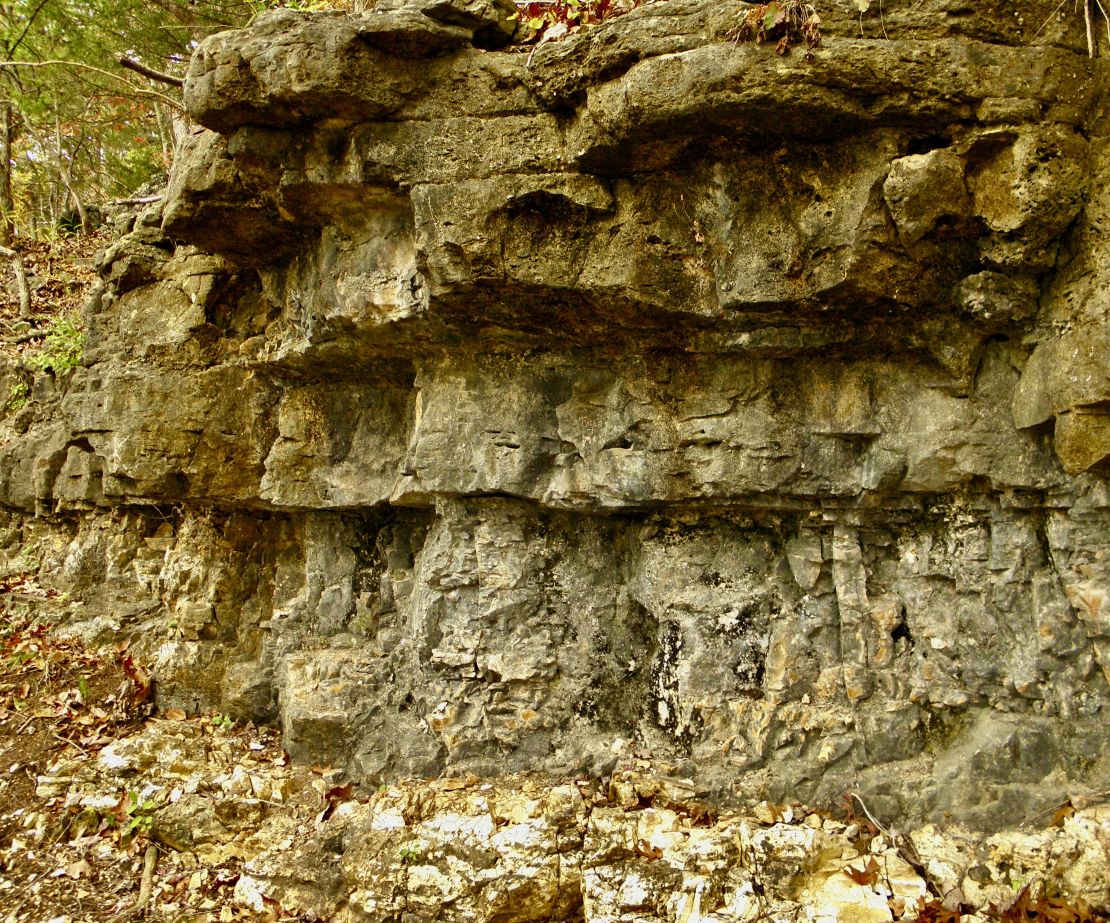 As I travelled into the Lake Ozark's region one can see more of the hills morph into bluffs and ridges of stratified layers of rock left by the small oceans that existed millions of years ago. In the Lake Ozark's region there are miles and miles of trails. The stratified rock bluffs continue to erode with rain and winds. All the rocks not eroded smooth are imprinted by fossilized cretin sea creatures of the era. Despite all the trees buffering the strong winds, they were stronger than gentle breezes. Since getting back out onto the road I decided to distill the water at all my campsites, At Mark Twain State Park the water left a scaly imprint in the distiller leaving me to believe there is more calcite in the sedentary rock that has leached into the aquifer. At The Lake of Ozarks the water left iron filaments in the distiller and the water is definitely harder since it runs rust colored in the streams.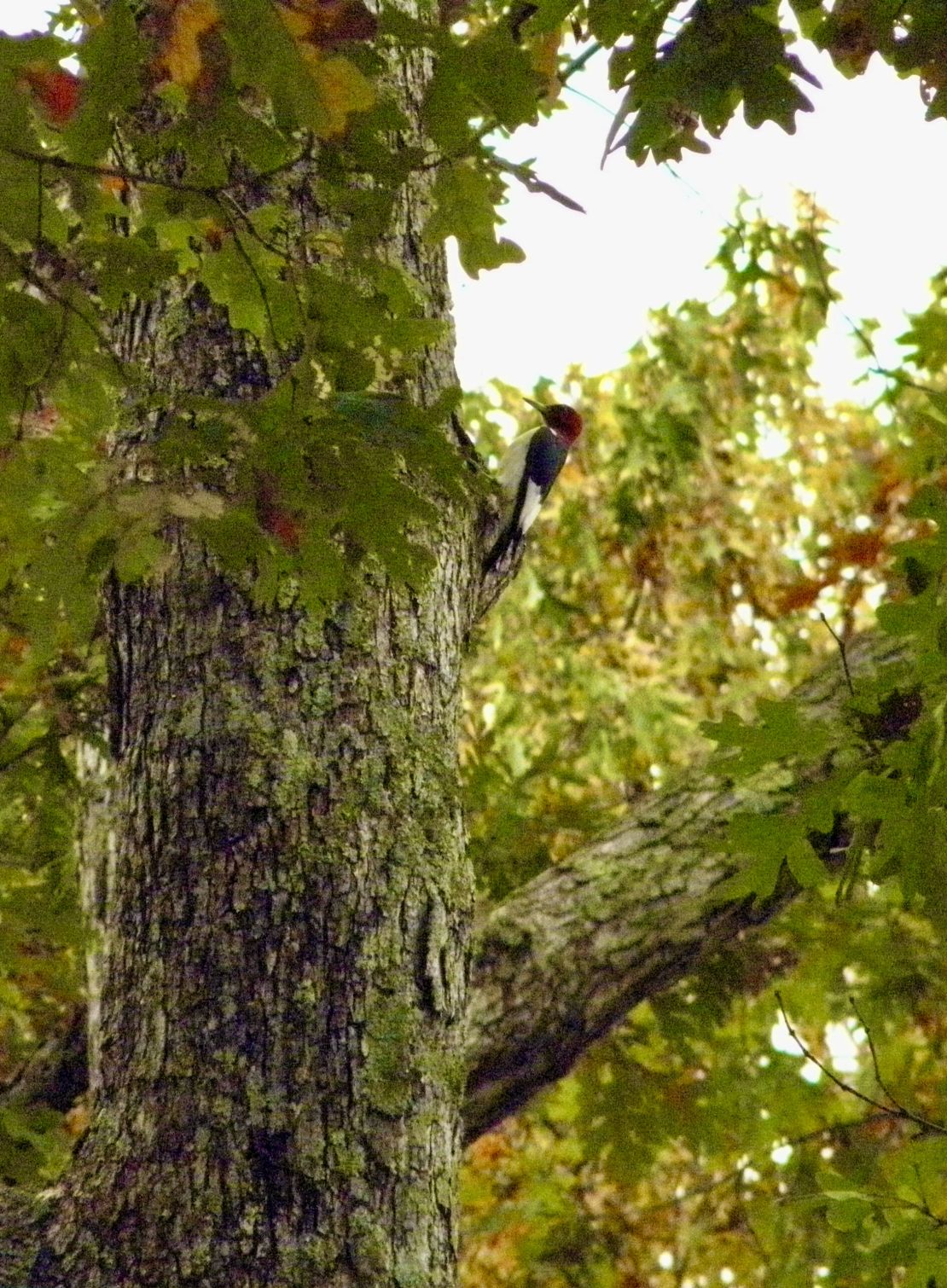 I find it strange and sad that traveling south of Mark Twain State Park the quality and quantity of the facilities get worse and less. Maybe it's due to not being near bigger cities and feel those who camp that far away from said cities want more primitive type campground experience with lots of tourist type stuff to buy to prove you were there.? This had tracked into Kansas where the motel I stayed at had a hot shower, but not that great of water pressure. Also, once I crossed into Kansas the oil wells started to dot the prairies. Plus, once in Kansas I learned via talking to the motel clerk that the weather for tornadoes is always when the air temperature changes from cold to hot. I wonder if this was taken into account by the original author of The Wizard of Oz when he wrote his book as a critique of the political economic system of the States. Now, US Capitalism is so bi-polar that the Globalization for this type of capitalism has many countries saying "no" and "take it back" effectively slowing it down and hopefully bringing an end to US Imperialism, since it does not seem to be sustainable or grounding like the red-headed woodpecker...
Despite the quality of the facilities at the Lake of the Ozarks is less than the Mark Twain State Park the beauty of the fall color and the different type of trees and flora as well as the stone layered geology made up for it. Also, it helped to be greeted by a family of deer, not sure of the breed, when I arrived and when I left. I was able to get within 20 feet of them and I was able to finally captured a picture of a literal red-headed woodpecker. Still need a better camera so I could get pictures of the turkey vultures circling about. I will have to make a point of it, fore I have at least 20 miles of trails to hike next Fall in this state park.
October 11th- 1015 Wednesday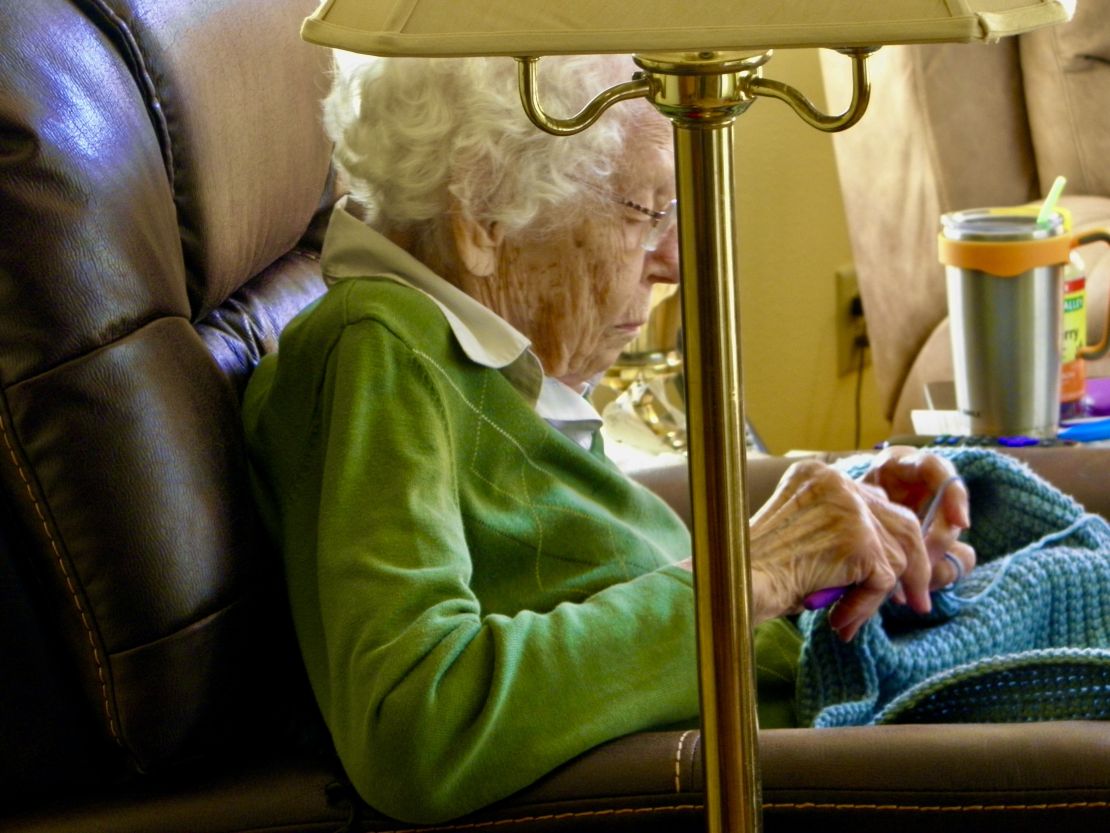 It is a rainy morning. Finally after days and weeks of no rain the rains have finally come. Of course, they
are not the heavy rains that the eastern part of the country is getting. I have been hearing due to El Nino winter will be late arriving. I have been back at my golden sister's in the north from the last week of August till last Friday bringing order out of chaos. My mother's 93rd birthday was over the weekend. She has been practicing moving about by pushing her walker ahead of her and striding to meet up with it. ☺️😄 It is good to see her followed my advice to "just move" during her breaks from crocheting blankets. It has put her in better spirits. Though she still has jealousy issues of a princess, I tell my sisters not to expect changes in that area in the near future or in this lifetime.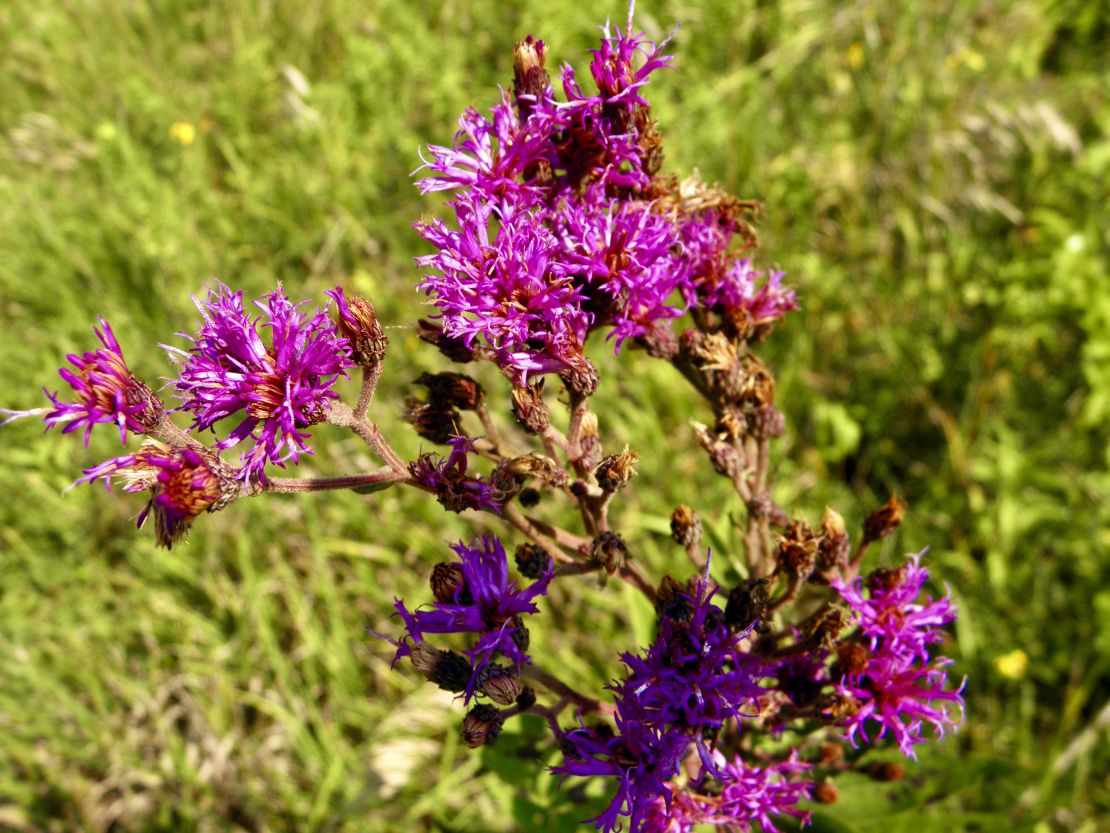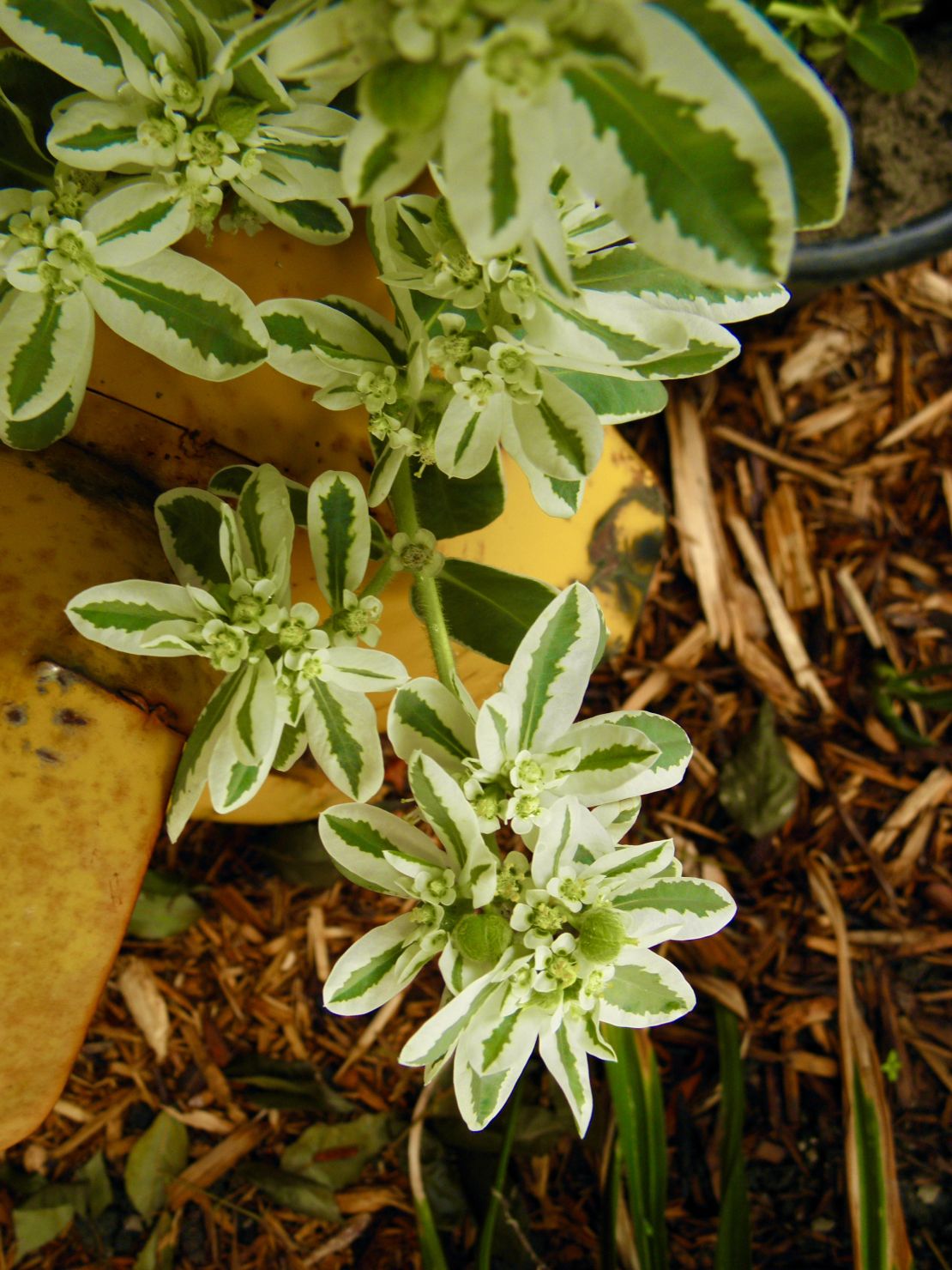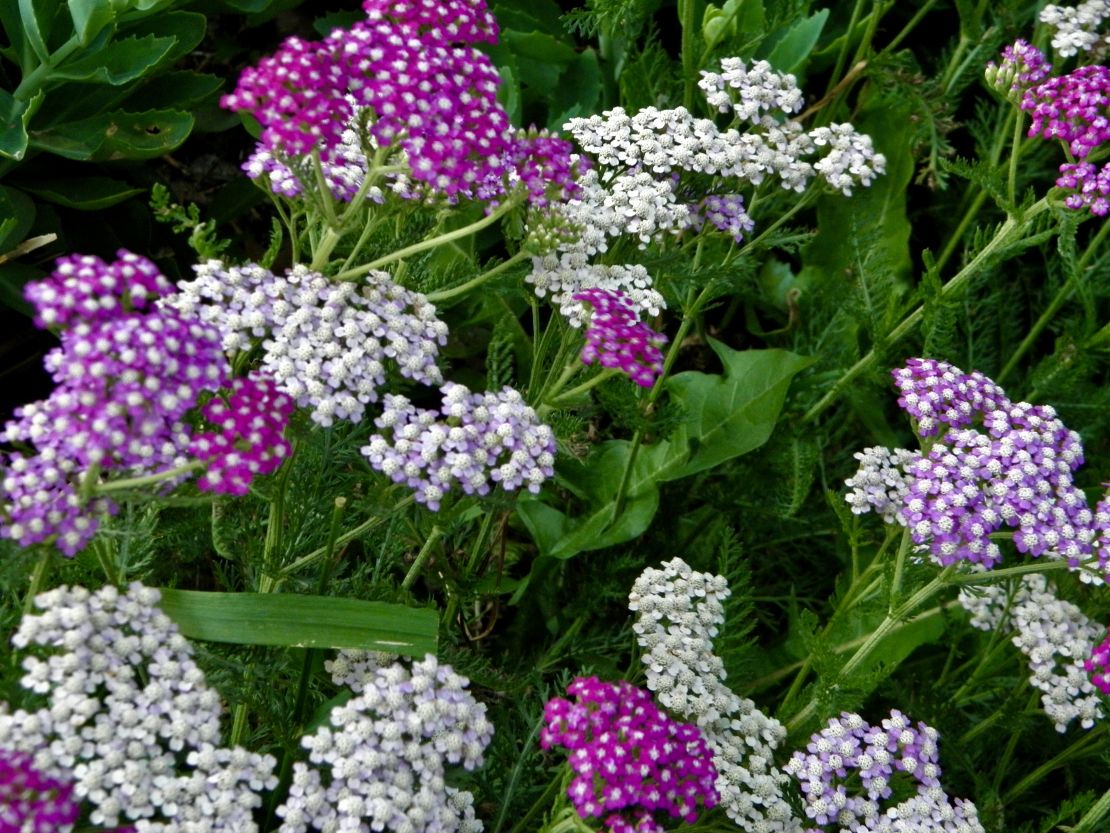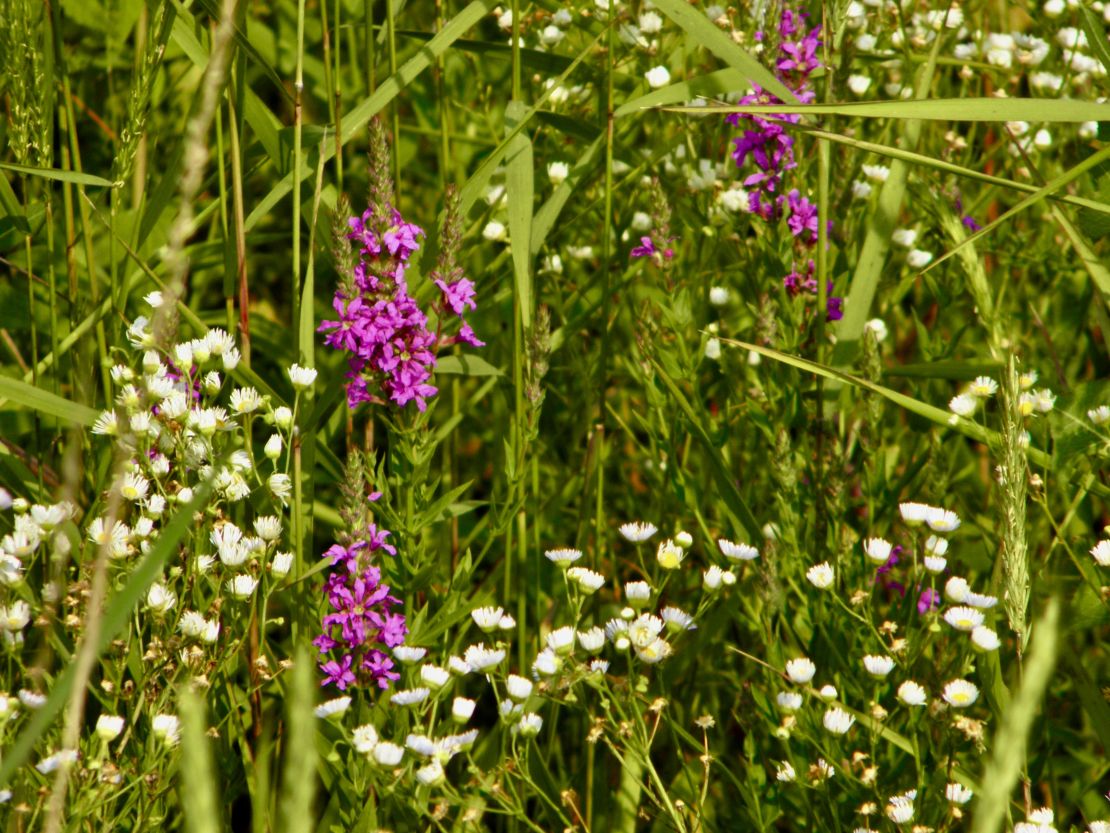 Being at my golden sister's has been rewarding. There wasn't a day when brush needed clearing, trees needing transplanting, gardens needing mulching, and storage needing organized and centralized. Plus, most of all toxins such as old motor oil, filters and bottles, batteries, paint, and poisons were needing disposed of in a safe and responsible manner. In the process it became very apparent my sister needs to take the old garage and convert it into her "she shed"/greenhouse for all her dozens and dozens of potted plants. It was wonderful to be doing something everyday, where at my mother's condo it is more difficult to find something to do. Though this time around I am teaching Mother to have a piece of toast with her morning meds to relieve the upset stomach she gets after taking them. As to how well she maintains this routine will depend on her motivation to feel good.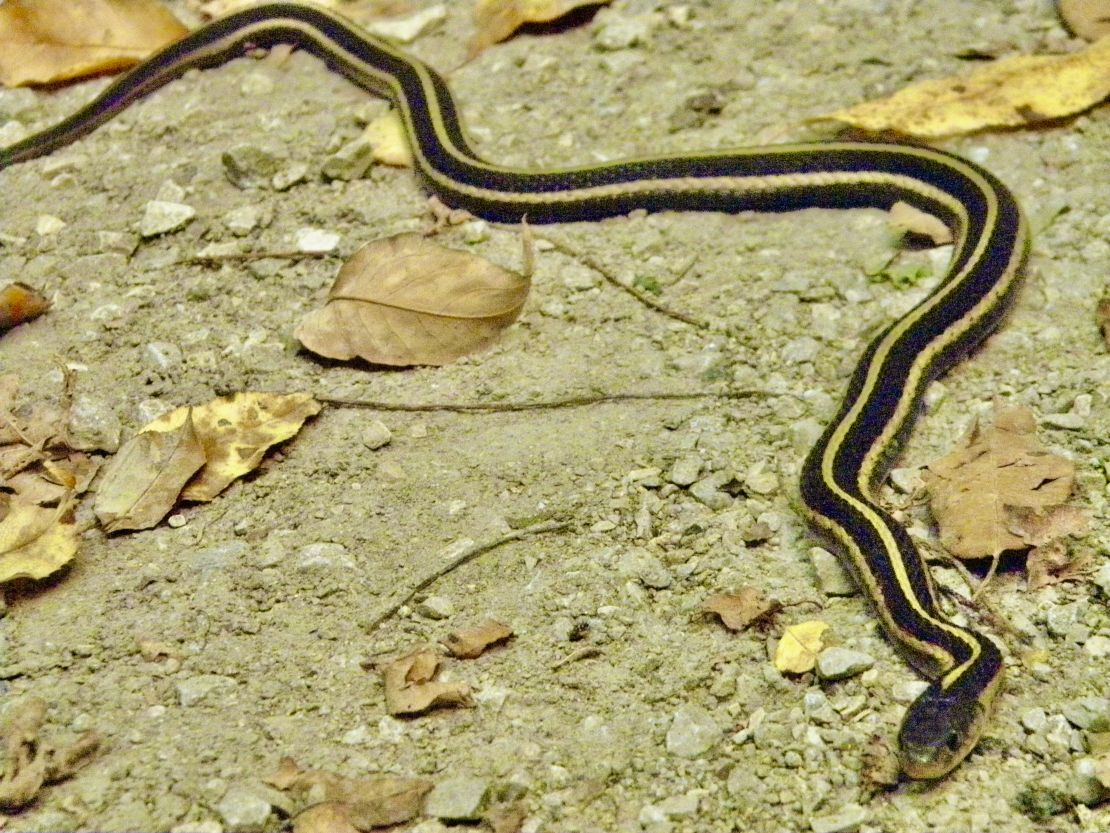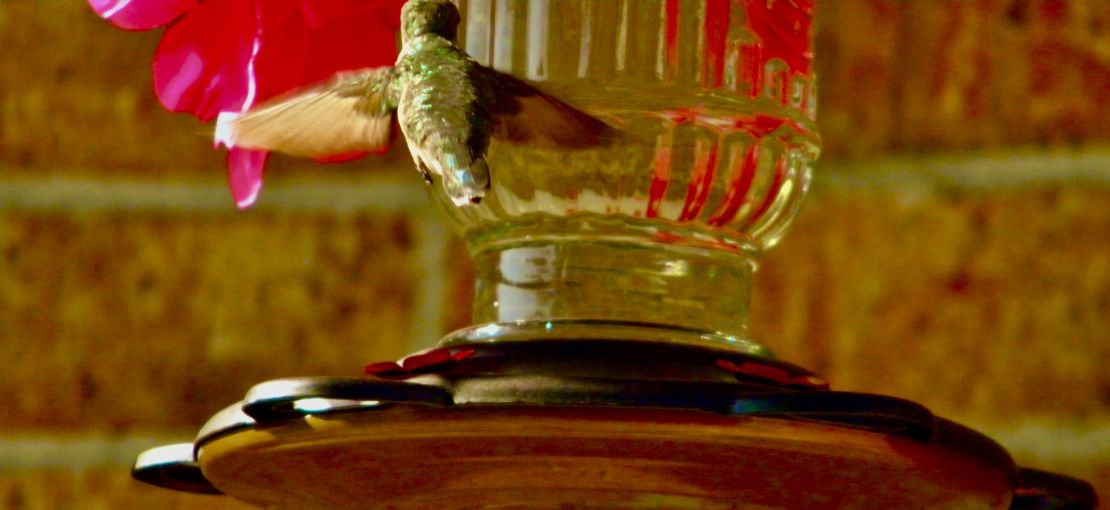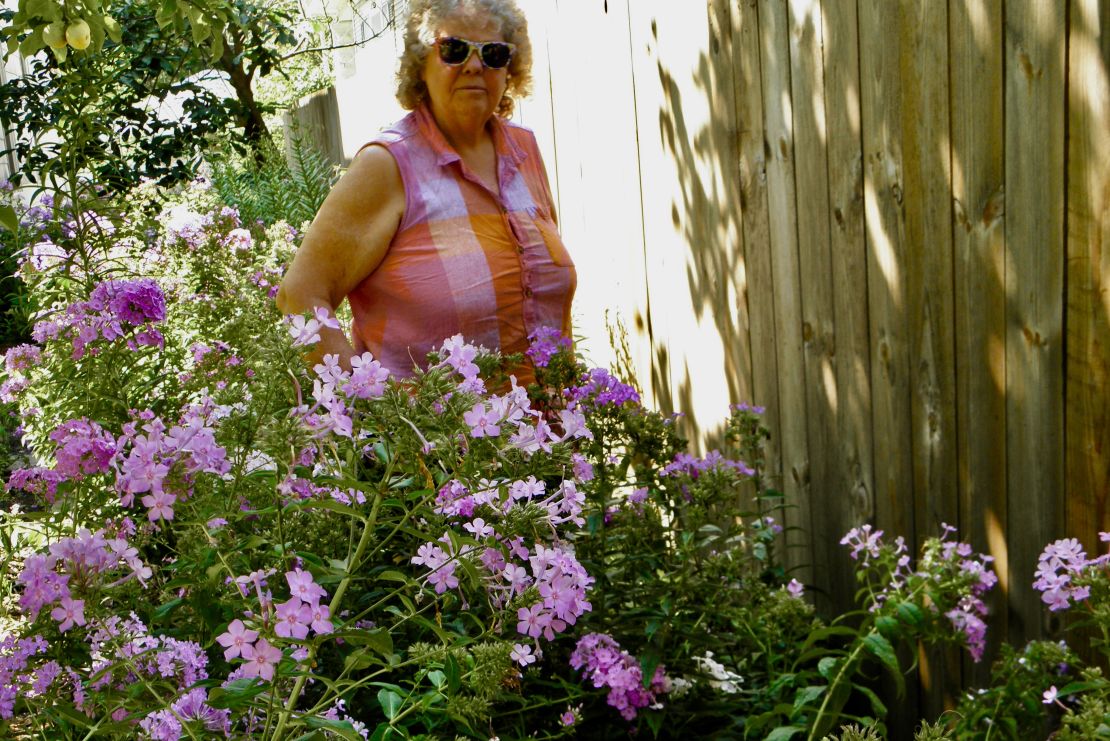 I have enjoyed getting to know the prairie through the number of various plants and trees found in the ditches and on the trails. Every time I meet somebody who asks what I think of Iowa, I always say at least a third of the farmland needs to be converted back into its original tall grass prairie state. It will happen as people get tired of the having immune disorders from all the toxins sprayed onto the soil that blows away with the wind and rain and meds get more expensive. As well as developing brown lung from all the harvesting where combines blow out shaft that flies with the wind turning the air brown. Plus, the beating sun and drought that continues to kill the soil microbes, the travel industry continues to convert to electric, the USA having to compete with all the other agricultural countries to sell their ag product, the decreasing human population, and rich Silent Gen farmers are finding their children are either not interested or incapable of farming, (fore the problem of the rich is prevalent among rich farmers too) will mean less land farmed and hopefully given or sold to people and organizations that convert the land back into prairies.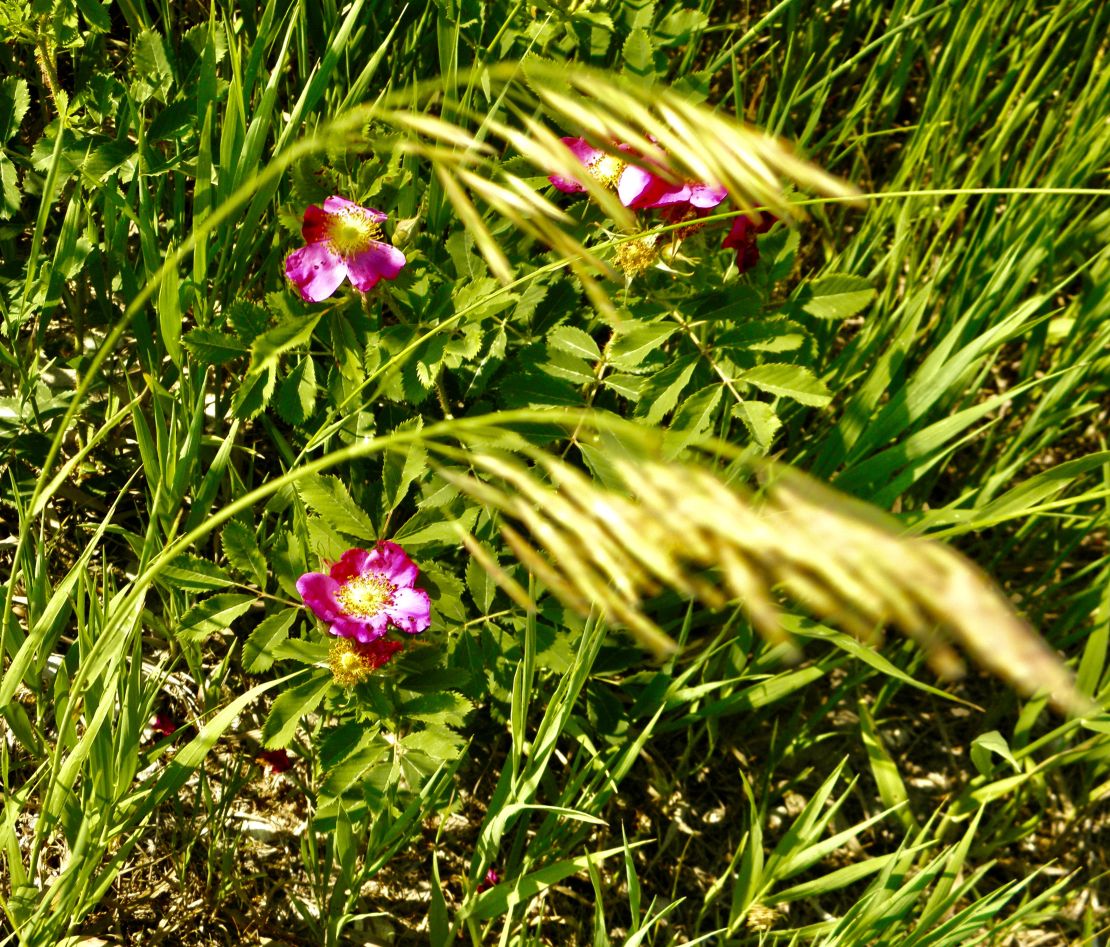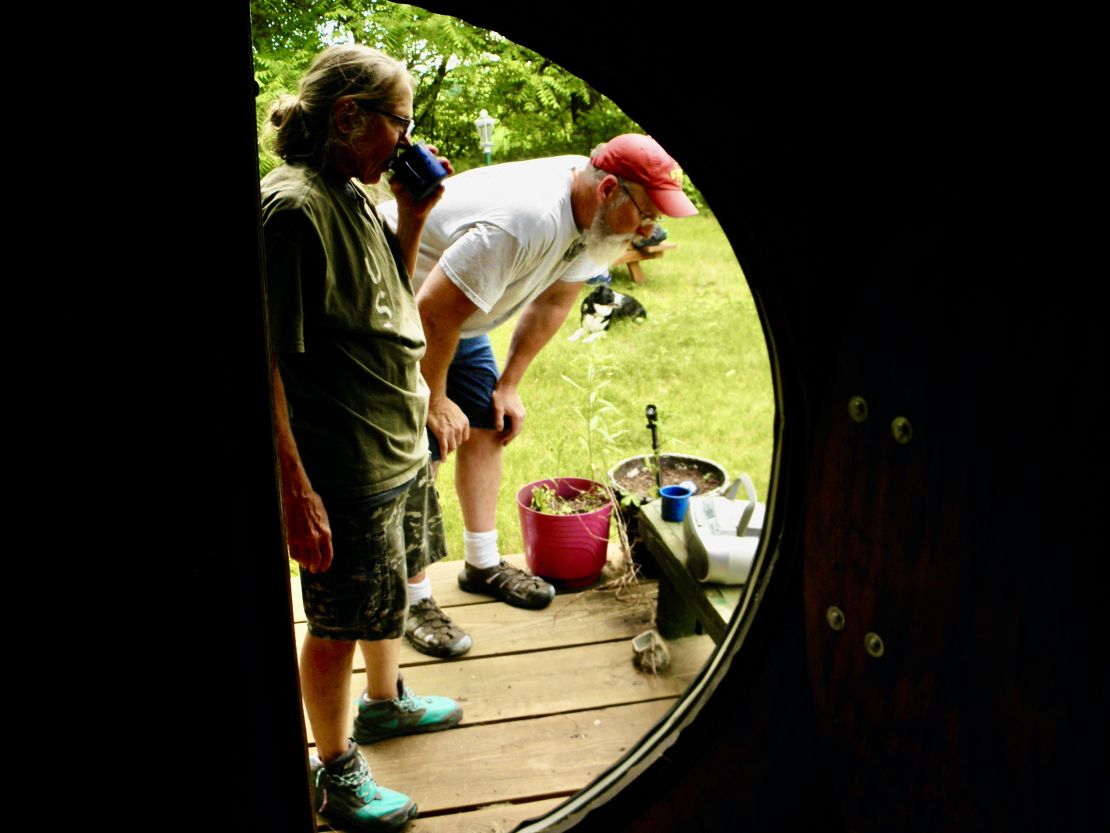 I rather tolerate the various insect populations, pollen, coyotes, rodents, and toxic plants than an immune disorder or brown lung or capitalistic social disorders of neighbors. The beauty, drought resistant, and deep roots of a prairie through the seasons tells a story of the years and decades of survival and prosperity of Nature.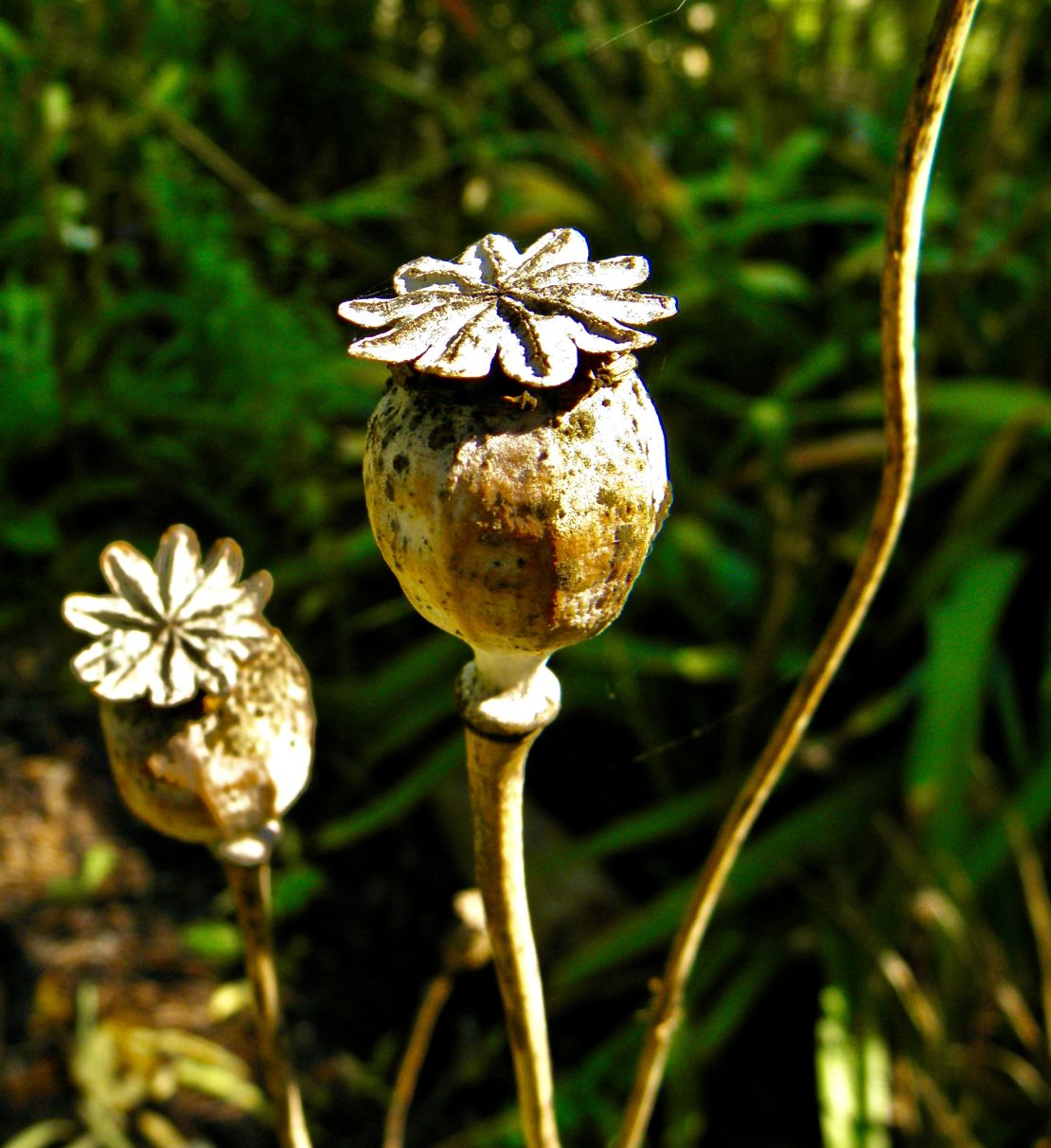 Till next time...
July 29th- 1100 Saturday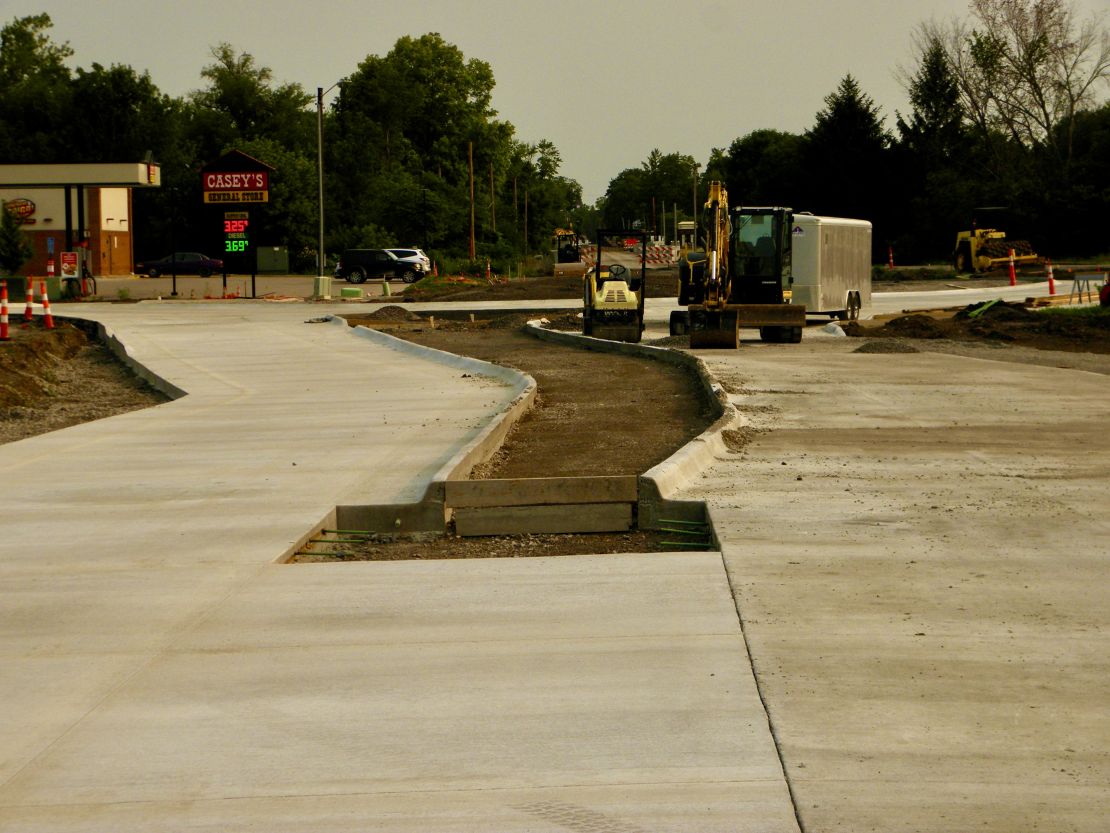 I still find myself not going anywhere on weekends to avoid any psychopaths or sociopaths that may be out there. Though the mental health issues of my Mother predisposes her behavior to one of these. So, my next option is staying in the spare bedroom reading, writing, and surrounding myself with crystals, especially at night. During the weekday depending on the heat, air quality, and humidity, all of which gets heavier through the day, I am outdoors in the morning gardening or riding my eclectic bike on the miles of trails around the town getting back by noon to stretch. I still have not gotten into practicing my watercoloring, assuming there is no practical place to practice.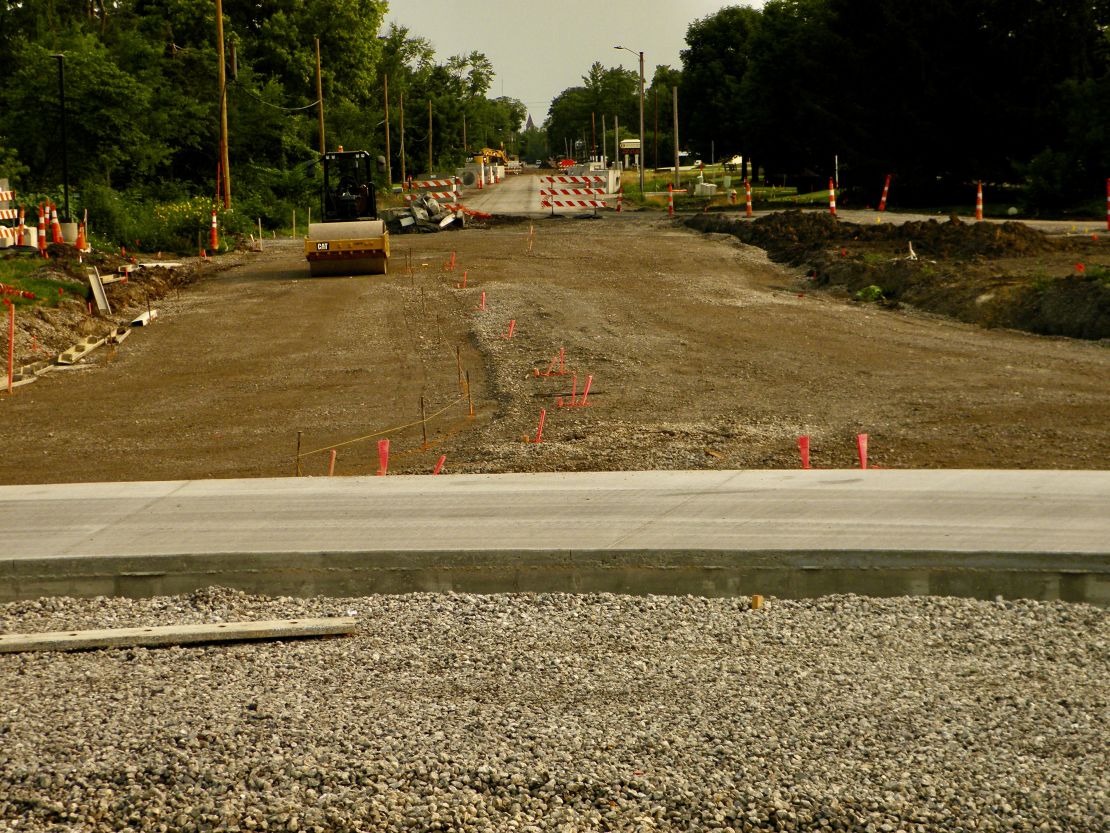 When I arrived to my Mother's condo I encountered massive road construction off the state byway 34/Rt1 exist. Apparently there have been many accidents at this Libertyville Rd/ N/S Rt1/ Hy34/ new condo entrance intersection. Do not know if it is people rushing, needing to get to the gas station or the hospital, having to grab Libertyville Rd cutting in front of North/South traffic. Supposedly the state felt a rotary would be the best option to stop or at least cut down on the number of accidents. There has been a lot of consternation from the locals about the project. Many of the complaints have been more feng sheu in nature, follow by confusion of the alternating routes, and that it seems complicated instead of a simple signaling light. With my life back east and the two months of traveling I have seen more signaling lights used as yields and assholes are everywhere including rural areas where traffic is sparse. Proof of traffic safety will be in the signage at the rotary after it is completed. I am curious what the landscaping is going to be inside the rotary. There has not been any drawings posted on any .gov websites. Which is very strange considering Natick where I am from has drawings of the major RT9/Rt27 cloverleaf construction of that exit.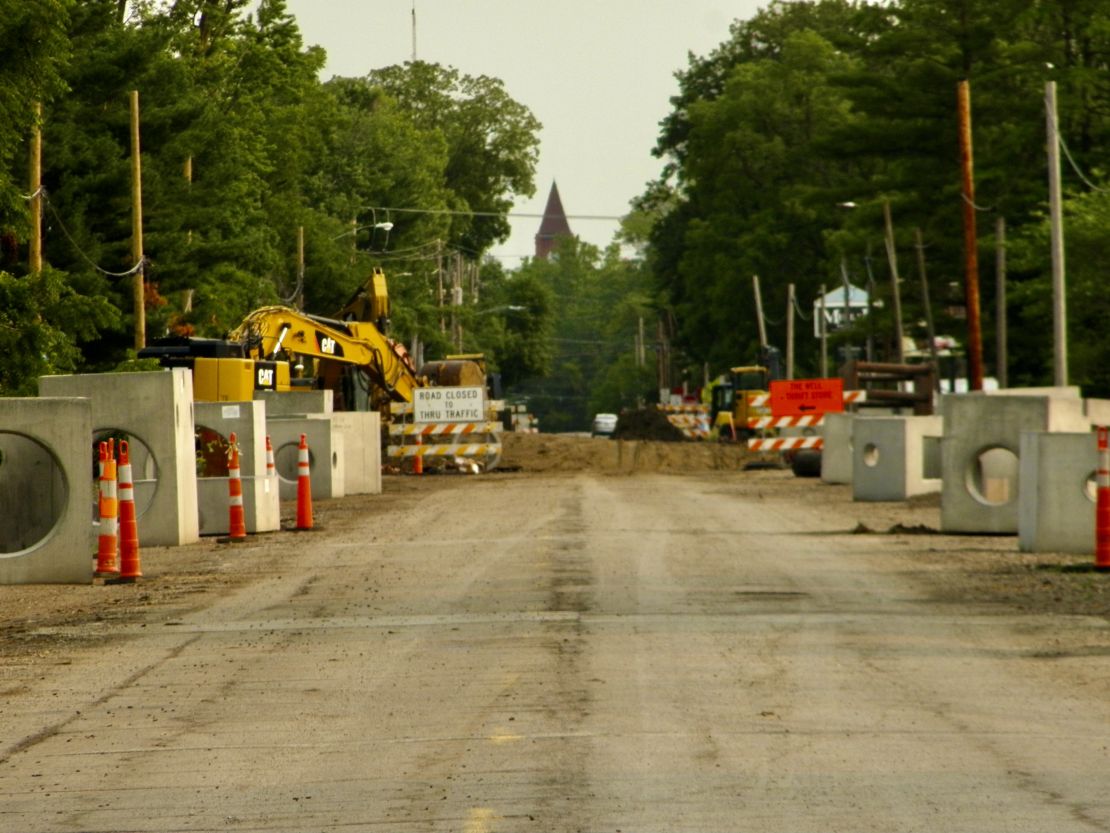 As of this week the into and out of the rotary, cement work has been completed. August will be a month of merging the four exits with the rotary. At the same time northern Rt1 is continually being dug up pass the complex my Mother's condo is located into the tiny mini mall. The infrastructure is composed of tile with ditch runoff. So, the 3' deep ditch is being replace with these giant cement structures for everything that is runoff as well as residential and businesses sewer. (Hopefully, the end product will be sidewalks as well as a wider road/street.) Due to the constant prairie wind this construction has added dust from dirt, gravel, and cement to the already coal and propane residue tainted air from two large power plants located a half hour or more northwest from here. And who knows what agricultural chemicals are being used on a weekly bases that are airborne.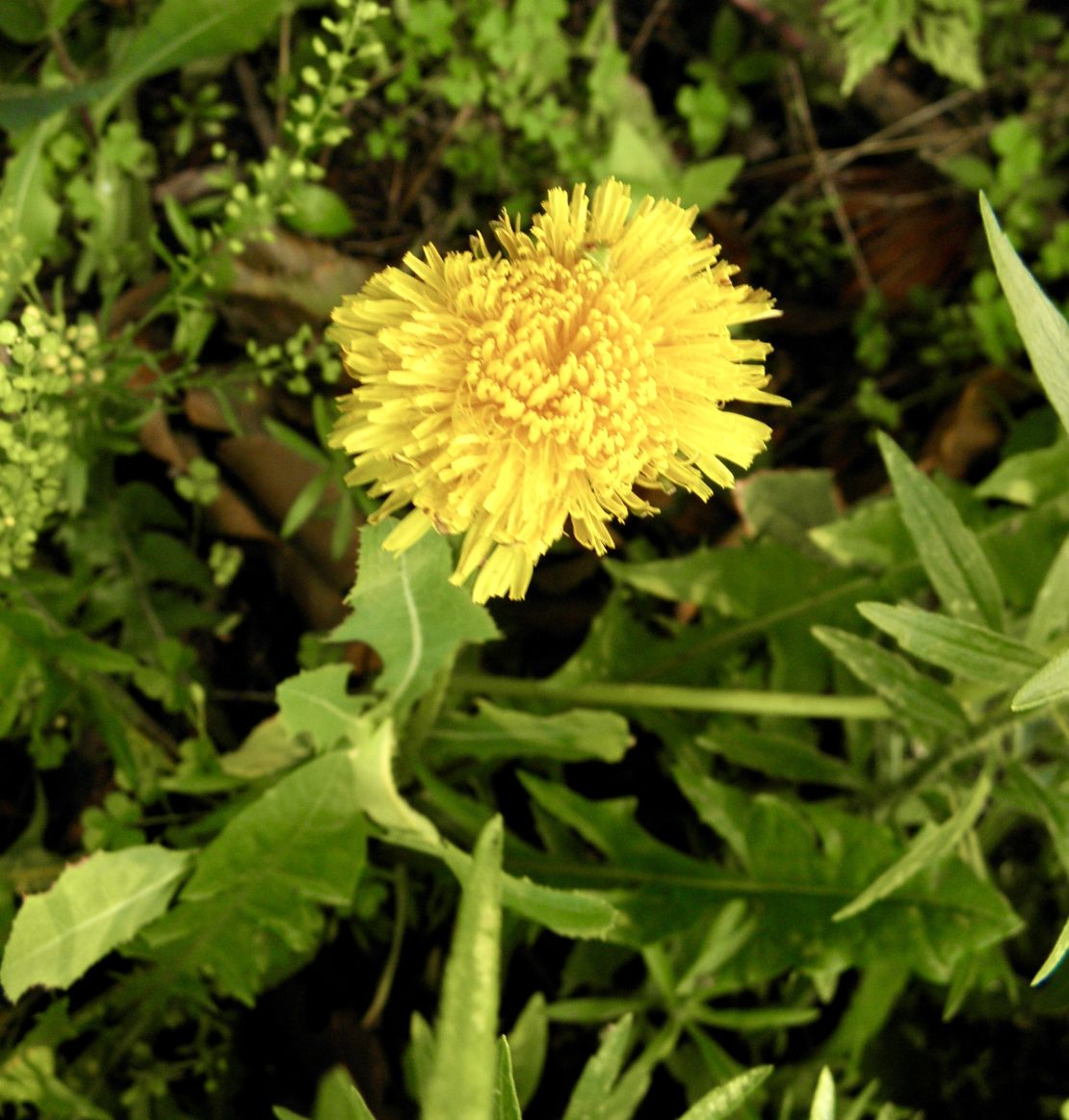 So many go these people are chemically depended to survive and it would not surprise me it is due to the air. Since being in this part of IA my sinuses constantly hurt and I get coughing fits now and then. My brain feels foggy too much of the time and I get relief only if I strictly follow the Blood Type Diet and manipulate my viscera. I watch my sister suffer, who too believes this is unnatural. My brothers are suffering but they follow their Silent Generation Mother's lead, that to survive one has to be chemically depended. (No wonder most Baby Boomer men do not get it.) There is a lack of animal life diversity. Bit parts of the state have wind and solar power and tall prairie grasslands. It will need more than bits to return the air to a healthy state to support life in all its forms. It will not happen fast enough before the planet reaches its tipping point, though the UN has declared we have moved from climate change to climate boiling. I do wonder; if over the next few years half the world human population were to suddenly died off; if that would begin to reverse the harm we humans have done to this planet. It seems logical base on the planet data collected during the year of covid shutdowns.
I have been reading about Tall Grass Prairies which use to be in the millions of acres before the rush to drive immigrants out of the cities and into the then territories that was cared for by the various Indigenous populations that Iowa is smack dabb in the middle of. This above picture is a prairie dandelion looking so different from a regular dandelion. Like all prairie plants and grasses its root goes several feet down to reach a sustainable water source. Without the native prairies the soil has been claimed by the winds and by the rains. There are no clear water lakes, streams, and rivers in any of the heavy or factory farmed states/parts of the country. And most of these are unsafe to swim in, let alone fished for food. The woodland mushrooms growing next to the condo definitely looks edible, but due to the chemical sprays in the spring most humans except deer are afraid to eat them. Since the deer who has a fawn is doing okay this becomes a constant reminder of human stupidity I see daily. My sinuses are easing since the sun as move more to the West. Wonder if the planet is trying to save us by using heat as a purifier...😍🤓🌻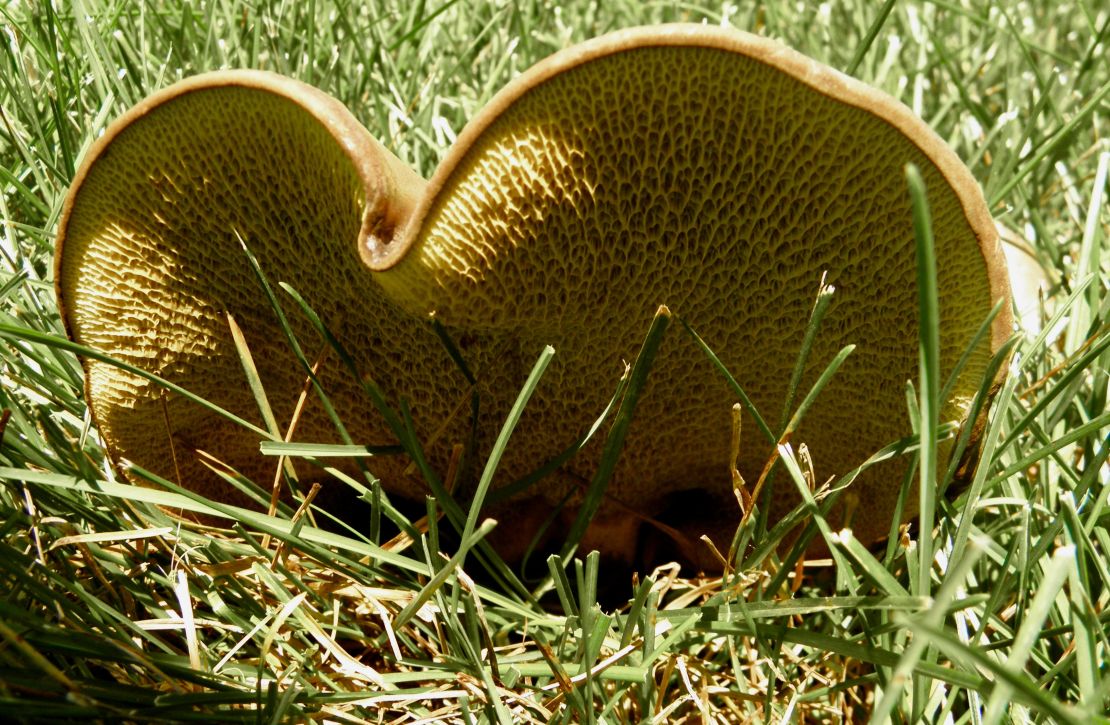 June 19th-1020 Monday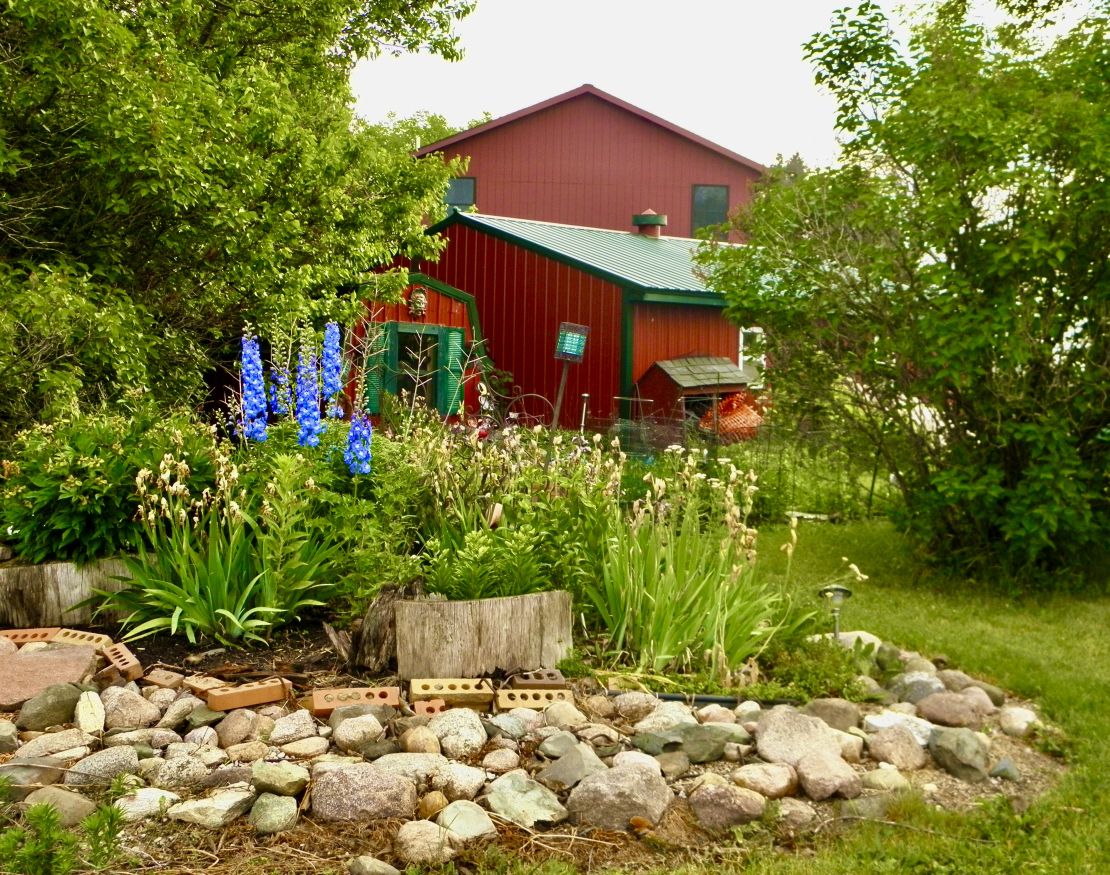 Last Thursday I made it to Iowa to my sister's and her husband"s home that seem like a forested oasis in the land of monocrop farmland and factory farm pigs, chickens, and cows.
I left the UP the morning of the 9th and drove on the state road 41 into eastern Wisconsin that was comprised of large dairy farms with acres large low type buildings with silos 6 stories tall alternating with dilated small dairy farms with silos and barns falling in onto themselves. This continued till I reached the midsection of the state where they gave way to cranberry bogs for miles around in all directions that I could see. Tomah small town of a few thousand located in the next county from Woods county, is the headquarters for Ocean Spray. I did not realized Wisconsin had marshland. I camped at Dexter State Park located along the slow moving Yellow River where any small boat or kayak leaves a wake.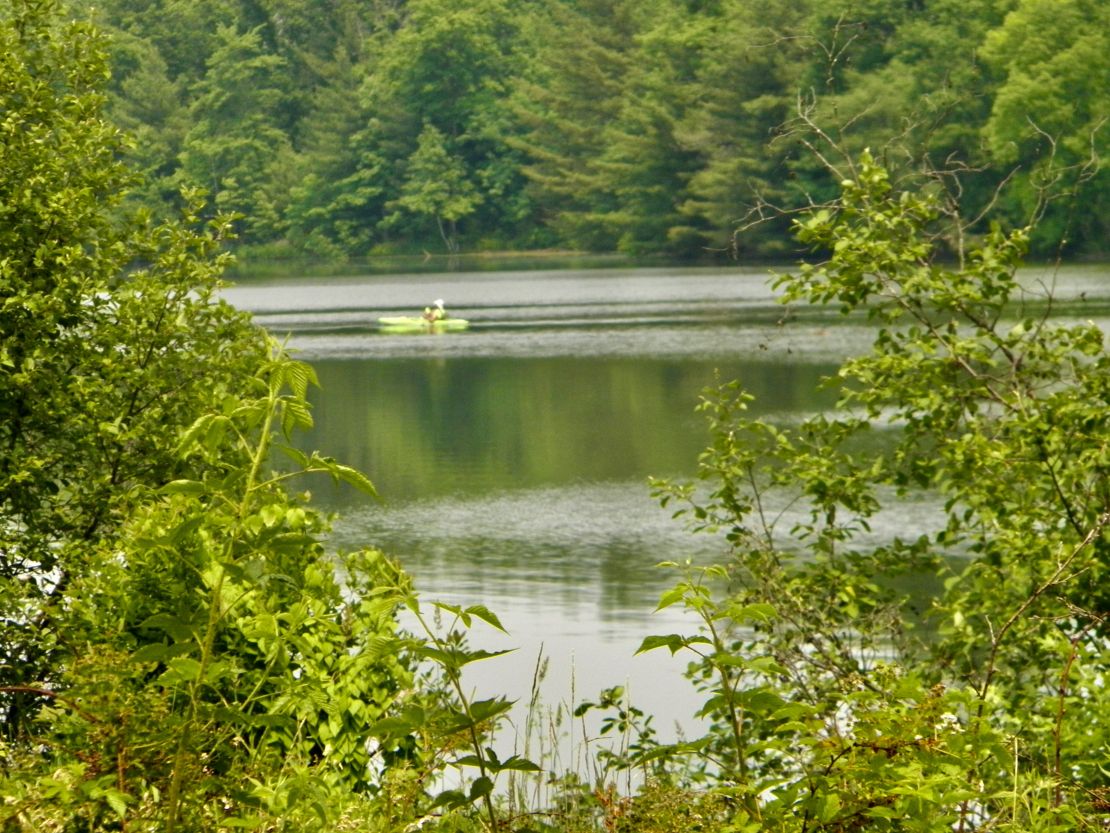 The campsite was deep in the forest with access to the river and each camper is greeted by a host who verifies your reservation and answers any of your questions. The ranger seems to be a fixture who accepts suggestions, such as installing wifi for Guests since he had wifi for the office as well as handling critiques of the campsite, such as extending water to all campsites since each ring containing the sites had a central spicket. Again the weekend campers packed the site and on Monday there was only a handful of us in each of the three rings. Thus the weekdays were very peaceful. There were three trails averaging 1 to 6 miles and the only people I saw were fishing and they did not seem to catch any.
As I continued southwest in WI the farms became smaller and wheat and oat fields popped up interspersing between the hay, corn, and soybean fields. I crossed the Mississippi River at La Cross into Minnesota on I90 and ended up following state road 14W/52N along the bluffs going north along the Mississippi passing where La Cross has a dam across the Mississippi for electrical utilities and thus widens the river into islands and blue water. Since I was climbing up and along the bluffs the views were majestic. Eventually I took the first county road that ran southwest over the bluffs and zigzag my way down the other side of the bluffs till I reached state road 16 that traveled along the west to east Root River. There was a biking, walking, jogging path that ran along the river till I lost it in a pretty river tourist small town of Lanesboro, MN, another place I would considering settling in.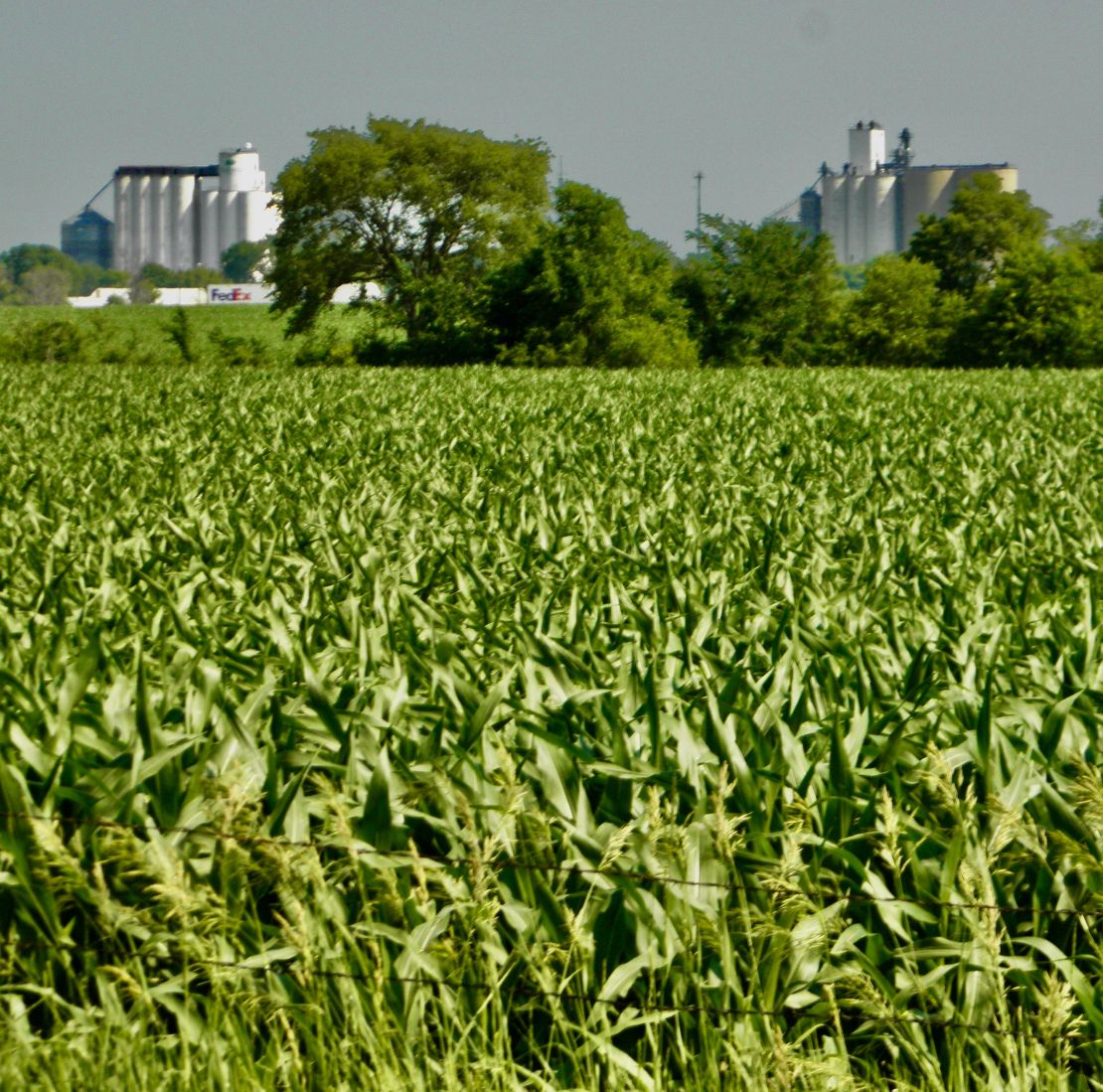 I did not see any gravel roads among the county roads until I reached Iowa via MN State 63. All the county roads were wide gravel roads and all the state roads were pavement and varied in condition depending on the size of the towns and their importance in the county and state relationship. Eastern Iowa has become a land of mono-crop farming from road to road with farm homes and small towns barely protected from the harsh wind elements of farm chemicals and gravel dust with granaries located next to the rail tracks. All the really small towns with train tracks seem to have granaries as their main source of economic existence. In a couple of days I will travel into the southern portion of eastern Iowa to visit my mother and another sister for two months. Fairfield is where Marish University has made its home thus, hoping that this state is not another Ohio. As well as (if my sister's and her husband's attitudes say anything) bracing for my mother being another typical Silent Generation woman who has no understanding about empowerment. Thus, my next sister will be looking to decompress by having a break from our Mother.🤓
Best wishes.
June 4th-1100 Sunday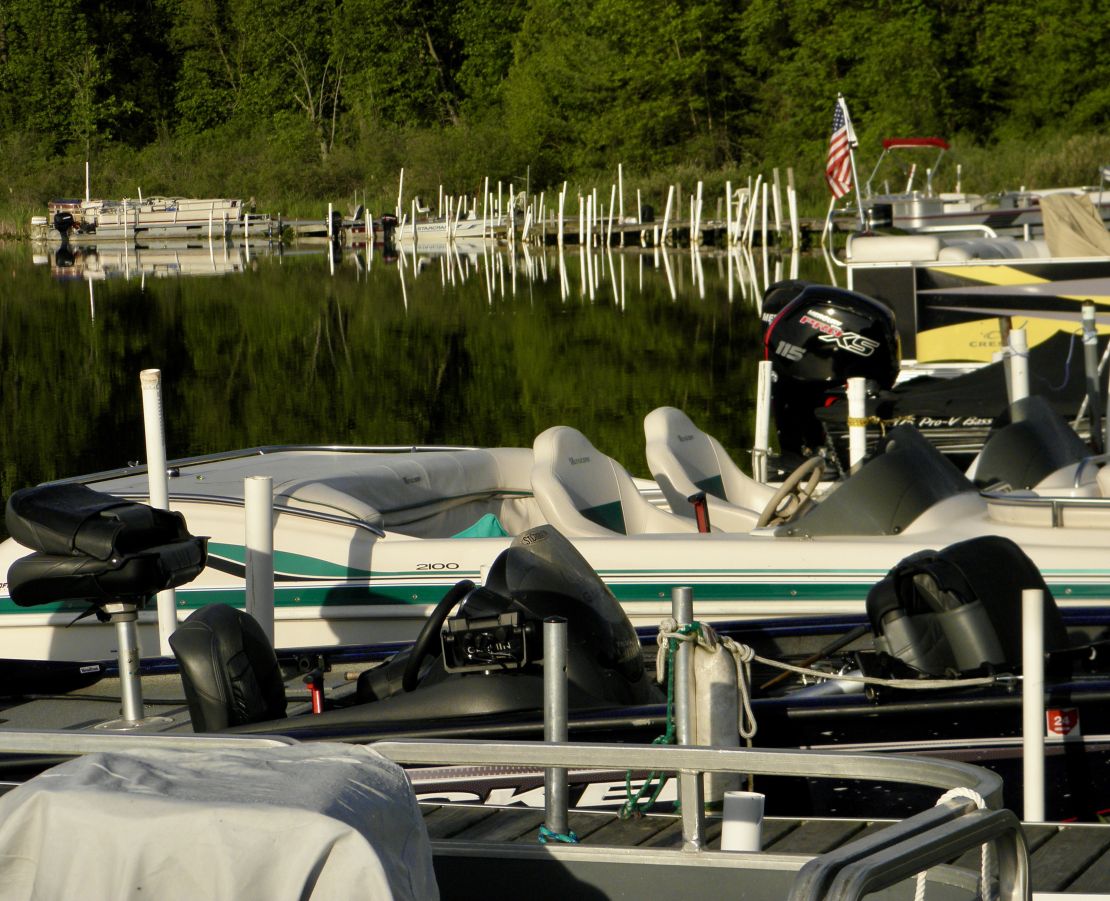 I have made it all the way into the Upper Michigan Peninsula to the Vagabond Resort on the peninsula that separates De Noc (I think it is french for Bay) into Big and Little which dips into Lake Michigan without incident, except for having to change out my remaining tires while in Northern Michigan. I had notice more and more vibrations through my steering wheel and the driver's side duals were not matching in size when I reach Grayling, MI to add fuel. Since I was near my state park destination of Hartwick Pines and I had already let the Upper Lake tire store know I was coming to change out my front choppy tires which I had check before leaving Ohio. I had them check the driver's side duels and sure enough the outside had increase in size and was ready to shred. Total cost for all six tires plus the emergency rescue in New York on I86 to Onoville State Marina came to nearly 2K. I was told by both tire places these tires had gone bad due to the RV sitting too long.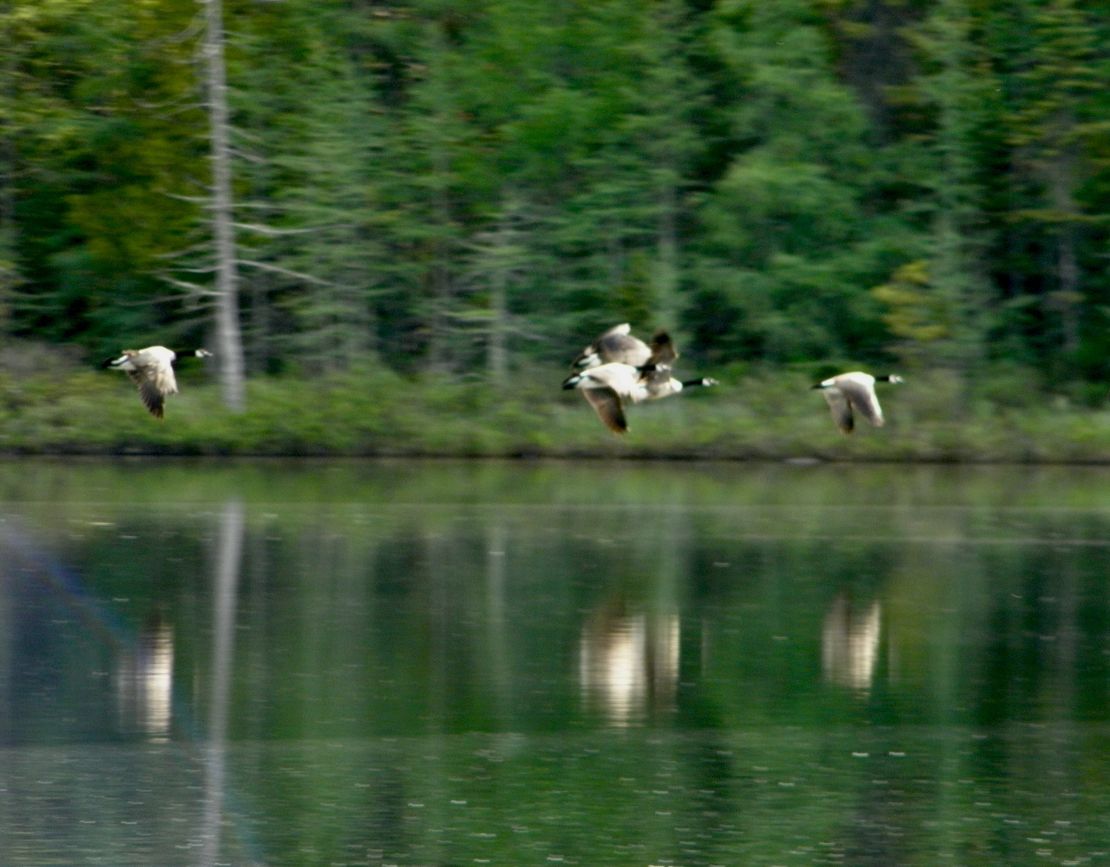 My stop in Southern Michigan was a relaxing breath of green air. Crossing into Michigan the monoculture fields were hidden by thick groves of trees, grasses, wild flowers (white and purple wild phlox were in bloom), and fencing along all the state and local roads. I have reached the land of forest, meadows, gentle rolling hills, and lakes. And mosquitoes, which grew larger and more numerous the further north I camped. The lakes and OFF are a reprieve from the hordes that land on you as you enter the forests. In the Upper Peninsula they are twice as large as the ones I encountered in Southern Michigan. The first campground stop was 5 Lakes Resort outside Hillsdale, MI. Each lake had its own resort, either private or publicly own. People in MI are definitely into fishing and they can come to any of the campgrounds including Little and Big De Noc to fish throughout the year. All fishing, boating, snowmobiling, and hunting are state license required. Plus, all must check the state website for updates before fishing or hunting. To say the least the wildlife is either roadkill or hidden in the forests and constantly moving.
As I travelled further north there seems to be less heat and the humidity is not heavy. Daylight seems to last longer, as well. It is dark by 2215(1015PM). I have a harder time going to sleep and I still wake by 0500 when daylight has arrived. I am beginning to rethink what I am looking for as I travel and experience more of this country. I decided I will not be coming back to the Northeast. I want to keep going. I am going to stop in Iowa this month till December to recoup my expenses, make some upgrades to my RV, and plan my winter travel into New Mexico. That will be my longest stop for this year.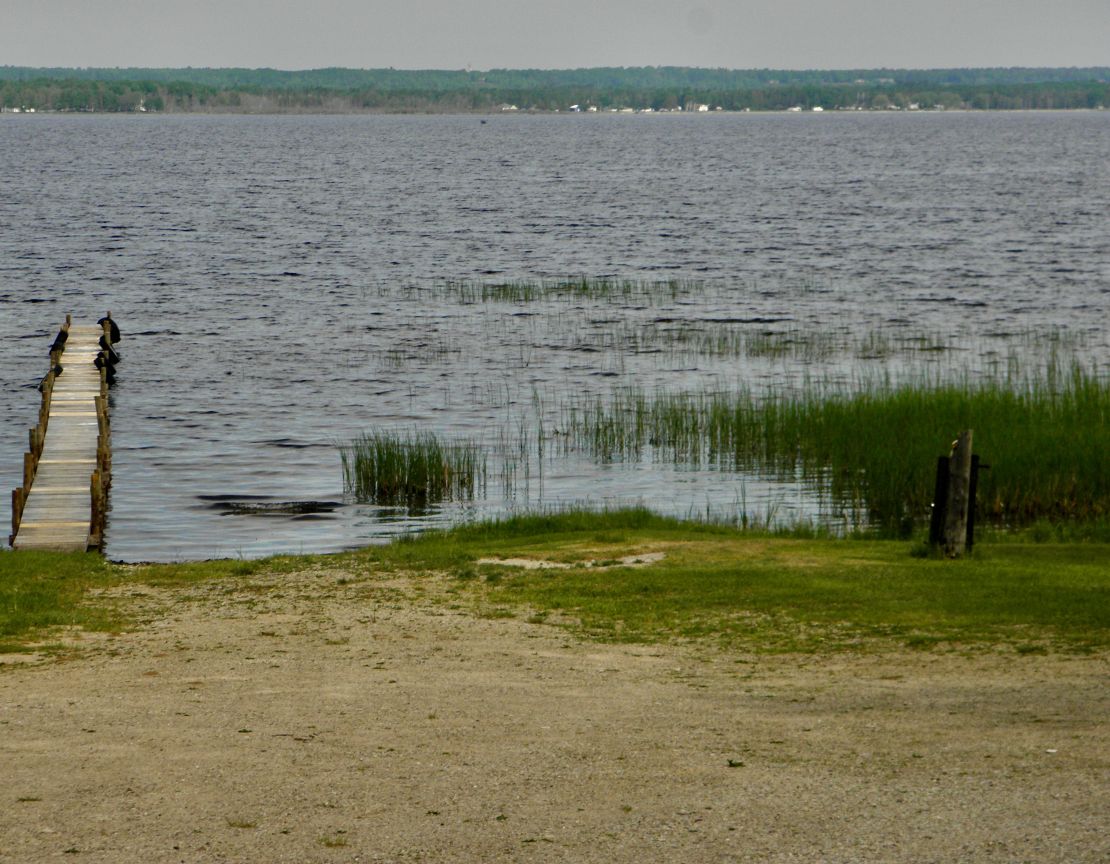 I am really liking the Michigan Upper Peninsula. Lake Superior is on the north and Lake Michigan is on the south. Not much seems to be here, other than tourism, logging/paper mills, gambling, fishing/hunting. This is not a populous section of the state, so forests and meadows tuck any homes out of site. The roadkill is not as heavy here as the rest of the state, since the road speeds are not more than 60/65mph. Since I am traveling along Lake Michigan there are places to pull off to go to the brown sandy beaches. There are no heavy waves or salt spray but there are dunes here and there. The soil is sand, sandy loam, and not easy to retain water and nutrients. Since beginning my trip I have been buying drinking water by the gallons. Not sure if any the PFAs have been filtered out of any the well systems, including the state parks. Since I am camp along the Little De Noc I talked with the owners here at Vagabond Resort to get an idea of the seasons. Spring starts in May runs to July when Summer kicks in for a month or two before Fall arrives fully with September followed quickly with Winter arriving fully by November. So, this part of the country would be perfect for summer camping. I can see myself spending the time and money for summer seasonal camping in the Upper Peninsula.
May 25th- 1315 Thursday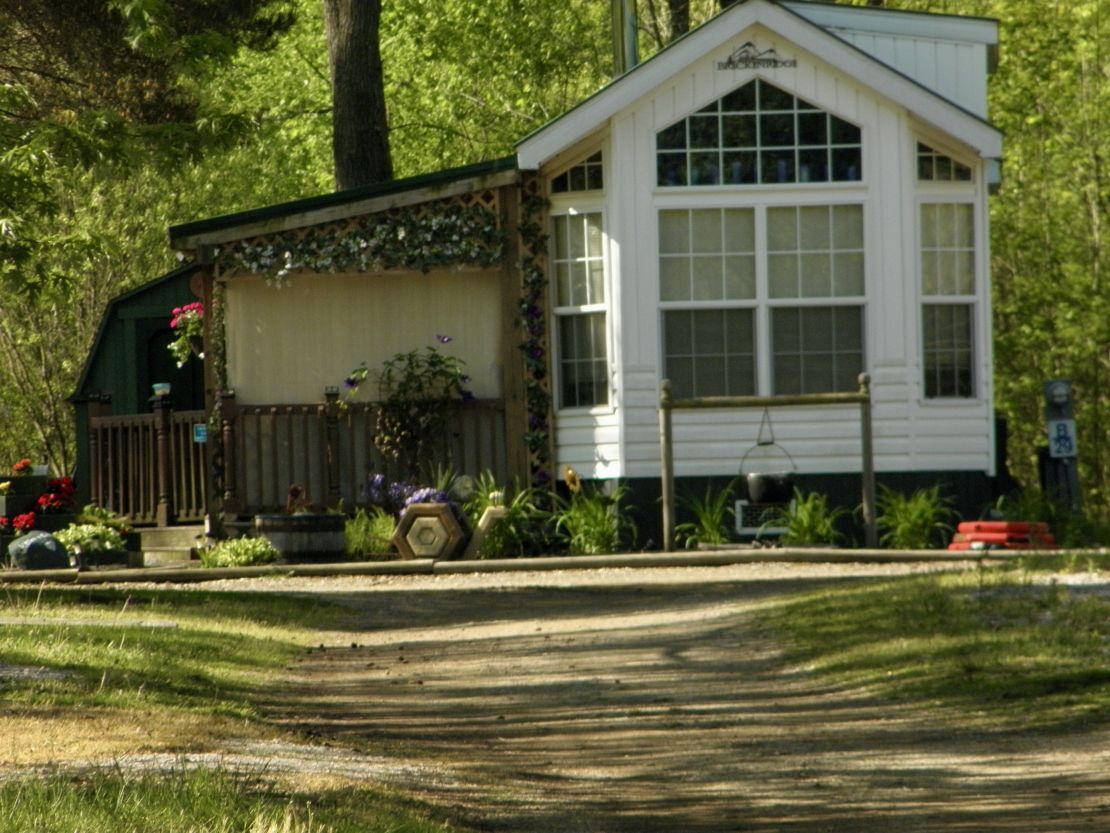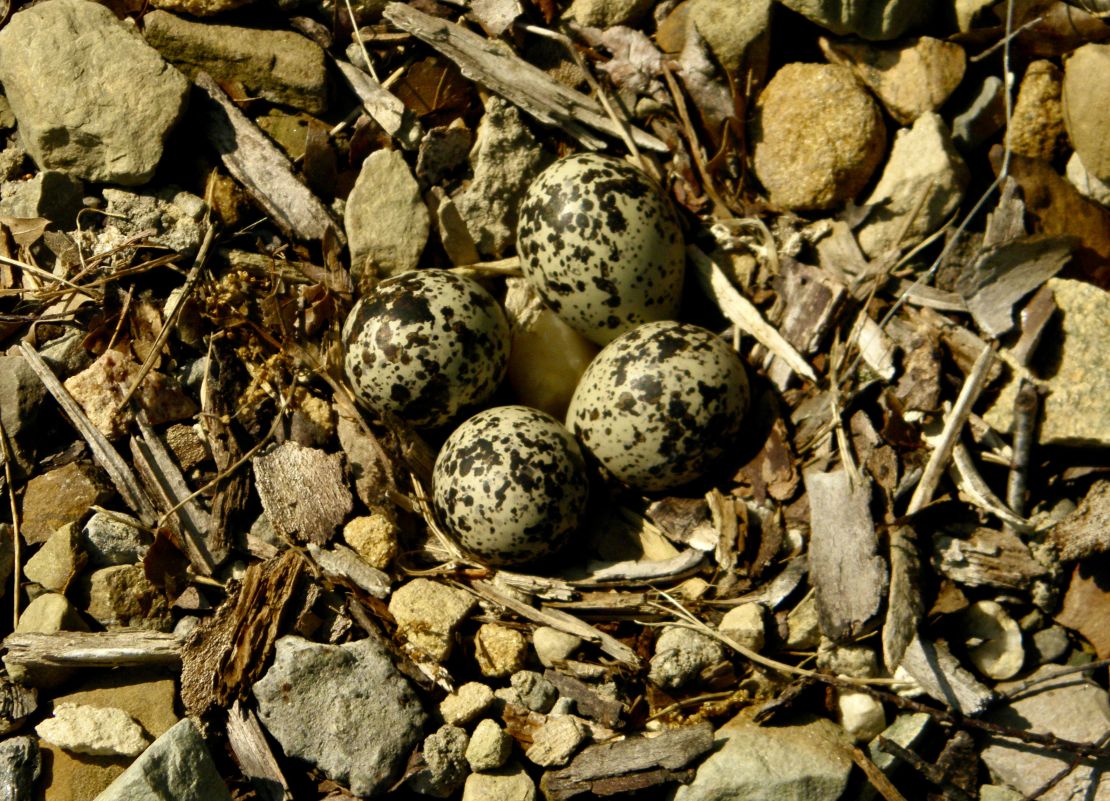 I am so looking forward to leaving Ohio tomorrow. The winds are constant and both the campgrounds are built in the corners of farm monoculture fields that run from one road to the other. The tree lines that form the borders for both campgrounds are too thin to provide protection from wind blown dust, carbon soot, and noise from speeding traffic. The lakes are actual ponds that only have catch and release fishing with beaches for swimming and pools for the squeamish. Both campgrounds have year around seasonal camping and some seasonal campers have rural mailboxes. Do not know if they actually get mail since these campgrounds are gated.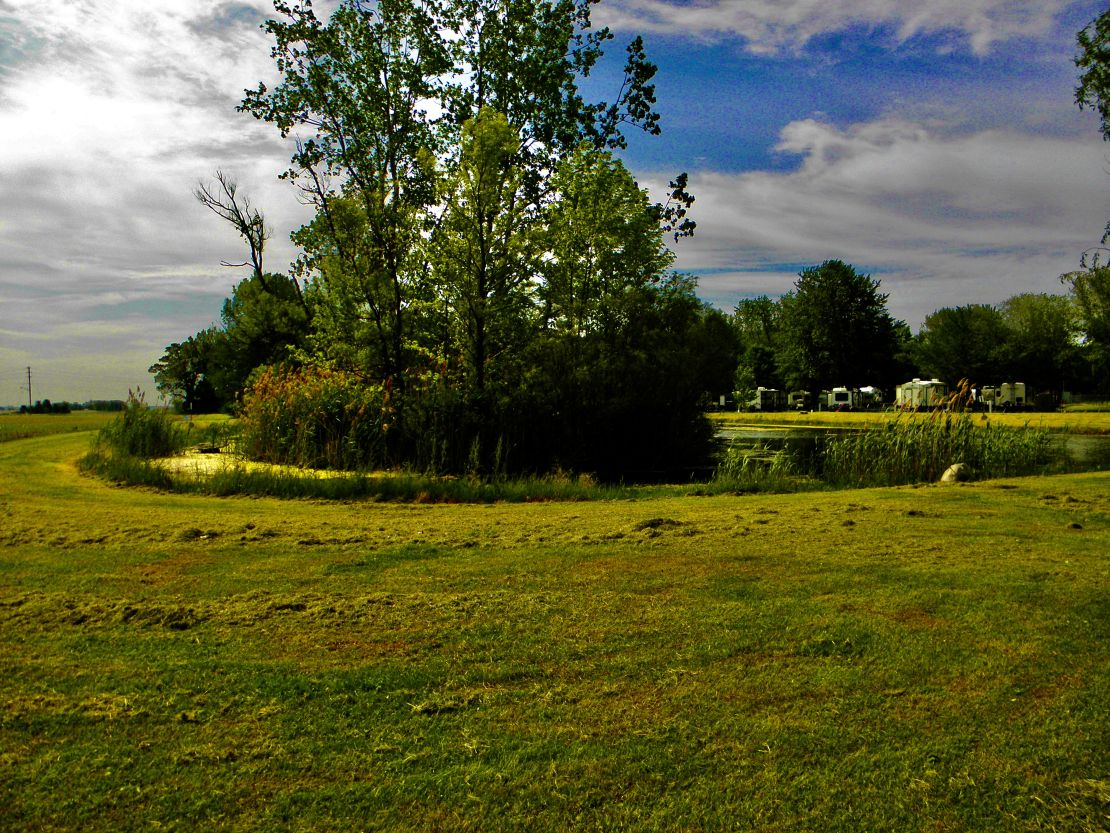 The skies are picturesque compared to the actual campgrounds. Had to edit the sky to get the color and cloud distinctions. This so call lake is one of the smaller ponds. Most of the trees are young around the ponds/lakes. Once you leave the Appalachia mountains and foothills the prairie opens up the glorious skies of the heavens. Without the knee and hip high plants and grasses along with the tree barriers the winds have no controls.
I was lucky to share my Kool Lake site with a pair of plovers that were nesting. My stays would have been more boring if it wasn't for the limited wildlife that came around me. I have a huge brown squirrel eating the apple cores I throw out every morning at this GetAway campground. Have not been able to get a picture of the squirrel, which seem to be larger than any of the gray squirrels in New England.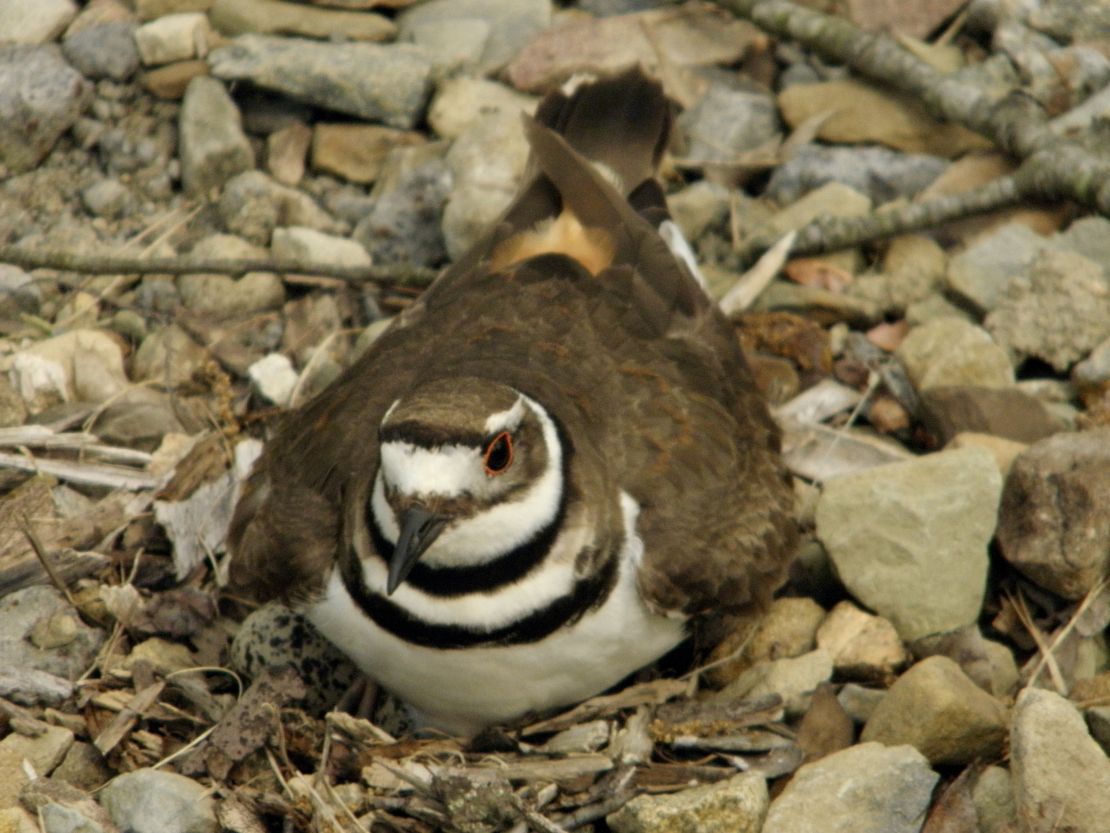 My trip into Ohio was great when I crossed the Mosquito Creek Lake. That was a huge and beautiful fresh water lake with serious noncommercial fishing boats at the end of Great Lakes. There seems to be a different mindset of respectable fishing where using the smaller electric boats is required. I am going to stop there on my way back. Again, what I read about this state park is that it is open year around. Even Michigan state parks seem to be open year around. Can't stay more than 14 days at a time, but you can leave for five days and come back. I assume the serious fishers do that type of camping.
May 21st- 1300 Sunday
On my way to my next campground in the southwest corner the Allegheny State Forest in NY I blew the outside tire of one of my duels and ended up not making it to the Onoville Marina Park till the following afternoon after buying two tires to replace the blown outside and the bald inside of the duel. I had cell service to google for help which cost a couple hundred more than the tires. By the time help arrived I had to limped to the nearest hotel for the night. The next morning I google for assistance and found a family owned tire service who order two tires and installed them that afternoon. Plus, they checked the spare and fixed the value steam that was leaking. My other tires were holding air and ready for the road. Great customer service and not expensive. I made it to my next campground 10mins before Maria was off.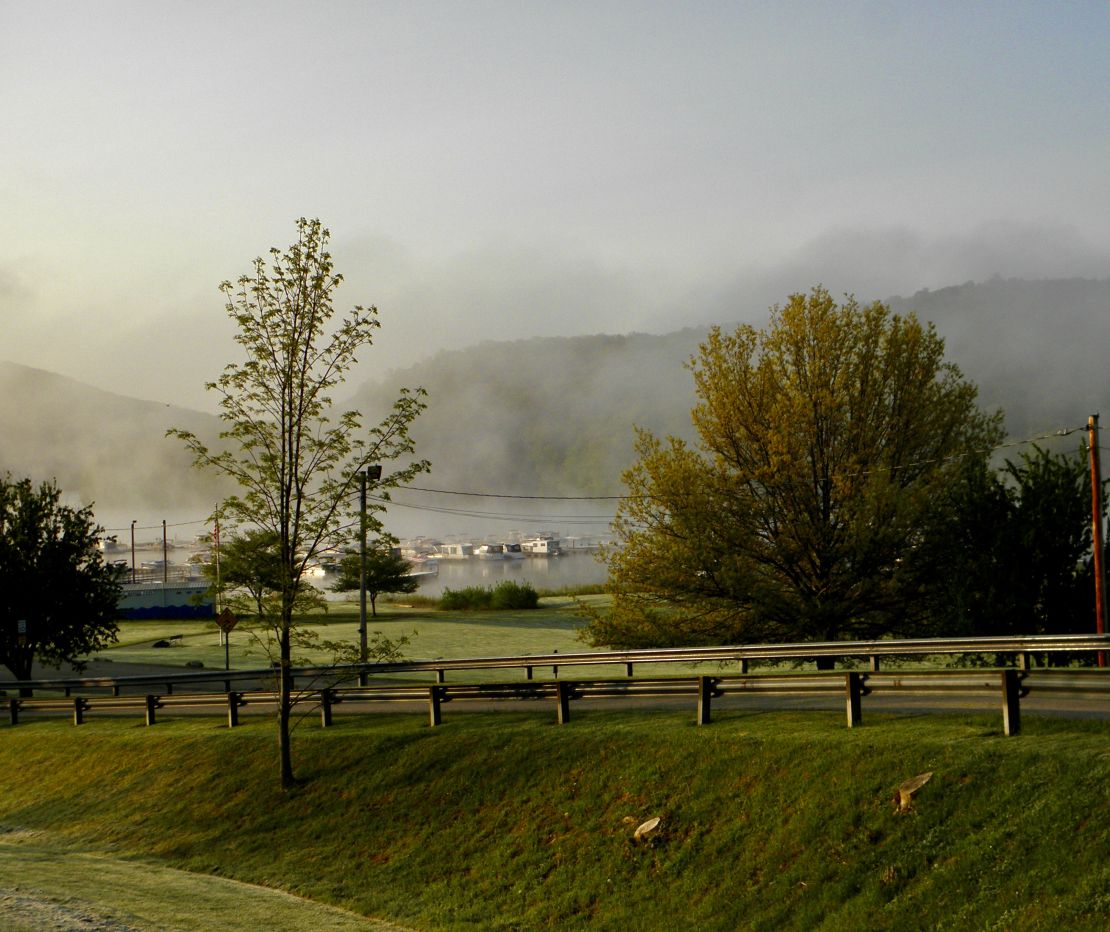 The Allegheny State Forest is broken into three public campground sights. It is recognized as Indigenous territory that the Army Corp of Engineers decided in the 1960's to dam the Allegheny River and create a reservoir for recreation, fishing, hunting under the guise to prevent flooding down river in PA. It was popular in the 1960s to dam rivers. All the reservoirs in any of the states form a bowl and the edges of most of the bowls are pointed like the tips of fire. The next morning I awoke at my camp was an amazing depiction of fire and water fog coming off the water during sunrise.
So the marina has season campers but there are no patios, fancy fencing, or stairs. Their money goes into their boats. The bigger the boat the more likely they are retired military officers and like a typical officer club the higher the rank the fancier the boat. Since I was camping during the week I did not see too many boaters.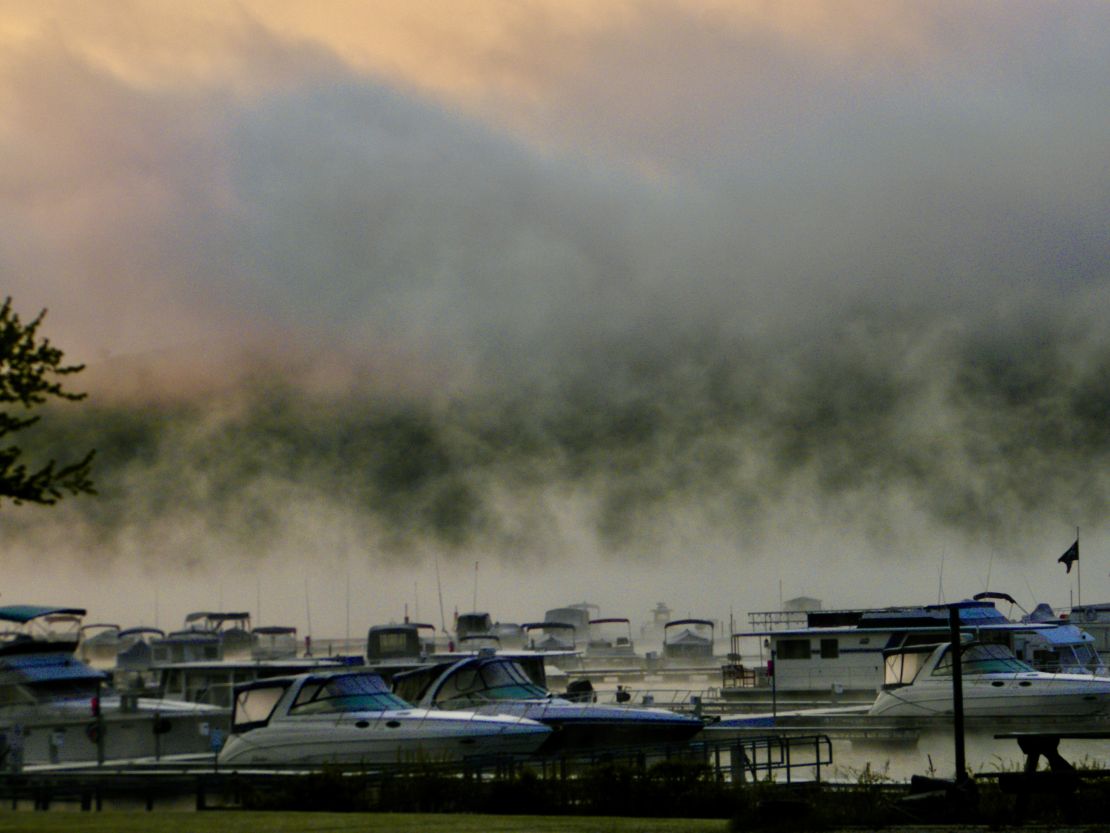 I would still recommend camping here if you want to be around boats. Being a state run campground all these facilities were in good working order and reasonably price. Playground, basketball, and small soccer field are kept in good condition. Being a reservoir up at the road, otherwise of the road, there is a small market, restaurant, ice cream shop and Inn which were not open when I was there. AND if you come by I86 there are five cannabis dispenseries on the way to the marina, typical. Could not miss them if you tried.
I had two trailers named after wild cats, Couger and Puma, park between me and the lake. I shared the mornings with the canadian geese and a pair of plovers. I saw a yellow butterfly. It did not land for me to get a close look. They definitely do not need to mow the hillsides and other areas where there is no camping. More native wildlife would make this site a 10 rating and encourage more butterflies to be around. All the mowing reminded me of the typical military base. Again, this military concept towards Nature is typical of the silent generation and early baby boomers. It was great to see the mythology of fire and water. Nature will prevail😍.
May 20th- 1230 Saturday
I am still recovering from my PTSD trip to my first Ohio campground. I was okay till I reached the roads of Ohio. I am usually up by 0600, getting ready for the day, going for a walk after having a cup of mocha, taking pictures, then editing my photos, and working on my blog. Since wifi or cell service is a hit and miss depending on the campground in the hills of New York I am feeling a lot of gratitude for the less hilly state of Ohio. But it took me to binge watch a series till 0100 to finally fall asleep only to be awaken by the sound of rain before sun rise. But it was the soothing sound of rain and I did not wake till I heard my next door neighbor's truck start and leave for breakfast, I assume. Capitalism is different in Ohio.
So, before all of this I had my first corporate campground experience at FlintCreek Campground outside of Middlesex, NY. As I got closer my phone GPS took me in circles till I stop listening to it and found my way, hop and a skip from where I was confused/lost. This was the second time in a row it did this to me. Now I plan out my route, but... more later.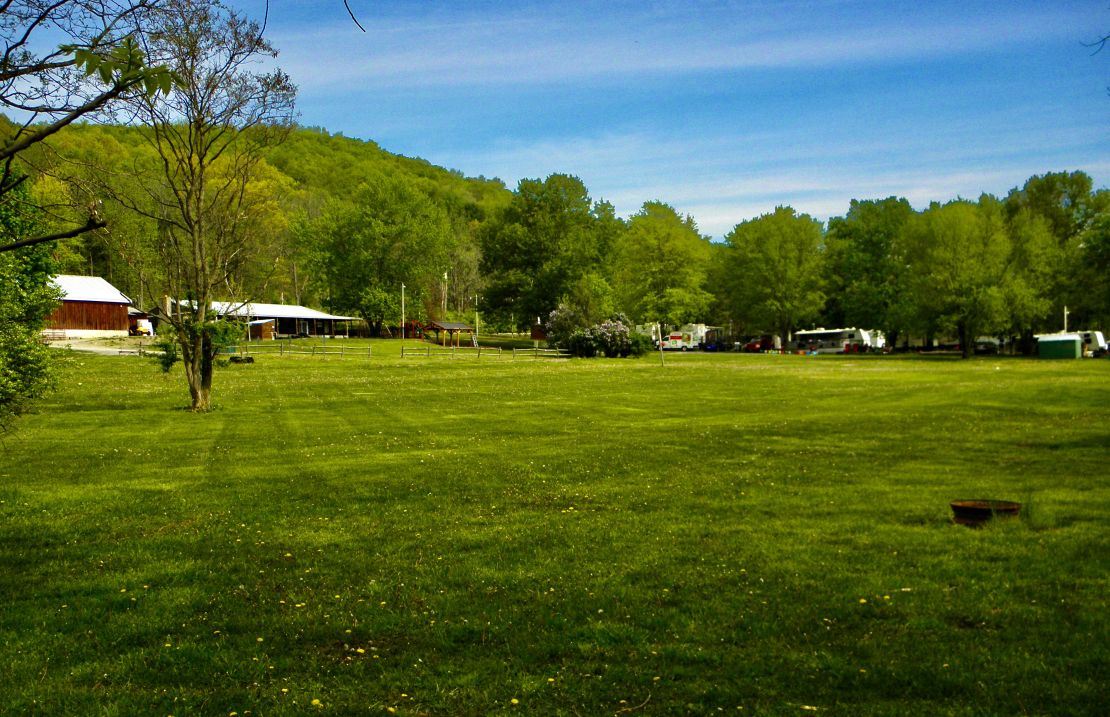 As you can see FlintCreek, which it really isn't near, just continues to roll down the hill. When it comes to camping corporate campgrounds they are heavily manage through management tries to make it a fun time for the kids by having kid fun-time events, but everything about the campground can be micromanaged. And sugar is the acceptable addictive high. Rosemont Hospitality bought this campground last year from a retiring couple and most of the Seasonal campers left. Those remaining will properly leave once Rosemont upgrades and expands the campground which is slated for this season and raises the Seasonal rate or stay, pay, and tolerate the micromanagement.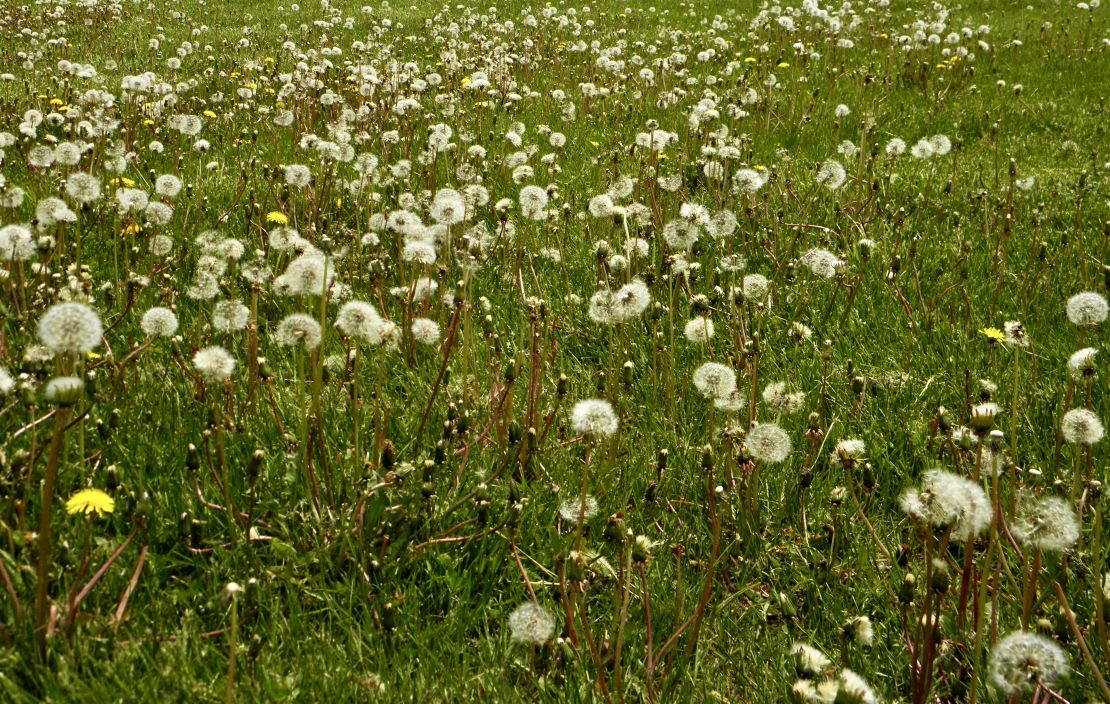 My stay was mixed, but being told that their laundry facilities were ready everyday and not ,,gave me the standard corp feeling that they can extract, but giving is not part of the corp bylaws. Too much sugar and not any substance increases the likelihood of the false dichotomy of its your problem, not theirs, when something goes wrong.
The plus side was all the orange/black and yellow/black orealos I saw, followed by the American golden finches that fed on the dandelions that are seeding, and a black hummingbird flying . I could not get any good pictures, fore they were too fast and elusive. Also, the very fragrant lilacs were in bloom. There were other blooming trees, such as honeysuckles and these could be the reason the orealos were visiting. Again, despite the human dramas and corporate greed Nature was there and will prevail. "(That's All Folks!)"
May 17-1100
Hi Folks, It is Wednesday and I am stuck in a hotel/motel waiting for a couple of tires to arrive at the local truck tire shop to replace a set of duals, one that blew and the inside one that is bald. Thankful I had a brand new spare to hobble over to the hotel. Having a tire blow on I86 was a drag as passing trucks and cars would shake my rig with their wind. I was Thankful I was near the exit for Hindsdale hyw16. Not thankful for having to wait 3 hours for roadside assistance as my rig was being rocked by passing wind. Thankful to be able to sit inside the rig being comfortable as I Googled for help and status. More later.
My next stop was at Belvedere Lake Golf resort. After traveling up and down the mountains into mid New York I was camping in an upscale campground where it was too wet to mow the greens to play, where the washing machines were not up and running choosing to spend time helping the Seasonals update their decayed decks and steps at their trailers. The walking was great and I had to admire the terrace layout of the resort including the golf course. Fields of dandilons, phlox, and purple violets were everywhere where forests weren't. All pluses on the Nature side, more minses on the management side.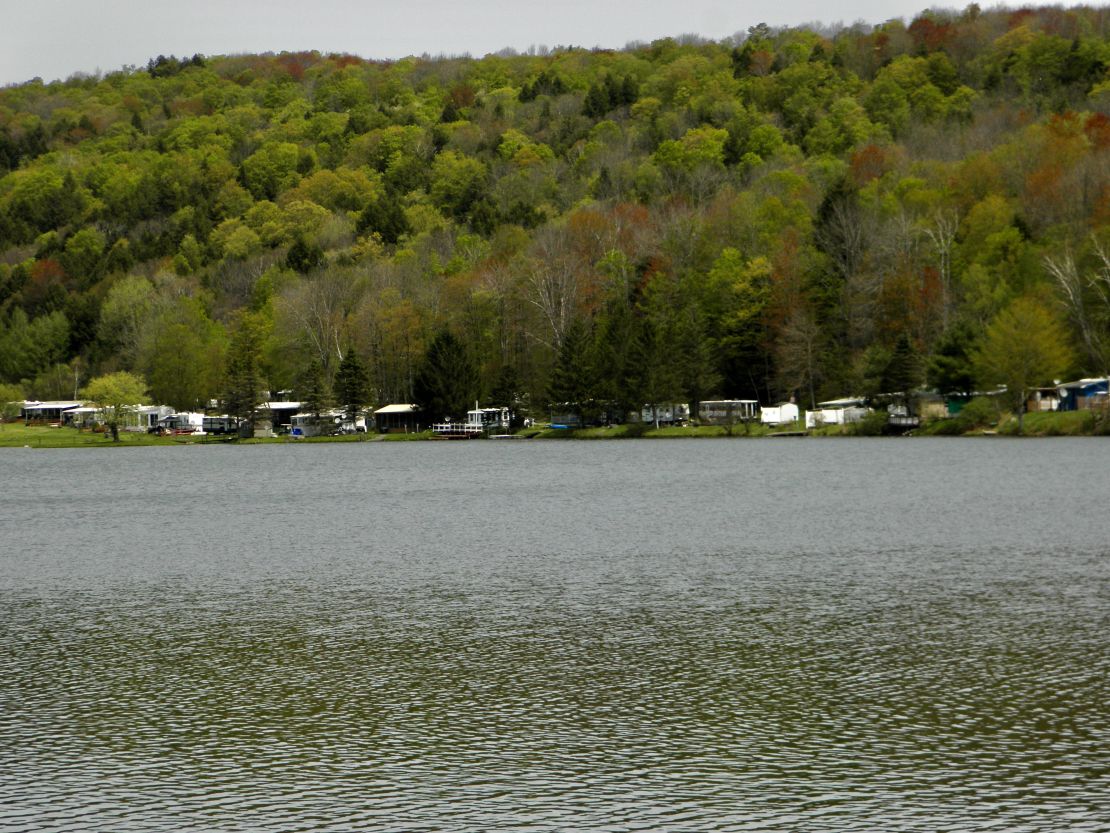 This area had an I Ching lake feel. The climate was lake affect no matter how up the hill you are camped. These seasonals put their all into their site taking up the whole site. Very stylish railings, fire pits, patio furniture, and kid play area all along and around their trailers. All seem like a lot of tensional marking of territories. Outside my kitchen window there was another Forest River brand among the Jay brands.
Speaking of birds the turquoise hooded gaggles and their cousins the boat-tails arrived, soon followed by a day or two the red-wing blackbirds. But never saw any bluejays. But quanitiful number of robins were everywhere.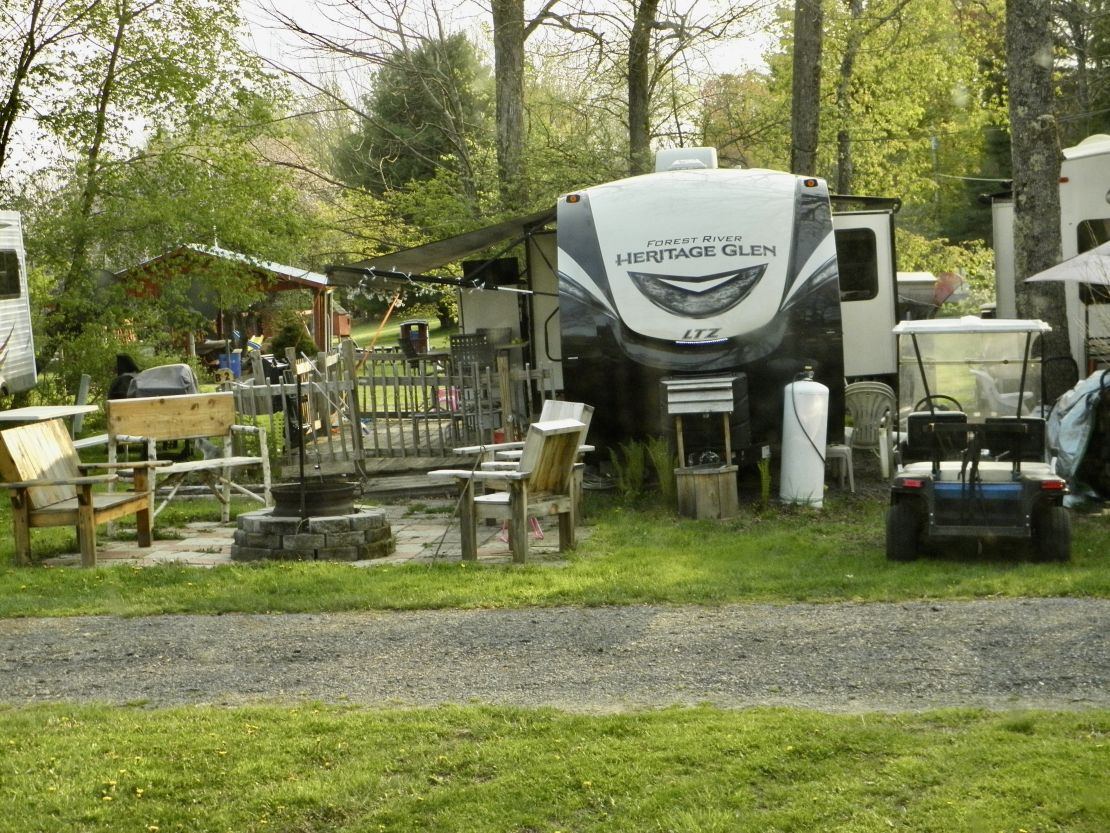 Getting back to the seasonal folk, I spoke to one of the retired friendlies and I was surprise to learn how these six figure a year folks are getting pushed out of the middle class via rising prices in food, rents, health costs, taxes, and etc. But they still all have to have their two golf carts, and outdoor sitting area that goes up 50 to 100 dollars a year. Mention growing their own food and getting chickens brings fright and horror to their faces. These types are not going to make it. Maybe they are too old to change. This particular friendly decided to take their trailer home and sell it after the season ends. Giving up, which may be this person's saving grace, is always the choice. It tells me they do not see a future, which could be when the spouse has long covid. Was ready to leave a day after that conversation.
May 8-730
Hi Folks, It is Monday, the day after a busy weekend of seasonal campers coming out and cleaning their sites and trailer campers, setting up their getaway social centers, and reacquainting with their favorite seasonal neighbors. Not a quiet time of the week. I was camped in the middle of all of this. A great place to clean my camper which was dirty with soot, especially in the back, to observe the comings and goings of the seasonal bunch with my eyes and ears.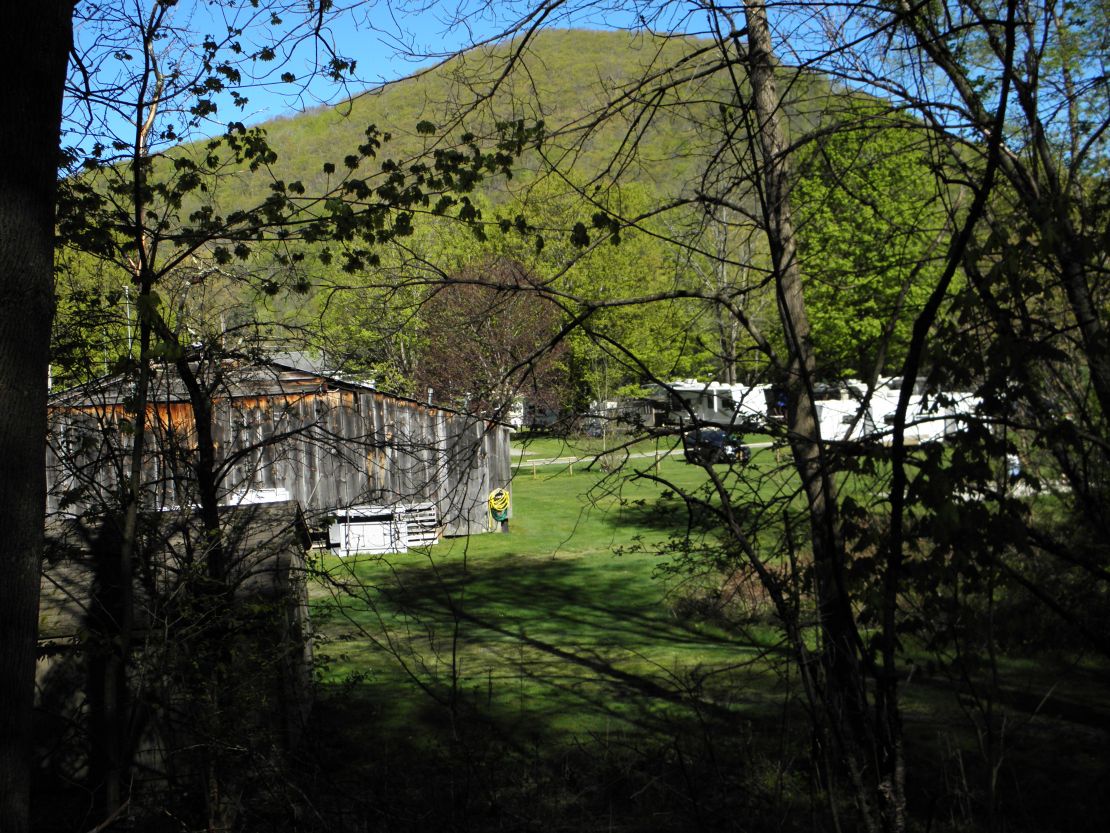 This photo tells you I am located at a campground that is earth dominated due to the flat top of this mountain. This morning it is hidden by thick fog due to the rainy night. The barn looking rec center looks like the outside inside. The woman that owns the campground is stretch thin at this time due to her career in teaching and as a caregiver for her mother. The seasonal trailer campers are expected to care for their sites. Many of them looked like they have been here for years since there is a little landscaping around some of the campers.
The demographic is white working class composed of angry men and tolerant wives and various open minded (woke) kids. The majority of happy people seem to be the silent generation and retired older baby boomers who have dogs. All the other dog owners watch in interest of the retirees. The tolerant wives have degrees of passive-aggressive behavior toward each other displayed through jealousy of each other's lot in life, ie looking forward to husbands dying or fully retiring, depending on the silent contract they made with themselves. I am not sure these folks understand they bring their daily life image (who they want to be) with them.
This reminds of the time when I was married to my children's father and the big deal it was to go up to Maine to open up the family cabin owned by their grandparents on the lake for the summer season. That all change when the grandfather died and the eldest brother with family inherited the cabin and would not shared. My ex's biological family, which included him had all kinds of dysfunctional issues. Divorcing him was the beginning of another hard look at my life's choices. Staying unmarried to raise my daughters was the best one I made.
The air smells forest fresh each day. There are small springs that run through the forest, but I have not seen any rivers, streams, or brooks. All the maples have leaf. The cottonwoods have flowered because now and then I see thin cotton puffs with seeds float about looking for good landing spots. The other hardwood trees are flowering. I found no mushrooms, but many signs of a wild pig rooting and a few hoof prints around the springs. So, it may have found the mushrooms.? Or I have to wait till the ferns are fully up. I am fairly new at foraging. Well, it is time for me to make breakfast. Oh, I leave tomorrow morning to my next campground at Cherry Valley. You may not hear from me since there will not be any wifi. But, this might be a reason to dig out my Earthlink and start that service which seems to get expensive every time one of Elon's rockets blows up. So, four days of no wifi or cell service may be a break I may choose to take.🦋
May 5th- 740
Hi Folks, Well, this morning as I was getting ready to travel to my next campground, checking and wiping the outside of Serenity, my RVc, I noticed a lot of fine soot either in running streaks or dotting the vinyl wrap. At first I could not figure where they came from since the Mohawk Trail is not a congested travelled road. And I did not see any of this when I arrived at the campground. Then my nose picked up the smell of burning coal and realized this spot is in direct line of a smoke stack or smoke stacks of a coal plant from some where. I did not notice the smell during the rainy weather. I am sure it was being washed out of the air. Plus, I was trying to figure out why I had started coughing these last two days as the rain turned into misting. It is still cloudy, but the clouds are little lighter. Plus, I may have gotten my answer to why the brook had a gray milky appearance; because it is due to the soot dropping out of the air by the rain along with whatever is upstream.
To say the least I am disappointed with this country's progress to clean up the air and keep it clean. A sure sign that capitalism is not for the people, as we people have hoped.
Happy Trails
May 4, 2023
Hi Folks, Today I am getting ready to leave tomorrow from Country Aire Campground in East Charlemont. The only highlight on my drive from Harvard, MA on route 2 was through Erving, MA which is located along the rushing Millers River. Erving is border by the Warick State Forest on the north and Wendell State Forest on the south. I liked the location so much I found there was 39 acres for sale, but zone as residential. So, I decided to keep looking.
It has been a chilly rainy stay at Country Aire Campground.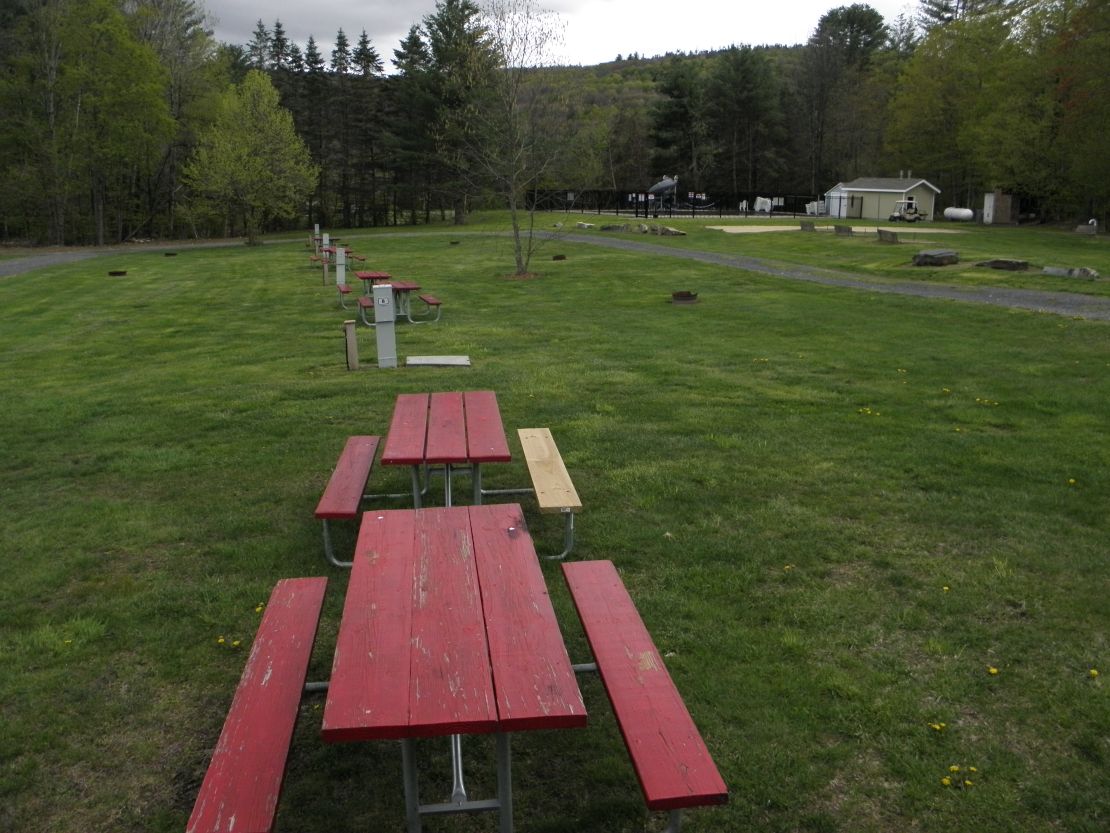 This is the view outside my door, very plain. There is Wilder Brook that runs along the left side of the campground, where I found 5 species of ferns, including the fiddleheads, into the Deerfield River that is located on the other side of Rt 2/ Mohawk Trail. As you can see the mountainous hills that rises up from the river has undulating flow of various trees.
I heard a peacock this morning.
The seasonal campers whose spaces are way behind me are slowly moving in for the season. They packed them in too. If it wasn't for the kid amenities I would find this setup to close for comfort. Having said this I will be stopping at campgrounds during my travel to Iowa. It will be interesting to see how different each one is.
Anyway, my laundry is done, trash and garbage have been thrown in the dumpster, and I am going to have lunch/dinner.
See you in my next blog.